Character Info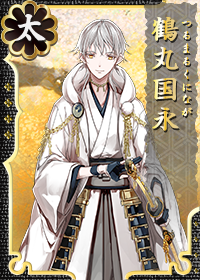 No. 130

 Tachi

 Statistics (MAX)
| | |
| --- | --- |
| 生存  Survival | 51(59) |
| 統率  Leadership | 51(66) |
| 衝力  Impulse | 38(48) |
| 必殺  Killing Blow | 32 |
| 隠蔽  Camouflage | 26 |
| | |
| --- | --- |
| 打撃  Impact | 51(66) |
| 機動  Mobility | 31(31) |
| 範囲  Range | Short |
| 偵察  Scouting | 28(30) |
| 兵力  Troops Slots | 3 |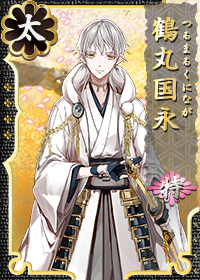 Tsurumaru Kuninaga Toku
鶴丸国永  特
No. 130

 Tachi


 Statistics (MAX)
| | |
| --- | --- |
| 生存  Survival | 54(62) |
| 統率  Leadership | 54(69) |
| 衝力  Impulse | 41(51) |
| 必殺  Killing Blow | 32 |
| 隠蔽  Camouflage | 29 |
| | |
| --- | --- |
| 打撃  Impact | 54(69) |
| 機動  Mobility | 34(34) |
| 範囲  Range | Short |
| 偵察  Scouting | 31(33) |
| 兵力  Troops Slots | 3 |
Character Quotes
Book Description
鶴丸国永だ。平安時代に打たれてから、主を転々としながら今まで生きてきた。ま、それだけ人気があったってことだなあ。 ……ただなあ、俺欲しさに、墓を暴いたり、神社から取り出したりは感心できないよなあ……
I'm Tsurumaru Kuninaga. Made in the Heian era, I've been passed from owner to owner up until now. Well, that shows just how renowned I am. ...Though, I can't approve of grave-robbing or stealing from shrines out of desire for me...
Obtained
Yo. I'm Tsurumaru Kuninaga. Are you surprised that somebody like me came here so suddenly?
Login (Loading)
The preparation is going great...
Login (Complete)
Touken Ranbu, let's start.
Game Start
I wonder what surprises are awaiting me today?
Citadel
わっ!…あっはははは! 驚いたか? ああ、いやいや、すまんすまん
Waa! ...Ahahahahah! Are you surprised? Ah, no no, my bad, my bad.
衣装は白一色でいいのさ。戦場で赤く染まって、鶴らしくなるだろう?
My clothes being all white is a good thing. When they get dyed red during battle, I look like a crane, don't I?
人生には驚きが必要なのさ。予想し得る出来事だけじゃあ、心が先に死んでいく。
Surprises are essential in life. If everything goes according to how it's planned, the heart will die earlier.
Citadel (Idle)
Goodness, I could die of boredom.
Citadel (Injured)
紅白揃ったと言えど、いつまでもこれでは、驚きが足りないだろ…!
I might be all red and white now, but staying like this isn't much of a surprise...!
Line removed as of Feb. 18, 2015
...Well now, how can I make a surprising entrance...?
Citadel (Kiwame Sendoff)
なに、あいつのことだ。すぐに戻ってきて、俺たちをあっと驚かせてくれるさ
What, him? He's going to come back soon and surprise us like whoa.
Formation (Member)
Leave it to me. I'll cut down the vanguards and seize the atmosphere.
Formation (Captain)
Ah, I shall bring you surprising results.
Fatigue Recovery (One Bite Dango)
These refreshments are good in a time of fatigue.
Fatigue Recovery (Makunouchi Bento)
Fatigue Recovery (Oiwaijuu Bento)
Equipment
It's also possible to surprise with the equipment's appearance...
It's troubling me on whether war tools need to be surprising or not.
ま、装備は信頼できることが第一だな。驚きはその次か。
Well, being able to trust your equipment comes first. Surprises can come second, I suppose.
Expedition
Ha! I'll go surprise the people at the expedition site too!
Expedition (Complete - Leader of Expedition Party)
I've returned. Want to hear stories of my travels?
Expedition (Complete - Leader of Primary Party)
They've returned. Now how should I surprise them?
Smithing
Well now! Has a newcomer arrived?
Repairs (Minor Injury)
I'll go change. Dirt stands out on white clothes.
Repairs (Medium/Severe Injury)
Staying in these clothes will look unshapely.
Mission (Complete)
毎日代わり映えのない任務だとしても、放置しちゃあいけないぜ。
Even if the tasks are always the same everyday, you shouldn't neglect them.
Battle Record
You got a letter, you know? Maybe it's a love letter?
Merchant
おやおや。俺への贈り物なら、相談しないほうがいいんじゃないか?
Oh my. If you're going to send me a present, you probably shouldn't discuss it with me beforehand, huh?
Front Lines
Gotcha. Don't worry about it and leave it to me.
Resource Discovery
Oh, not bad. A small surprise like this is nice too.
Scouting
布陣に穴はあるかい?折角なら奇襲を仕掛けたいがな。
Is there a hole in their lineup? I'd like to launch a surprise attack if that's the case.
Sortie Kick-off
Now then, it's the start of the grand stage!
PvP
Haahaha! Well then, let me surprise you.
Critical Hit
Unexpected, was it? You're wide open!
Minor Injury
I'll spoil you a little and at least let you get a hit in.
Medium/Severe Injury
Nice... you surprised me...!
Awakening
紅白に染まった俺を見たんだ…後は死んでもめでたいだろう。
You've seen me dyed in red and white... even if you die right after, you should celebrate it.
Duel
さあて…これで負けたんじゃ、驚きも何もないよなあ!
Well now... if I lose right here, there won't be surprises or anything else, right!
Boss Node
全く…こういう本陣でございと言いたげなのはどうなんだ。
Honestly… Why do you look like you want to say, "Oh, so it's this sort of stronghold."
Victory (MVP)
Oh! Now this is a surprise.
Rank-Up Toku
いやいや、衣装替えにはまだ早い。このままでも、まだまだ見せてないことがあるんでな
No, no, it's too early to change my outfit. Even like this, I still have things I haven't shown you yet.
Destroyed
参ったな…これじゃあ衣装が赤一色で…鶴には見えねえじゃねえか…
What a bummer...with these robes dyed completely in red... I don't resemble a crane anymore.
Please go
here
for special Internal Affairs interactions
Horsekeeping
This is surprising. A blade doing horse duty, huh?
Horsekeeping (Complete)
My my, I was surprised...
Fieldwork
ははは。刀に畑仕事させるなんてねえ。たしかにこれは驚きだわな
Hahaha. Having a katana do field work. That's certainly surprising.
Fieldwork (Complete)
What's next? What kind of dumb work are you thinking of making me do?
Sparring
Throwing ourselves at each other any way we want will be advantageous, right?
Sparring (Complete)
Ah, with this, I won't be surprised even by a sneak attack, right?
Citadel (Poke multiple times)
いやいや、催促されたやった行動に驚きも何も無いだろう
No, no. It's not going to be surprising or anything if it's been requested, right?
Citadel (Injured - Poke multiple times)
っ...へっ、驚いたぜ。けが人だろうとお構いなしなのかい?
Nn... Heh, I'm surprised. So then you don't pay mind even if the person is injured?
Smithing (Complete)
Seems like the smithing is done.
Repair (Complete)
Now then, it seems like a repair room has freed up.
Specific event banner introduction
An event, huh... well lets enjoy ourselves then.
Background Change
Now then... while we're remodeling, should I get something prepared?
Troops Create (Failed)
This just won't go well, huh.
Horse Equipped
In order to deliver surprises even to the battlefield, I'll be counting on you today.
Omamori Equipped
Oi, oi! A worrywart are we?
Welcome Back Greeting (After Long Absence)
あっ、帰ってきたな。これで俺に新鮮な驚きが供給されると
Ah, you came back! I shall then provide some fresh surprises.
New Year's Greeting
さあて、お屠蘇気分の連中を驚かせてくるとするかね。きみもやるかい?
Well now, since everyone's absorbed with drinking sake let's give them a surprise. Want to join me?
Setsubun (Entering Map)
Shall we go? Oni extermination!
Setsubun (Cast Beans)
Out with the Oni! In with the luck!
Setsubun (After Casting Beans)
Spring Garden Flower Viewing
Does my white costume look fit with the cherry blossoms?
Regiment Battle Team Change
Touken Ranbu's First Year Anniversary (2016)
今日くらいは何も仕込んじゃないぜ。なんせ一周年だ。なにやってもこの驚きには勝てねえよ
There's nothing prepared for today. At any rate, it's the first anniversary. There's nothing I can do to beat that surprise!
Touken Ranbu's Second Year Anniversary (2017)
二周年だからって、総括するのはまだ早いよな。だって明日からもずっと、新しい驚きが待ってるんだろうから さ
Since it's the second anniversary, it's still too early to sum things up. After all, from tomorrow onwards I guess we'll be waiting for new surprises.
Touken Ranbu's Third Year Anniversary (2018)
さてさて、俺たちも三周年だ。新鮮な驚きを与えられるよう、これからも頑張るぜ?
Well now then, we're already at our third anniversary. So, in order to keep delivering fresh surprises, let's keep working hard from here on?
Touken Ranbu's Fourth Year Anniversary (2019)
おっと、四周年か。いやぁ、毎年なんだかんだで新しい驚きがあるって、いいことだよな
Ohh, it's our fourth anniversary. Well, after all that's been said and done, having new surprises every year is a good thing.
Touken Ranbu's Fifth Year Anniversary (2020)
Saniwa First Year Anniversary
おお。きみがここに来てもう一年かぁ? もうそんなになるたぁ驚きだぜ!
Oh~ So it's been a year since you've come here? Now that's surprising!
Saniwa Second Year Anniversary
わっ!....さすが就任二年目の主だぜ。びくともしないな!
Wah! ...As expected from Master who is celebrating your second inauguration anniversary. You won't even bat an eye!
Saniwa Third Year Anniversary
就任三周年おめでとう。……ん? 驚かせてこないのかって? そう予想されちゃうとなあ
Congratulations on your third inauguration anniversary. ...Hm? Am I not going to surprise you? To think that you'd be anticipating that.
Saniwa Fourth Year Anniversary
わっ! ……はっはっは、さすがに一年開ければ勝機もあったわけだな! 就任四周年おめでとう
Wah! ......Hahaha! I suppose waiting for a year was worth it! Congratulations on your fourth inauguration anniversary.
Saniwa Fifth Year Anniversary
Character Details
Community content is available under
CC-BY-SA
unless otherwise noted.