For Season 2 info, see Zoku Touken Ranbu Hanamaru.
Sypnosis
Edit
時は西暦2205年。歴史改変を目論む"歴史修正主義者"による、過去への攻撃がはじまった時代。歴史を守る使命を与えられた"審(さ)神者(にわ)"によって励起された最強の付喪神"刀剣男士"。これは、そんな彼らが、とある"本丸(ほんまる)"を舞台に、ひたむきに、そしてほがらかに生きる"花丸"な日々の物語-
The year is 2205. "Historical revisionists" looking to change the course of history have launched their attacks on the past. The Saniwa sages, who have been charged with protecting history, have given life to the strongest tsukumogami known as the "Touken Danshi." This is the story of their cheerful lives, set on the stage of a certain Citadel...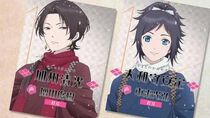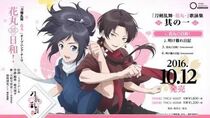 Director: Naoya Takashi (直谷たかし)
Character Design: Taniguchi Junichirou (谷口淳一郎)
Series Composition & Screenplay: Pierre Sugiura (ピエール杉浦)
Music: Kawai Kenji (川井憲次)
Animation Production: Doga Kobo (動画工房)
Original draft: DMM Games, Nitroplus
Schedule
Edit
TOKYO MX: Starts on Oct 2 (Sunday) 24:00, every Sunday
BS11: Starts on Oct 2 (Sunday) 24:30, every Sunday
Kansai TV (関西テレビ): Starts on Oct 2 (Sunday) 25:55, every Sunday
Cast & Episode List
Edit
External Links
Edit
Community content is available under
CC-BY-SA
unless otherwise noted.