Character Info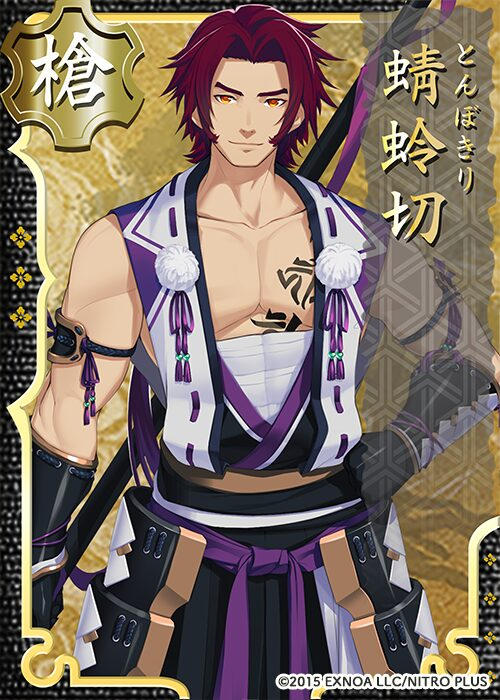 No. 65

 Yari

 Statistics (MAX)
| | |
| --- | --- |
| 生存  Survival | 62(68) |
| 統率  Leadership | 53(58) |
| 衝力  Impulse | 48(58) |
| 必殺  Killing Blow | 30 |
| 隠蔽  Camouflage | 28 |
| | |
| --- | --- |
| 打撃  Impact | 56(71) |
| 機動  Mobility | 12(22) |
| 範囲  Range | Vertical |
| 偵察  Scouting | 12(16) |
| 兵力  Troops Slots | 2 |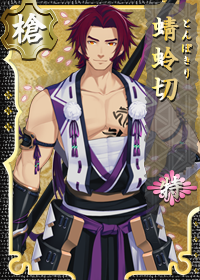 Tonbokiri Toku
蜻蛉切  特
No. 65

 Yari


 Statistics (MAX)
| | |
| --- | --- |
| 生存  Survival | 67(73) |
| 統率  Leadership | 58(63) |
| 衝力  Impulse | 53(63) |
| 必殺  Killing Blow | 30 |
| 隠蔽  Camouflage | 33 |
| | |
| --- | --- |
| 打撃  Impact | 61(76) |
| 機動  Mobility | 17(27) |
| 範囲  Range | Vertical |
| 偵察  Scouting | 17(21) |
| 兵力  Troops Slots | 2 |
Character Quotes
Book Description
……自分は村正作の槍、蜻蛉切と申します。三名槍のひとつとして評価をいただいております。 名の由来は、穂先に止まった蜻蛉が両断されたことであります。
...I am a spear created by Muramasa, my name is Tonbokiri. I am valued as one of the Three Great Spears. My name is derived from when a dragonfly landed on the spearhead and was cut in half.
Obtained
ただ今馳せ参じました。蜻蛉切と申します。いつでも出陣の準備は出来ております。
I have presently hastened to join you. You may call me Tonbokiri. I am prepared for battle at any time.
Login (Complete)
Touken Ranbu will now begin.
Game Start
Our master has returned to the headquarters! Everyone, assemble!
Citadel
みな誤解していますが、村正は、悪い奴ではないのです。
Many misunderstand but, Muramasa is not a bad person.
Note:
Muramasa was called "the most skillful smith but a violent and ill-balanced mind verging on madness". Muramasa blades were popularly believed to hunger for blood and to impel their warriors to commit murder or suicide. He may also be referring to the uchigatana
Sengo Muramasa
.
Yes, have you called for me?
そうですなぁ…自分は他の槍よりも、幾分か背が高いかもしれませんな。
Well... I may be somewhat taller than other spears.
Note:
Tonbokiri has the shortest blade length of the Three Great Spears, but his character height is the tallest out of the three of them.
Citadel (Idle)
I am here. Call for me whenever you wish.
Citadel (Injured)
No, this is not a problem.
Line removed as of Feb. 18, 2015
No amount of concern... will be required.
Citadel (Kiwame Sendoff)
主よ,心配することはありません。あやつは主に合わせて調整してくるだけですから。
Master, there is nothing to worry about. He's only gone to be adjusted to match you.
Note:
Originally, Tonbokiri was a cavalry spear with a longer shaft. At the end of the Sengoku Era, the shaft was shortened to better suit indoor battles and Tadakatsu's weakening strength with age.
Formation (Member)
Understood. I, Tonbokiri, will be here.
Formation (Captain)
Understood. I will carry out my duties.
Fatigue Recovery
ありがとうございます。あ、いえ、甘いものが苦手とか、そういう訳では
Thank you very much. Ah, no, I am somewhat weak for sweets, that is all.
Equipment
I will show you that they will be of use.
Expedition
I will bring back good news to you.
Expedition (Complete - Leader of Expedition Party)
I will now report the results.
Expedition (Complete - Leader of Primary Party)
The expedition troop has come to report.
Smithing
A new sword has joined our army.
Repairs (Minor Injury)
A wound of this level is... No, if it's your orders...
Repairs (Medium/Severe Injury)
So as to avoid being an eyesore for Master, I will go and get this treated.
Refinery
Oh... Power is overflowing inside me.
Mission (Complete)
It seems that our mission has been evaluated.
Merchant
Understood. Shall I... carry your luggage?
Front Lines
Open the gates! Now then, it's time to depart!
Scouting
Alright, pierce at where the enemy let their guard down!
Sortie Kick-off
I am one of the Three Great Spears, Tonbokiri!
PvP
If you get distracted during training, it will become a habit in actual combat.
Attacking
I will not let you come any closer!
What's wrong? Unable to approach me?
Critical Hit
If I can touch it, I definitely can cut it!
Note:
Normal blades need motion in order to cut, but legends say Tonbokiri slashed a dragonfly who merely touched its edge while the spear itself was motionless. A legendary cutting prowess...
Minor Injury
This doesn't even count as a wound!
Awakening
Shut up and get sliced in half!
Duel
Even if there's a difference in our fighting power, it won't be a problem!
Boss Node
All troops, brace yourselves!
Victory (MVP)
武功を立てるは武人の役目。当然の働きをしたまでです。
Successful military exploit is the role of a warrior. I have merely done what is natural.
Rank-Up Toku
主よ、貴方に天下無双の名前が与えられるよう、精進します。
Master, I will devote myself so you will be bestowed with the name of "The Unequaled".
Note:
天下無双 (tenka musou), literally means "peerless or unequaled (in even the entire world)"
Destroyed
無傷のッ…常勝、とはッ……いかなかったか…。先に逝くこと、お許しください…
Despite being called flawless... invincible... we did not proceed ...? Please forgive me, for passing away so early...
Note:
Tonbokiri is considered as one of the 3 best spears in Japan, while it's owner, Honda Tadakatsu was praised as the greatest samurai in history by Oda Nobunaga and Tokugawa Ieyasu. Thus, they were thought of as a dream team.
Please go
here
for special Internal Affairs interactions
Horsekeeping
If you neglect your horse, you will not win the battle.
Horsekeeping (Complete)
There there, you will definitely play a great role in this war.
Fieldwork
The samurai in Mikawa also worked in the fields quite a lot.
Note:
Mikawa is an old province in Japan where Tokugawa Ieyasu and Honda Tadakatsu lived.
Fieldwork (Complete)
It would be nice if we receive a good harvest.
Sparring
Now then, I'll lend you my chest. Bring it on!
Note:
[胸を貸そう] is an idiom said when a person with more strength agrees to become the practice partner of a person with less merit.
Sparring (Complete)
The time spent was worthwhile.
Citadel (Poke multiple times)
You are in such a rush. Is something the matter?
Citadel (Injured - Poke multiple times)
This isn't... A serious injury...
Smithing (Complete)
Smithing seems to be finished.
Repair (Complete)
Repair seems to be finished.
Specific event banner introduction
Background Change
Remodeling? I think that is a wonderful idea.
Horse Equipped
Alright. You will listen to me, won't you?
Omamori Equipped
まだまだ、無傷の常勝とはいきませんからな。拝領します
Unscathed invincibility is still a long way to go. I shall accept this.
Welcome Back Greeting (After Long Absence)
お帰りなさいませ。主のご帰還、お待ちしておりました
Welcome back. I was waiting for your return, Master.
New Year's Greeting
明けましておめでとうございます。正月といえど、だらけるわけにはいきませんな
Happy New Year. While it may be New Year's, you mustn't slack off.
Setsubun (Boss Node)
The oni is here... Brace yourselves.
Setsubun (Cast Beans)
Out with the oni. In with fortune.
Setsubun (After Casting Beans)
He shouldn't be saying sarcasm like that.
Regiment Battle Team Change
Let us go! Men, follow me!
Touken Ranbu's First Year Anniversary (2016)
我々も一周年。戦いの始まりからすると、戦力も拡充されましたが、慢心せず努力を続ける所存です
We have finally our First Year Anniversary. Our forces have increased compared to the beginning of our battle, nevertheless we should continue to work hard without being complacent.
Touken Ranbu's Second Year Anniversary (2017)
二周年を迎え 、なお我々の戦いは続いております。ですが 、きっと貴方ならその果てに勝利を掴むことが出来ると 信じております
As we welcome the second year, our battle still continues. But I believe that if it's you, victory can surely be seized in the end.
Touken Ranbu's Third Year Anniversary (2018)
三周年を迎えました。今までにないかたちの付喪神も出現し、戦況も変わリつつあリますな
We've welcomed our third year. You've manifested tsukumogami of unprecedented forms, and the progression of battle is changing.
Touken Ranbu's Fourth Year Anniversary (2019)
四周年を迎え、戦いはまだ続いております。ですが、我らとしては戦い抜くのみ
We welcome our fourth annviersary and our battle is still ongoing. However, we shall simply fight to the bitter end.
Saniwa First Year Anniversary
就任一周年おめでとうございます。これからますますのご活躍期待しております
Congratulations on the first anniversary of your inauguration. I look forward to even more of your successes in the future.
Saniwa Second Year Anniversary
就任二周年おめでとうございます。 この本丸の主として、堂々とした立ち居振る舞いを身につけましたな
Congratulations on your second year inauguration anniversary. You've really adopted the dignified demeanor of this citadel's master.
Saniwa Third Year Anniversary
就任三周年おめでとうございます。我らを従えるその采配、これからも頼りにしております
Congratulations on your third year inauguration anniversary. I shall keep on relying on your command which leads us.
Saniwa Fourth Year Anniversary
就任四周年おめでとうございます。日々先へ進もうとするその姿勢、大事にしてくださいませ
Congratulations on your fourth year inauguration anniversary. Please value your attitude of moving forward every day.
Character Details