Character Info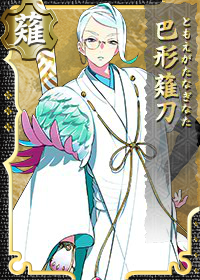 No. 140

 Naginata

 Statistics (MAX)
| | |
| --- | --- |
| 生存  Survival | 51(57) |
| 統率  Leadership | 39(45) |
| 衝力  Impulse | 44(55) |
| 必殺  Killing Blow | 26 |
| 隠蔽  Camouflage | 35 |
| | |
| --- | --- |
| 打撃  Impact | 45(60) |
| 機動  Mobility | 32(40) |
| 範囲  Range | Horizontal |
| 偵察  Scouting | 31(37) |
| 兵力  Troops Slots | 2 |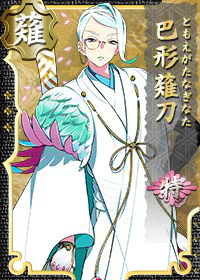 Tomoegata Naginata Toku
巴形薙刀  特
No. 140

 Naginata


 Statistics (MAX)
| | |
| --- | --- |
| 生存  Survival | 56(62) |
| 統率  Leadership | 44(50) |
| 衝力  Impulse | 49 (60) |
| 必殺  Killing Blow | 26 |
| 隠蔽  Camouflage | 40 |
| | |
| --- | --- |
| 打撃  Impact | 50(65) |
| 機動  Mobility | 37(45) |
| 範囲  Range | Horizontal |
| 偵察  Scouting | 36(42) |
| 兵力  Troops Slots | 2 |
Character Quotes
Book Description
薙刀、巴形だ。馬上用とも小柄な者が使うための形とも言われるが、もっぱら典礼用とされるな
I am naginata Tomoegata. It's been said the shape was for both horseback riders and those with slight builds, but I was mostly used for ceremonial purposes.
Obtained
薙刀、巴形だ。銘も逸話も持たぬ、物語なき巴形の集まり。それが俺だ。
I'm naginata Tomoegata. A collection of tomoe shapes without a story, wielding neither signature nor legend. That is who I am.
Note:
Tomoe is a Japanese abstract shape described as a swirl that resembles a comma or the usual form of a magatama.
Citadel
静形はどうにも武骨だからな……傍仕えは、俺の方が向いていよう
Shizukagata is unruly no matter what... If you need an attendant, please look for me instead.
Note:
Shizukagata is another type of naginata with slimmer blade and less curvature. Tomoegata, with its wider and curved blade, requires less strength to cleave.
主、用があれば俺を呼べ。声の届くところに控えていよう。
Master. Call for me if you have any need. I'm waiting within earshot.
Master, is there anything troubling you? Is there anything you desire?
Citadel (Idle)
Wait for orders, is it? Well then, if anything happens, call for me.
Citadel (Injured)
っ待て、損傷が激しい……っ何らかの対処が必要だ……
P-please wait. These injuries are severe... Something needs to be done about them.
Citadel (Kiwame Sendoff)
A journey, hm? It's good to have a past to look back to.
Formation (Member)
I shall fulfill the role of support.
Formation (Captain)
I am the team leader? Have you been driven to such measures?
Fatigue Recovery
Oh, master...? This is...
Expedition
Well then, I shall carry out the expedition.
Expedition (Complete - Leader of Expedition Party)
Master, I've returned. I'll report the results.
Expedition (Complete - Leader of Primary Party)
The expedition party has returned.
Smithing
A new sword has manifested.
Repairs (Minor Injury)
This is minor but I shall go in for repairs.
Repairs (Medium/Severe Injury)
Starting repairs, wait for a little while.
Refinery
Ah, my strength is rising.
Mission (Complete)
A mission has been completed.
Battle Record
Master, is your confirmation needed?
Merchant
Master, you should leave the heavy things to me.
Front Lines
Well then, let us depart.
Resource Discovery
What an unexpected discovery.
Scouting
How are the scouting results?
Sortie Kick-off
I was manifested in order to fight you, be prepared.
PvP
Training with other citadels? Very well.
Medium/Severe Injury
(grunt), have I been seriously wounded?
Awakening
I'm unleashing my powers. It's too late to repent.
Duel
So I'm left as the last stand, isn't it?
Boss Node
Have we arrived at our destination?
Victory (MVP)
Since I've been manifested I must excel.
Rank-Up Toku
戦闘経験により、俺の物語が拡充された。強くなった、ということだ
Through battle experience, my tale has been enriched. It appears I have become stronger.
Destroyed
For a naginata without even a name, perhaps I have done well...
Please go
here
for special Internal Affairs interactions
Horsekeeping
I'm somewhat linked by fate to horses.
Horsekeeping (Complete)
To do well on horseback, being on good terms with horses is a must.
Fieldwork
Well then, how were the rituals for bountiful harvests performed again?
Fieldwork (Complete)
The crops shall be bountiful with this.
Sparring
Can you measure my true strength?
Sparring (Complete)
Thank you for working with me.
Citadel (Poke multiple times)
What's wrong, master, for you to be so frantic?
Citadel (Injured - Poke multiple times)
My apologies, master. Right now I'm wounded...
Smithing (Complete)
The smithing is completed.
Repair (Complete)
The repairs have been completed.
Specific event banner introduction
Background Change
Master. Give me instructions on remodeling.
Horse Equipped
I used to be used on horseback.
Omamori Equipped
I will be careful to not get in such a situation that it will be used.
Welcome Back Greeting (After Long Absence)
Master, you finally came back. I've been waiting.
New Year's Greeting
謹賀新年。さて、正月の神事はどうするのであったか……
Happy New Year. Now then, how were the rituals for the new year performed...
Setsubun (Entering Map)
Obtain the beans to defeat oni, that's the objective.
Setsubun (Boss Node)
Have we arrived at our destination?
Setsubun (Cast Beans)
Out with the Oni, in with the fortune.
Setsubun (After Casting Beans)
Beans are food, but they have another use such as this.
Regiment Battle Team Change
We're attacking all at once!
Touken Ranbu's Third Year Anniversary (2018)
戦いが始まリ、三周年を迎えた。俺のような新顔もいるが、これからも頼む
The third year since the beginning of this battle has arrived. Please continue to take care of newcomers such as me.
Touken Ranbu's Fourth Year Anniversary (2019)
戦いは四周年を迎え、未だ終結は見えない。だが、そのおかげで俺はここにいる
The battle has reached its fourth year and even now the conclusion is still far from sight. However, I am here because of that.
Saniwa First Year Anniversary
It seems like it has been a year since master's inauguration. Let us celebrate.
Saniwa Second Year Anniversary
主、二年目の感想はどうだった。采配も板についてきたな
Master, what are your thoughts about the second year? You must have become accustomed to wielding the command baton.
Saniwa Third Year Anniversary
主はこれで三周年か。俺のほうが学ぶことが多そうだな
Is it master's third anniversary? It seems that I'm the one who has a lot to learn.
Saniwa Fourth Year Anniversary
主。就任四周年だぞ。さすがだな、動じることもないか
Master, it's your fourth inauguration anniversary. As expected from you. I suppose it's nothing to be perturbed about.
Character Details