Character Info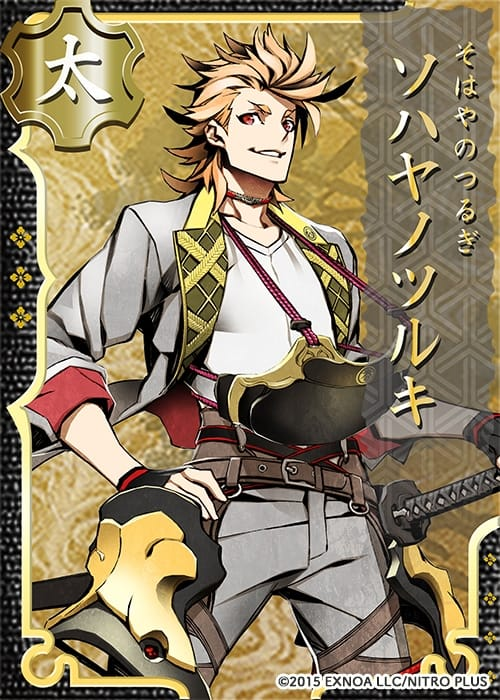 No. 15

 Tachi

 Statistics (MAX)
| | |
| --- | --- |
| 生存  Survival | 51(55) |
| 統率  Leadership | 55(66) |
| 衝力  Impulse | 38(43) |
| 必殺  Killing Blow | 25 |
| 隠蔽  Camouflage | 25 |
| | |
| --- | --- |
| 打撃  Impact | 52(64) |
| 機動  Mobility | 36(42) |
| 範囲  Range | Short |
| 偵察  Scouting | 24(26) |
| 兵力  Troops Slots | 2 |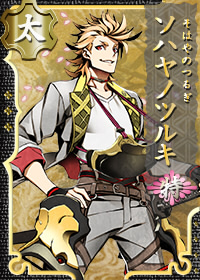 Sohayanotsurugi Toku
ソハヤノツルキ  特
No. 15

 Tachi


 Statistics (MAX)
| | |
| --- | --- |
| 生存  Survival | 57(61) |
| 統率  Leadership | 61(72) |
| 衝力  Impulse | 44(49) |
| 必殺  Killing Blow | 25 |
| 隠蔽  Camouflage | 31 |
| | |
| --- | --- |
| 打撃  Impact | 58(70) |
| 機動  Mobility | 42(48) |
| 範囲  Range | Short |
| 偵察  Scouting | 30(32) |
| 兵力  Troops Slots | 2 |
Character Quotes
Book Description
ソハヤノツルキ ウツスナリ……。この言葉が俺を示すもの。坂上宝剣の写しにして、大典太光世とは兄弟だな。主を変えて使われ続ける在り方と、主とともに長き眠りにつく在り方。刀としてはどちらが幸せなんだろうなぁ?
Sohayanotsurugi Utsusunari… these words are what represent me. Being a copy of Sakanoue's treasured sword, I'm Oodenta Mitsuyo's brother. To be used by many masters or being forced to sleep for many years with your master in that way, I wonder which way would be more fortunate?
Obtained
ソハヤノツルキ ウツスナリ。坂上宝剣の写しだ。よろしく頼むぜ。
Sohayanotsurugi Utsusunari. I'm a copy of Sakanoue's treasured blade. Let's get along.
Login (Complete)
Touken Ranbu, starting up!
Game Start
It's going to be my turn soon, right?
Citadel
Treating a thing with spiritual power like an ornament, how ironic.
You want to use my spiritual power or something? You okay with the spiritual power of a replica?
Citadel (Idle)
...once again, I'm back to square one, eh.
Citadel (Injured)
...! Don't touch me... I'm hurt you know.
Citadel (Kiwame Sendoff)
まあ、長いこと放っておかれるわけじゃあるまいし、心配するなって。
Well, it's not like he's going to leave you for a long time, so don't worry.
Formation (Member)
守り刀って言っても、写しだから将の器じゃないってか
Even though I'm a protective sword, a replica isn't leader material, eh.
Formation (Captain)
Is this okay? I'm not Sakanoue's treasured sword, you know?
Fatigue Recovery
Sweets for provision eh, aren't you thoughtful.
Equipment
Combat preparation is important!
I just got a bit better, eh?
This equipment... is compatible with my spiritual power!
Expedition
An expedition? That's nice. Since I don't like being an ornament.
Expedition (Complete - Leader of Expedition Party)
Just came back! The results are something like this.
Expedition (Complete - Leader of Primary Party)
The expedition team's back.
Smithing
That reaction means a new sword seems to have been born.
Repairs (Minor Injury)
I'll be back soon. Even ornaments should be spotless.
Repairs (Medium/Severe Injury)
Dammit...even though I'm a spiritual blade, am I in such a bad state because I'm a replica...
Refinery
My spiritual power got stronger!
Mission (Complete)
Seems like a mission's been completed!
Battle Record
Hmm...? Seems like some kind of letter's arrived.
Merchant
When making preparations for critical moments, frugality's important too.
Front Lines
Spiritual power's overflowing non-stop!
Resource Discovery
Wait, there's something there. ...No, not an enemy.
Scouting
I feel a restless presence...let's grasp the enemy's formation!
Sortie Kick-off
Even though I'm a replica, I'm master's protective sword!
PvP
Should I try to use the result of this match for divination?
Attacking
Fear the point of my blade!
Note:
On the orders of Ieyasu on his deathbed, Sohayanotsurugi was pointed west to prevent further trouble from the Toyotomi clan's former stronghold.
Critical Hit
I see them all, your movements!
Minor Injury
Doesn't seem like they're scared of me...!
Medium/Severe Injury
Dammit! Do replicas not have enough spiritual power?!
Awakening
Even if I'm a replica, don't underestimate my spiritual power!
Duel
Waiting is my specialty. And I've been waiting for this chance!
Boss Node
This presence... be on guard!
Victory (MVP)
Don't look down on me just because I'm a replica!
Rank-Up Toku
Got upgraded as a spiritual blade!
Destroyed
今生は戦場にて倒れる、か……無銘刀にゃ、むしろ相応しいよな……
To be defeated on a battlefield in this life... Maybe if I weren't a mumeitou, I would've been more worthy...
Note:
A mumeitou is a sword that does not bear the signature of its sword smith.
Please go
here
for special Internal Affairs interactions
Horsekeeping
まさか世話をする側、それも馬相手になるとはなぁ……
Never thought I'd be taking care of something, much less that it would be a horse...
Horsekeeping (Complete)
It went surprisingly well...
Fieldwork
I'm kinda... not used to this sort of thing...
Fieldwork (Complete)
I just had a rather fresh new experience.
Sparring
... Practice, huh. Practice.
Sparring (Complete)
... That actually made me sweat.
Citadel (Poke multiple times)
Hey hey, calm down there.
Citadel (Injured - Poke multiple times)
くっ……怪我人に頼るような用事でも……あんのかよ……っ
Eugh... is this a task that an injured person can be relied on...
Smithing (Complete)
Looks like the smithing is done. What are the plans after this?
Repair (Complete)
Looks like the repairs are done. Who's the next guy who's been waiting?
Specific event banner introduction
I heard there's an event. What are you going to do?
Background Change
Remodeling, huh? I don't have anything to say in particular.
Troops Create (Failed)
I can't adjust my spiritual power well.
My bad, my bad! It's a failure.
Aw, man. I thought I did it.
Horse Equipped
Woah! Don't be scared of my spiritual powers, alright?
Omamori Equipped
An amulet for a protective sword... Hm.
Welcome Back Greeting (After Long Absence)
おー。よかったよかった。置物生活に戻ったかと。やっぱりなぁ。主がいないとどうしても不安になっちまうんだよな
Oooh. I'm glad, I'm glad. I thought I was going back to my life as an ornament. Yeah, you know, if you're not around I definitely end up feeling anxious.
New Year's Greeting
So early in New Year's day, are you praying?
Setsubun (Entering Map)
An Oni, eh? Well, isn't this a job for a protective blade!
Setsubun (Boss Node)
This presence... it's an Oni!
Setsubun (Cast Beans)
Out wiiith the Oniii! In wiiith the fortuuune!
Setsubun (After Casting Beans)
I'll throw heaps of beans!
Regiment Battle Team Change
Let's settle this at once!
Touken Ranbu's Second Year Anniversary (2017)
俺達もついに二周年か。この本丸も、いたるところに霊力を感じるな
We're finally at two years, eh. I'm totally feeling the spiritual power everywhere in this citadel.
Touken Ranbu's Third Year Anniversary (2018)
さて、俺たちもこれで三周年。これからも俺の霊力、大いに役立てるよう励むぜ
Well, looks like we've hit our third year. I'll keep striving to make my spiritual power even more useful than before.
Touken Ranbu's Fourth Year Anniversary (2019)
四周年……なるほど。任せろ、厄除けは俺の出番だな?
Fourth anniversary...... I see. Leave it to me. Warding off evil is my turn, right?
Saniwa First Year Anniversary
へぇ。今日で就任一周年なのか。もう新米って顔つきじゃないもんな
Heh. Today's the first anniversary of your inauguration, eh? You sure don't have the face of a newbie anymore.
Saniwa Second Year Anniversary
Your inauguration's second anniversary is quite auspicious. That's great. You've got this confident look in your eyes.
Saniwa Third Year Anniversary
Oh, it's finally the third anniversary of your inauguration. I'm proud of you!
Saniwa Fourth Year Anniversary
I heard about it. Congratulations on your fourth year of inauguration!
Character Details