Character Info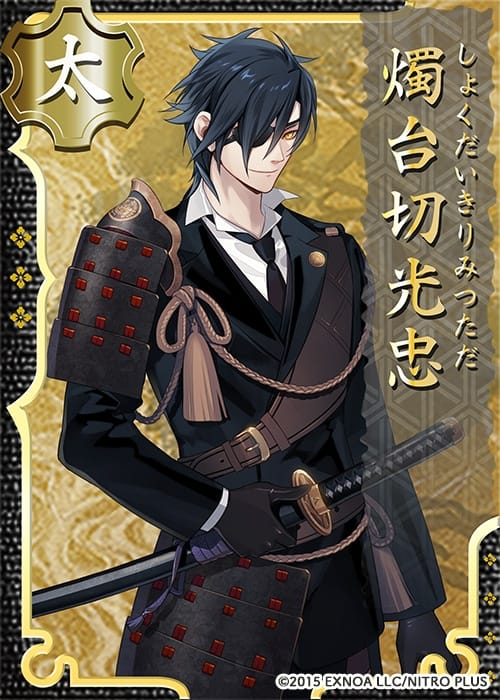 No. 73

 Tachi

 Statistics (MAX)
| | |
| --- | --- |
| 生存  Survival | 52(65) |
| 統率  Leadership | 51(66) |
| 衝力  Impulse | 38(47) |
| 必殺  Killing Blow | 30 |
| 隠蔽  Camouflage | 24 |
| | |
| --- | --- |
| 打撃  Impact | 51(67) |
| 機動  Mobility | 28(28) |
| 範囲  Range | Short |
| 偵察  Scouting | 28(31) |
| 兵力  Troops Slots | 2 |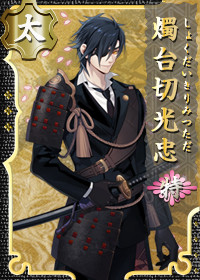 Shokudaikiri Mitsutada Toku
燭台切光忠  特
No. 73

 Tachi


 Statistics (MAX)
| | |
| --- | --- |
| 生存  Survival | 58(65) |
| 統率  Leadership | 57(72) |
| 衝力  Impulse | 44(53) |
| 必殺  Killing Blow | 30 |
| 隠蔽  Camouflage | 30 |
| | |
| --- | --- |
| 打撃  Impact | 57(73) |
| 機動  Mobility | 34(34) |
| 範囲  Range | Short |
| 偵察  Scouting | 34(37) |
| 兵力  Troops Slots | 2 |
Character Quotes
Book Description
僕は、燭台切光忠。伊達政宗公が使ってた刀なんだ。 政宗公に対して悪い感情はないけど、名前の由来が、人を斬った時にそばの燭台まで一緒に切れたから、ってのはねえ……。
いくら青銅の燭台とは言え、もうちょっと強そうなものだったらカッコ良かったんだけど
I'm Shokudaikiri Mitsutada. I'm a katana that was once used by Lord Date Masamune.
I don't harbor any bad feelings towards Lord Masamune, but my name comes from a time when I killed someone and happened to cut a candlestick that was nearby at the same time...

Although it really was a bronze candlestick holder, it would've been cooler if it had been something a bit more durable.
Note:
His name literally translates to "candlestick-slasher Mitsutada."
Obtained
僕は、燭台切光忠。青銅の燭台だって切れるんだよ。……うーん、やっぱり格好つかないな。
I'm Shokudaikiri Mitsutada. I can cut through even bronze candlestick holders... Yeah, that's not cool at all.
Login (Loading)
It should be my turn soon, right?
Login (Complete)
Touken Ranbu, let's start.
Game Start
I want to do things with style!
Citadel
格好は常に整えておくべきだよ。いつ誰が見ているかわからないからね。
You've always got to make yourself presentable. You never know when someone's going to be looking.
長谷部くんとは結構気が合いそうなんだけどねえ。でも彼、元の主のことを嫌ってるから話が合わないが。
It seems like I'd get along with Hasebe-kun well enough. But he hated his original owner, so it's hard to talk to him.
Note:
Heshikiri Hasebe's original owner was Oda Nobunaga. Shokudaikiri Mitsutada was once owned by Oda Nobunaga before being handed off to Date Masamune.
貞ちゃんはこっちに来てる?太鼓鐘貞宗。通称貞ちゃんだよ。
Note:
Taikogane Sadamune is a tantou made by the sword smith Sadamune and also owned by Date Masamune.
Citadel (Idle)
You shouldn't slack off just because you're bored.
Citadel (Injured)
No good... I can't show off like this.
Line removed as of Feb. 18, 2015
If I don't get patched up soon... it'll be really uncool.
Citadel (Kiwame Sendoff)
I'm looking forward to seeing his new outfit.
Note:
Currently bugged in-game; his dialogue box text is "せっかく彼が君のために着飾ってくるっていうんだ。期待して待たないとね。" but the audio is the one shown above.
Formation (Member)
Ah, I just have to support everyone, right?
Formation (Captain)
Nominating me? Then I'll do my best to answer your expectations.
Fatigue Recovery (One Bite Dango)
If I look tired, I'll become unsightly.
Fatigue Recovery (Makunouchi Bento)
This seasoning... Hehe, I can't lose to this either.
Fatigue Recovery (Oiwaijuu Bento)
It's fun to even just look at food that looks delicious.
Equipment
I wonder how I should wield this with style.
Expedition
Just because I won't be here doesn't mean you can start dressing sloppily.
Expedition (Complete - Leader of Expedition Party)
I'm back. I've done all that I can.
Expedition (Complete - Leader of Primary Party)
Looks like an expedition team has returned.
Troops Create
I've made something cool in my style.
Repairs (Minor Injury)
I'm going to go fix my hair for a bit.
Repairs (Medium/Severe Injury)
At this rate, I'll look unsightly, huh...
Mission (Complete)
It seems, the mission is complete.
Battle Record
I see, I see. So this is your battle record?
Merchant
If you waste your money, I won't lend you any of mine, okay?
Note:
Date Masamune had huge reserves of gold in his domain of Sendai and often boasted about it. Many daimyô were jealous of him.
Front Lines
Finally, my big moment. Let's head out with style!
Scouting
相手の油断を突いて大暴れ…とかそういうのが出来たら理想だよね。
Catching them off guard and taking them down... Well, something like that would be ideal.
Sortie Kick-off
A sword of Mitsutada, the founder of the Osafune school...Here I come!
Note:
The Osafune school of swordmakers is one of the largest and most famous. Its founder, Mitsutada, made many swords bearing his name, including Shokudaikiri Mitsutada.
PvP
It'd really be uncool if we went easy on them just because it's practice.
Attacking
I want to do things with style!
I'm made for battle, you see!
Critical Hit
Whatever defenses you have are useless!
Minor Injury
This... is within my expectations.
Medium/Severe Injury
How unsightly I've become...!
Awakening
At this rate... I can't show off like this!
Duel
I'll decide the battle splendidly... won't I!
Boss Node
It's time. Is everyone prepared?
Victory (MVP)
I've decided the battle with style... I think.
Rank-Up Toku
I think I've become stronger than before.
Destroyed
戦に倒れるのは刀の習い。とはいえ……これでは格好がつかないか……
It's a sword's fate to fall in battle. But even so... like this, I can't show off anymore, huh...?
Please go
here
for special Internal Affairs interactions
Horsekeeping
Heading onto the battlefield with style begins with day-to-day preparations.
Horsekeeping (Complete)
I'll be counting on you in battle, okay?
Fieldwork
It'd be nice if they grew up to be delicious.
Fieldwork (Complete)
After I finish harvesting, do you want me to cook for you?
Sparring
いろいろ試したいことがあるんだ。手伝ってくれるかい?
There are a few things I want to try out. Want to give me a hand?
Sparring (Complete)
Thanks. I found many places for improvement.
Citadel (Poke multiple times)
You can't do that. Being too persistent isn't good, you know?
Citadel (Injured - Poke multiple times)
っ……はぁ……ごめんね。今は……ここまでにしてくれないかな
...Hah... Sorry. Can you... Call it a day?
Smithing (Complete)
Looks like smithing is finished. Let's welcome him.
Repair (Complete)
A repair room opened up. Is there anyone waiting for his turn?
Specific event banner introduction
Oh? It seems that something is starting.
Background Change
Remodeling? Do you mind if I share my opinions too?
Troops Create (Failed)
Darn... I put too much force.
I had confidence in that one, though.
Horse Equipped
Let's enliven the battlefield together.
Omamori Equipped
Thank you. I'll bring this back.
Welcome Back Greeting (After Long Absence)
お、おかえり。何かあったんじゃないかと心配したよ。……そうだね。君がいないと、気落ちしちゃう人も多いよ、ここは
Oh, welcome back. I was worried something had happened to you... That's right. A lot of people here feel pretty down if you're not around.
New Year's Greeting
Make sure you don't overeat.
Setsubun (Entering Map)
Let's take beans with style!
Setsubun (Boss Node)
Won't you... Accept some beans?
Setsubun (Cast Beans)
Out with the Oni! In with the fortune!
Setsubun (After Casting Beans)
Now, let's make kinako mochi using roasted soybeans, shall we!
Note:
Kinako mochi is mochi coated in kinako powder. Fukumame (literally Fortune beans) or Roasted soybeans is the kind of beans thrown in Setsubun.
Spring Garden Flower Viewing
The flowers are nice, huh. Shall we try making flower-patterned clothes?
Regiment Battle Team Change
Now then, it's the start of the highlight scene!
Touken Ranbu's First Year Anniversary (2016)
一周年と言っても、僕は特に変わらないかな。日頃から身だしなみには気をつけてるしね
Even though you say it's been one year, I guess I haven't changed much? I'm always careful with my daily grooming and appearance after all.
Touken Ranbu's Second Year Anniversary (2017)
みんな二周年だからって浮かれているね。まあ、今日くらいはいいかな?
Everyone's being festive with it being the second anniversary. Well, if it's today then it's okay, yeah?
Touken Ranbu's Third Year Anniversary (2018)
さて、三周年だね。僕らも気を引き締めて頑張るとしよう
It's the third anniversary. Let's brace ourselves and work hard this year, too.
Touken Ranbu's Fourth Year Anniversary (2019)
四周年かあ。浮かれてばかりもいられないけど、その分僕がしっかりしておこうか
Fourth anniversary, huh? We can't all be in the mood for celebration, so I'll have to keep a cool head in their place.
Touken Ranbu's Fifth Year Anniversary (2020)
ついに五周年を迎えることができたよ。僕らのこと、これからも応援よろしくね
Saniwa First Year Anniversary
就任一周年おめでとう。がんばったね。ささっ、せっかくなんだから着飾ろうよ
Congratulations on the first anniversary of your inauguration. You've done well. Now, let's dress up for this special occasion!
Saniwa Second Year Anniversary
Congratulations on your inauguration's second anniversary. Good job, good job.
Saniwa Third Year Anniversary
Congratulations on your inauguration's third anniversary. You've worked hard.
Saniwa Fourth Year Anniversary
It's your inauguration's fourth anniversary. I say this every year, but you've done your best.
Saniwa Fifth Year Anniversary
Character Details
Community content is available under
CC-BY-SA
unless otherwise noted.