Character Info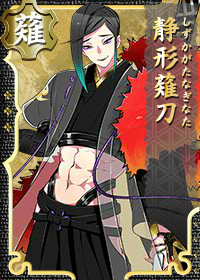 No. 152

 Naginata

 Statistics (MAX)
| | |
| --- | --- |
| 生存  Survival | 53(59) |
| 統率  Leadership | 39(45) |
| 衝力  Impulse | 49(60) |
| 必殺  Killing Blow | 26 |
| 隠蔽  Camouflage | 30 |
| | |
| --- | --- |
| 打撃  Impact | 47(62) |
| 機動  Mobility | 31(39) |
| 範囲  Range | Horizontal |
| 偵察  Scouting | 29(35) |
| 兵力  Troops Slots | 2 |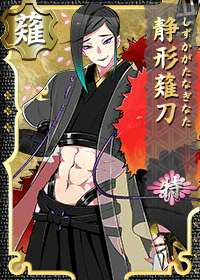 Shizukagata Naginata Toku
静形薙刀  特
No. 152

 Naginata


 Statistics (MAX)
| | |
| --- | --- |
| 生存  Survival | 58(64) |
| 統率  Leadership | 44(50) |
| 衝力  Impulse | 54(65) |
| 必殺  Killing Blow | 26 |
| 隠蔽  Camouflage | 35 |
| | |
| --- | --- |
| 打撃  Impact | 52(67) |
| 機動  Mobility | 36(44) |
| 範囲  Range | Horizontal |
| 偵察  Scouting | 34(40) |
| 兵力  Troops Slots | 2 |
Character Quotes
Book Description
薙刀、静型だ。大別して、実践用とされるな。 ……しかし、名のあるものは脇差に直されてしまう事が多くてなあ。これが時代の流れか
I'm a naginata, Shizukagata. Generally, I'm used for combat. ... However, a lot of the famous ones have been re-tempered into wakizashi. I guess this is what they call the passage of time.
Note:
He is the collective personification of all Shizuka-type Naginata, and this line refers to that. For further info about Shizukagata Naginata, refer to
Tomoegata Naginata
's footnotes.
Obtained
薙刀、静形だ。銘も逸話もないが、そういったものはこれから作ればいい
I'm a naginata, Shizukagata. Although I have neither inscriptions nor anecdotes, it's fine as long as I can just make them now.
Login (Complete)
Touken Ranbu, let us begin.
Game Start
Let's create new memories today too.
Citadel
Ah, Master... it's better if you don't get too close to me.
鯰のといい、骨喰のといい、ここには親近感の湧く奴が多いな
Be it the catfish or be it the bone gnawer, there sure are a lot of familiar faces here.
槍というのはどうもいけ好かんな。いや、なんでもない。明るくいこう
Spears are truly unpleasant. No, nevermind. Let's stay cheerful.
Citadel (Idle)
俺も中座して構わんか。脇差や短刀と交流を深めたいんだ
May I step outside as well? I want to deepen my relationships with the wakizashi and tantou.
Citadel (Injured)
あ、主……俺に近寄っては……まぁ、俺が弱ってる今なら、殺さずに済むか……
Ah, Master... for you to approach me is... Well, now that I'm weakened, I suppose it will end without me killing you.
Citadel (Kiwame Sendoff)
ふむ……記憶を辿る旅か。いや、羨ましいわけでは無いが
Hmm... A journey to the place of their memories, eh. No, it's not like I'm jealous.
Formation (Member)
Understood. Let us get along.
Formation (Captain)
Hmm, so I'm now the captain?
Fatigue Recovery
Hm, this is so small... delicious!
Expedition
Let's go, this is an expedition.
Expedition (Complete - Leader of Expedition Party)
Expedition (Complete - Leader of Primary Party)
Oh, the expedition team has returned.
Repairs (Minor Injury)
It's just a scratch though...
Repairs (Medium/Severe Injury)
As expected, this... can't be neglected...
Mission (Complete)
Doesn't it seem like a mission has been completed?
Battle Record
I have brought the battle record.
Merchant
If I touch them, the goods might break...
Resource Discovery
Oh, there's a small thing.
Scouting
Report the scouting result, please.
Sortie Kick-off
Now, let me show you the power used in real battle.
PvP
Training, huh. It'll be good if it can deepen our relationship.
Awakening
Now, it's time to unleash my power!
Duel
I will be the last stronghold.
Boss Node
Now then, the strong ones have appeared.
Victory (MVP)
Please put all my accomplishments onto the records.
Rank-Up Toku
Even if I don't have any inscriptions or anecdotes, as long as I keep putting forth efforts, I will get stronger.
Destroyed
ああ……終わりか……。残るものがなければ……皆、忘れてしまうのだろうな……
Ah.. it's over? If I don't leave anything behind.. Everyone will forget me...
Please go
here
for special Internal Affairs interactions
Horsekeeping
Horses, huh. I must do it so that I don't scare them...
Horsekeeping (Complete)
Hmm, I managed to complete it somewhat.
Fieldwork
Fieldwork, huh. I'll try doing it.
Fieldwork (Complete)
Even if I'm covered in mud, it's also a good memory.
Sparring
All right. Now this is my specialty.
Sparring (Complete)
Hm, we've worked up a good sweat.
Citadel (Poke multiple times)
まあ、待て。……主ぃ、俺は避けているわけではなくて…だな
Just, wait... Master, I'm not trying to avoid you..
Citadel (Injured - Poke multiple times)
その……ん、なんだ……。俺は粗忽者だからな……主ぃが近くにいると、壊しそうで……怖いのだ
Well...ng, you see... Since I'm so careless... whenever Master gets close to me it feels like I might break you... I'm scared of that.
Smithing (Complete)
Smithing has been finished.
Repair (Complete)
The repair room is vacant.
Specific event banner introduction
It looks like an event. We must participate.
Troops Create (Failed)
I'm not suited... for this kind of thing.
Horse Equipped
Horses can be so gentle on the battlefield.
Welcome Back Greeting (After Long Absence)
Oh, you're back? The wakizashi and tantou were worried about you.
New Year's Greeting
Yes, it's a new year to make new memories.
Setsubun (Boss Node)
Now then, the strong Oni appears......
Setsubun (Cast Beans)
Out with the Oni, in with the fortune.
Setsubun (After Casting Beans)
うん、意味はよくわからんが記憶にはなる きっといい思い出だ
Hmm, I don't quite understand but this will become a memory. I'm sure this is a good memory.
Regiment Battle Team Change
Touken Ranbu's Fourth Year Anniversary (2019)
四周年を迎えた戦い。戦いが続くということは、俺の活躍の記憶ができるということだ
Our battle has reached its fourth year. The fact that the battle still continues means I can make memories of my accomplishments.
Saniwa First Year Anniversary
就任一周年か。主……さあ、祝いの準備はできているぞ
It's your first inauguration anniversary, huh. Master... now, I have finished the preparation for your celebration.
Saniwa Second Year Anniversary
Now, let's celebrate. Congratulations for your second inauguration anniversary, Master.
Saniwa Third Year Anniversary
就任三周年おめでとう。主、今日は無礼講でもいいか?
Congratulations on your third inauguration anniversary. Master, is it okay if we ignore our ranks for today?
Saniwa Fourth Year Anniversary
就任四周年おめでとう。主ぃ……、さあさあ、主役がおらんと祝いが始まらん
Congratulations on your fourth inauguration anniversary. Come on now, the celebration won't start without the main celebrant.
Character Details
Community content is available under
CC-BY-SA
unless otherwise noted.