Character Info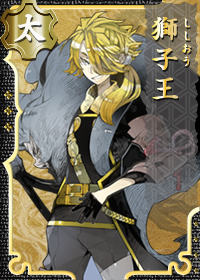 No. 122

 Tachi

 Statistics (MAX)
| | |
| --- | --- |
| 生存  Survival | 45 |
| 統率  Leadership | 49(66) |
| 衝力  Impulse | 41(50) |
| 必殺  Killing Blow | 28 |
| 隠蔽  Camouflage | 25 |
| | |
| --- | --- |
| 打撃  Impact | 47(60) |
| 機動  Mobility | 31 |
| 範囲  Range | Short |
| 偵察  Scouting | 25(33) |
| 兵力  Troops Slots | 2 |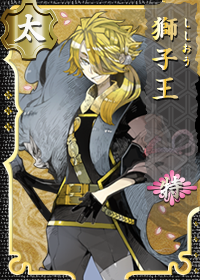 Shishiou Toku
獅子王  特
No. 122

 Tachi


 Statistics (MAX)
| | |
| --- | --- |
| 生存  Survival | 51(59) |
| 統率  Leadership | 55(72) |
| 衝力  Impulse | 47(56) |
| 必殺  Killing Blow | 28 |
| 隠蔽  Camouflage | 31 |
| | |
| --- | --- |
| 打撃  Impact | 53(66) |
| 機動  Mobility | 37 |
| 範囲  Range | Short |
| 偵察  Scouting | 31(33) |
| 兵力  Troops Slots | 2 |
Character Quotes
Book Description
俺の名は獅子王。格好いいけどじっちゃんが持つ関係で軽く作ってあるんだ。 送り主のやさしさってやつだよな!
My name is Shishiou. I look cool, but since I was meant to be given to an old man, I was made to be light. Well, that shows the kindness of the giver!
Obtained
俺の名は獅子王。黒漆太刀拵も恰好いいだろ! 活躍すっから、いっぱい使ってくれよな。へへ
The name's Shishiou. My black lacquered tachi is cool too, right!? I'll be super active, so use me a lot, okay? Heheh!
Login (Complete)
Touken Ranbu, now starting!
Game Start
Just leave it to Shishiou-sama!
Citadel
わーかってるよじっちゃん!って・・・間違えた・・・。
I get it, old man! Oh... Wrong person...
獅子も頭の使いがら~なんて言われねーようにな! 頼むぜ!
Don't let 'em say the lion's head makes the dance! I'm counting on you!
Note:
The lion's head refers to the lion dance done in Shinto rites, where the skill of the one performing at the head determines the quality of the performance. In other words, the performance of a group is determined by the skill of their leader.
If you get the wrong one, it's spicy...? I'm not a shishitou pepper!!
Note:
獅子唐 (shishitou) pepper is a russian roulette snack, since one of about ten peppers is spicy and you don't know which one. So, if you get the wrong pepper, it'll be spicy.
Citadel (Injured)
They really did me in... Quick, clean me up...!
Line removed as of Feb. 18, 2015
Citadel (Kiwame Sendoff)
It's alright. He'll come back when he's hungry.
Formation (Member)
A member...? Wish I was the captain...
Formation (Captain)
I'm the leader?! Hell yeah!
Equipment
Oho, I kinda feel stronger! I think!
Expedition (Complete - Leader of Expedition Party)
Expedition (Complete - Leader of Primary Party)
Troops Create
It's some equipment. Here!
Repairs (Medium/Severe Injury)
I'm off for a major repair...
Battle Record
These are your grades right now!
Merchant
I...! This is my first time shopping at a store!
Front Lines
Sortie, huh? Let's go! In the name of the old man!
PvP
Parade the troops! Show 'em what you're made of!
Attacking
Heheh, you're full of gaps!
Critical Hit
It's over! Special attack!
Medium/Severe Injury
Looks like I failed the bite... heheh...
Awakening
From here on, I'll be serious!
Rank-Up Toku
どうだ、見違えたか!もっと活躍すっから、いっぱい使ってくれよな!
How is it? Did you see it!? I'll be even more active, so use me a lot, okay!
Destroyed
Heheh... Old man, I... was unexpectedly beaten up...
Please go
here
for special Internal Affairs interactions
Horsekeeping
I toldja, I won't take a bite no matter how tasty it looks!
Horsekeeping (Complete)
The old man liked taking care of horses, too.
Fieldwork
The fields? Forget that; let's go on a man-hunt!
Citadel (Poke multiple times)
What is it? I'm a lion, not a cat, remember?
Citadel (Injured - Poke multiple times)
Sorry... I'm all worn out right now...
Specific event banner introduction
It says it's news about events.
Background Change
Eehh, remodeling? Isn't that troublesome?
Omamori Equipped
Amulet? You're a worrywart.
Welcome Back Greeting (After Long Absence)
おおっ! ようやく帰ってきた! ちょっとー、どこ行ってたんだよ!
Ooh! You're finally back! Geez, where were you!
New Year's Greeting
Happy New Year! Master, give me New Year's money!
Setsubun (Entering Map)
Like I'd be surprised over some demons.
Setsubun (Boss Node)
You demons, I'll bite you!
Setsubun (Cast Beans)
Ooout with the demooons! Iiin with the fortuune!
Setsubun (After Casting Beans)
Regiment Battle Team Change
Touken Ranbu's First Year Anniversary (2016)
やったー!俺たち一周年だ!これってすごいことなんだよな?
Yaaay! It's our first anniversary! Isn't that awesome?
Touken Ranbu's Second Year Anniversary (2017)
ようっし、俺たちもこれでニ周年!どんどん仲間が増えてくなあ
Alrighty, it's our second anniversary! We've gotten more and more friends so quickly!
Touken Ranbu's Third Year Anniversary (2018)
これで三周年になったぜ!毎年増えていく仲間とともに、今後も俺たちはやっていくぜ!
It's our third anniversary now! Together with our comrades who increase every year, we can do this!
Touken Ranbu's Fourth Year Anniversary (2019)
俺たちは今日で四周年! 主、応援してくれてありがとな! 今後もよろしく頼むぜ!
We're reached our fourth anniversary today! Master, thanks for supporting us! I'm counting on you again!
Saniwa First Year Anniversary
Congratulations on the first anniversary of your inauguration! Let's celebrate!
Saniwa Second Year Anniversary
就任二周年おめでとう!じっちゃんの次くらいに立派になったな!
Congratulations on your second anniversary! You've become almost as splendid as my old man!
Saniwa Third Year Anniversary
就任三周年おめでとう! その調子で、どんどん立派になってくれよ!
Congratulations on your third anniversary! Keep up the good work and become a splendid (person)!
Saniwa Fourth Year Anniversary
就任四周年おめでとう! へへっ、主が立派になるってのは嬉しいな!
Congratulations on your fourth anniversary! Hehe, I'm glad that Master is becoming praiseworthy!
Character Details