For information on how to input serial codes, see FAQ/Serial Code Input Form.
For server status updates, see Servers.
Maintenance Notice
Latest maintenance:
12 Nov 2019 [13:00 - 15:00] [GMT+9]
Next maintenance:
19 Nov 2019 [13:00 - 18:00] [GMT+9]

MAINTENANCE STARTS IN
MAINTENANCE ENDS IN
Recent Updates
[2019/11/07]
Log into the game for 5 days between Nov 8th 0:00 ~ Nov 21st 23:59 JST to receive the following list of items:
For players who have the background previously, following list of items will be rewarded instead:

Day 1: Coolant x 1500
Day 2: Charcoal x 1500
Day 3: Whetstone x 1500
Day 4: Steel x 1500
Day 5: Koban (Large) x 3, Help Tokens x 2, Request Tokens x 2
[2019/11/05]
[2019/10/29]
Special Investigation: Bunkyuu Tosahan 2 (rerun) event has started.
Event related sale has started.

There are few changes to the event and will be translated later.

New "Solar Term: Light Snow - Camellia" background series campaign has started.

Obtain a new limited-time background by exchanging harvest items as follows:
Vegetable: Arrowhead and Fruit: Quince from fieldworks in Internal Affairs
Plant: Camellia and Seafood: Kichiji Rockfish from Frontlines and Expeditions
This campaign runs from Oct 29th, 2019 to Jan 29th, 2020.

Solar Term: Summer's End background series campaign has ended.

The campaign harvest items can still be exchanged into background and konpeito until Nov 5th.

Log into the game to receive the Special Investigation: Bunkyuu Tosahan 2 Commemoration Present:

Lucky 7 Dice x 1
Dried Chestnuts x 1
Present will be available from Oct 29th to Nov 19th 12:59 JST
Upcoming Content
November Schedule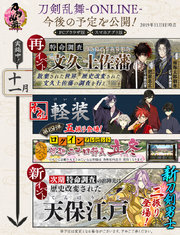 Older Updates
Community content is available under
CC-BY-SA
unless otherwise noted.