For information on how to input serial codes, see FAQ/Serial Code Input Form.
For server status updates, see Servers.
Maintenance Notice
 

Latest maintenance:
28 Jan 2020 [13:00 - 16:00] [GMT+9]

Next maintenance:
No maintenance is announced for now.
Recent Updates
[2020/01/28]
Hidden Demon Extermination in the Capital 3 has started.

Defeating 150 Demon Ootachi will reward you with a Background.

The Setsubun background in this event is the same with the previous event. If you have the background from previous event, the mission will reward out 5 Gold Bean Thrower Troops instead.

You can hear your secretary's special Setsubun lines by spending 10 lucky beans in this background.
There are two (2) sets of lines that your attendant will randomly pick between when you spend 10 beans on the new background. Since it's random, it might take a few tries before you can hear the different lines.
Event-related sale has started in the shop.
New Setsubun Lines have been added for the following swords:
Period: Jan 28th - Feb 12th 12:59 JST
[2020/01/27]
The eigth batch of new illustrations featuring swords in different clothes will be released from 2020/01/27 until 2020/01/31. Currently, new illustrations for a few swords are scheduled to be released near the end of each month.

Nakigitsune in a summer yukata
Tomoegata Naginata in a summer yukata
Mouri Toushirou in a summer yukata

PS: References are made to the Ginza Motoji Shop - the male kimono department.

[2020/01/22]
Maintenance for iOS version has ended at 8:00 JST.
The following list of items have been sent to inbox as compensation for extended maintenance on Jan 21st:

Gramophone x 3
Charcoal x 500
Steel x 500
Coolant x 500
Whetstone x 500

Items will be available to collect until Feb 22nd 23:59 JST.
Compensation given once per account only.
[2020/01/21]
Maintenance has ended for players using PC browser, Android and Amazon apps at 19:00 JST.
Maintenance for iOS version has been extended until further notice (waiting for Appstore version release).
New Solar Term: Rainwater - Rapeseed Flower background series campaign has started.
Obtain the new limited-time background by exchanging harvest items as follows:

Vegetables: Leaf Mustard and Lemon from fieldworks in Internal Affairs
Plants: Rapeseed flower and Seafood: Japanese Smelt from Frontlines and Expeditions

This campaign runs from Jan 21st to Apr 21st, 2020 before maintenance.
"Special fertilizer" Sale for this campaign has started in the Shop.
OP video correction
System maintenance
Smartphone app update
Solar Term: Light Snow - Camellia background series campaign has ended.

The campaign harvest items can still be exchanged into background and konpeito until Jan 28th, 2020.
[2020/01/17]
There was a mistake for Mutsunokami Yoshiyuki and his kiwame version voice files when using Oiwaijuu Bento and is now fixed. Please refresh the game to get the correct version loading again.

2 Oiwaijuu Bento have been sent to player's inbox as compensation and will be available to collect until Jan 31st 23:59JST.
Compensation given once per account only.
[2020/01/14]
More on 5th Anniversary updates:
Log into the game from Jan 14th to 16th daily to receive the following list of gifts sent to your inbox:

Day 1

Touken Ranbu 5th Anniversary background
Touken Ranbu 5th Anniversary Commemoration Flowers Arrangement (Iwaibana) background /
Congratulatory Bento x 1

Day 2

Congratulatory Bento x 1
Fuji Ofuda x 1
Charcoal × 20,000
Steel × 20,000
Coolant × 20,000
Whetstone × 20,000

Day 3

Congratulatory Bento x 1
Tailor Ticket x 1 (For Casual Outfit exchange)
Charcoal × 30,000
Steel × 30,000
Coolant × 30,000
Whetstone × 30,000

Presents will be given once per day if you login on Jan 14th - 16th, those logging in for the first time after 16/1 will receive all 3 presents together upon login.
Presents are given once per account only
Congratulatory Bento and Tailor Ticket validity period from Jan 14th (after maintenance) - Feb 4th 12:59 JST.

New line from party leader when using a Makunouchi bento.
New line from party leader when using a Congratulatory bento.
5th Anniversary Campaigns have started:

Experience boost campaign
Double boss node droprate campaign
Zero repair resources campaign
Guaranteed gold troop campaign

All campaign period: Jan 14th (after maintenance) - Jan 28th 12:59 JST
Pocket App New AR Feature: "Companion" have been implemented.

Press the "Companion (伴) button on bottom right of your citadel screen in Pocket app to get access to the AR function.
For more information, please check the ingame announcement.

7th Batch of starter swords in Casual Outfit has been implemented in the game and now available for purchase in the Shop.
New saniwa who started playing between Dec 24th, 2019 - Jan 31st, 2020 will receive New Saniwa Support Presents in the inbox:
The following list of game system modifications were made in this maintenance:

Added function to edit teams in sortie screen
Improved expedition start condition
Added ability to use multiple konpeito at once
Added function to save team compositions
Adjusted the percentage to reach boss node
Improved screen settings
[2020/01/14]
Touken Ranbu is celebrating its 5th birthday! Congratulations to all swords and saniwa alike. Now to commemorate the special occassion, there are a few ongoing campaigns.
Since Touken Ranbu is now at the tender age of five, that means some of the earliest saniwas are now celebrating their fifth inauguration anniversary! If you're one of them you will get the following and are claimable in the Missions tab:

New special lines from your swords.
A new horse called Iwaigogou
5x Help Tokens
5x Request Tokens
3x Gramophones
1500x of each resource

Jan 14th to Feb 12th: Every time you log into the game, your attendant will give you a special greeting. New swords' kiza poses that have been added this year are as follows:
Limited-Time Smithing Campaign for Hakusan Yoshimitsu has started.

To help you with this campaign, some limited-edition packs are also currently on sale in the shop section.
Period: Jan 14th - Jan 21st 23:59 JST

Seal Exchange Corner is now live. You can trade the seals you obtained during the New Year period with items, including kiwame sets, backgrounds, and a sword.

Period: Jan 14th - Feb 12th 23:59 JST

Multiple Campaigns are held from Jan 14th to Jan 28th:

Experience Boost Campaign: EXP obtained from fighting with enemies is doubled and quintupled for fighting Kebiishi.
Zero Repair Resource Campaign: Repairing injured swords cost zero resources.
Guaranteed Gold Troops Campaign: All troops crafted during this period will be gold.
2x Drop Rate Campaign: Drop rates for the following swords at the boss nodes of the following maps are doubled:
[2020/01/12]
The seventh batch of new illustrations have been released of the starter swords and will be implemented in-game on Jan 14th.
[2020/01/11]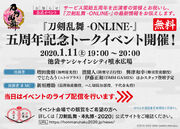 There will be a 5th Anniversary Talk Event show in Honmaruhaku held in Sunshin City, Ikebukuro on Jan 11th, 2020 19:00 - 20:00 JST.
Clicking on the pink button on the game banner to watch the free live stream on DMM games website (or click on this link.
[2020/01/07]
Hyuuga Masamune's Limited-Time Smithing Campaign has ended.
Limited-Time Smithing Campaign for Azuki Nagamitsu has started.

Official Recipe Hint: 800/800/800/800 (Recipe Report)
Period: Jan 7th - Jan 13th 12:59 JST

6th batch of swords in Casual Outfit has been added and can be purchased from the Backgrounds tab.
[2020/01/04]
Touken Ranbu 5th Anniversary Related News
Touken Ranbu ONLINE will be celebrating its 5th anniversary on Jan 14th, 2020!

more Kiza pose updated in the game!
5th Anniversary Commemoration art will be released and displayed in Honmaruhaku held in Sunshine City, Ikebukuro from Jan 5th onwards.

Anniversary kiza pose sprites will be added in the game on Jan 14th, 2020
List of characters with Kiza pose newly added:
Character poses that have been implemented during 4th Anniversary will continue to appear.
Regarding Anniversary kiza pose art
Ookanehira, Ookurikara and kiwame version, Heshikiri Hasebe and kiwame version (character design by Komiya) will be produced under Nitroplus.
Regarding 5th Anniversary Commemoration art
Kogitsunemaru (character design by Sata) will be produced under Nitroplus.
Shokudaikiri Mitsutada (character design by Fuji Mitsuya) will be produced under Nitroplus.
As these new visuals for 5th anniversary are produced under Nitroplus production team in cooperation with their respective illustrators, the management team are solely responsible for the production. Please REFRAIN from contacting illustrators directly regarding this issue.
[2020/01/02]
Omikuji has started. Log into the game to pull fortune slips (omikuji) and win game items daily.
An exchange seal will be given along with your omikuji every day during this period.

Period: Jan 2nd 0:00 - Jan 13th 23:59 JST
Omikuji resets at 23:59 JST daily.

For those who has missed out the special new year greeting, you can still listen the new year greeting lines from the Citadel screen until Jan 7th, 2020.
[2020/01/01]
Log into the game on Jan 1st (JST) to see a special New Year's greeting from your sword attendant. Swords introduced in 2019 have also been added.

Greeting scene is limited to Jan 1st only

As a New Year's gift, logging into the game daily will send up to nine exchange seals, backgrounds, and items to your mailbox.

Pickup Period: Jan 1st 0:00 - Jan 7th 23:59 JST

Limited-Time Smithing Campaign for Hyuuga Masamune has started.

Official Recipe Hint: 300/300/300/300 (Recipe Report)
Period: Jan 1st 00:00 - Jan 7th 12:59 JST

Ebisu bags containing event items, koban, and/or kiwame items will be on sale in the shop.

Period: Jan 1st 0:00 - Jan 14th 12:59 JST
[2019/12/24]
Village of Treasures - Instrument Gathering Stage 14 has ended.
Regiment Battle 5 has started.

Otoshidama Rewards:
Ookanehira has a chance to drop from the boss battle in Expert map.
Nenekirimaru has a chance to drop from boss battle in Chaos mode stages.
Event-related items are now on sale in the shop.
Event Period: December 24th 2019 - January 24th 2020 12:59 JST
Upcoming Content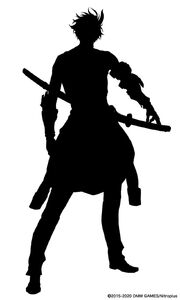 A new sword teaser is released in an official tweet. His identity will be revealed in March 2020!
More reveals from the Touken Ranbu 5th Anniversary Talk Show:

New Touken Ranbu Hanamaru project.
Touken Ranbu The Movie sequel confirmed.
A Katsugeki Touken Ranbu movie production is underway by Aniplex, but they're not ready to make an announcement.
Naginata Kiwame will be coming next, while Tachi Kiwame are in the works.
There will be new bento voice lines.
Companion AR feature: Take photos of your swords boys in various places! This will only be available for the Pocket version.
January to Early February Schedule

The game's OP movie will be replaced with a new one.
New Saniwa Anniversary presents will be implemented.
New casual outfits for the Starter swords will be implemented.
There will be a new in-game AR feature called Companion.
A Hakusan Yoshimitsu Limited-Time Smithing Campaign will be held.

Period: Jan 14th - Jan 21st

Multiple Campaigns will be held:

Experience Boost Campaign
2x Boss Drop Rate Campaign
Zero Repair Resource Campaign
Guaranteed Gold Troops Campaign
Period: Jan 14th - Feb 28th

Rewards campaign for new players who register will be held.

Period: Jan 14th - Jan 31st

An Anniversary Login Campaign with new backgrounds will be held.

Period: Jan 14th - Feb 12th

The Seal Exchange Corner will be implemented.

Period: Jan 14th - Feb 12th
76 swords are redeemable (Non-redeemable swords are all swords released in 2019: Hakusan Yoshimitsu, Nankaitarou Chouson, Hizen Tadahiro, Chatannakiri, Kuwana Gou, Suishinshi Masahide, Minamoto Kiyomaro, Matsui Gou, and Sanchoumou).
Older Updates
Community content is available under
CC-BY-SA
unless otherwise noted.