For information on how to input serial codes, see FAQ/Serial Code Input Form.
For server status updates, see Servers.
Maintenance Notice
 

Latest maintenance:
19 Feb 2019 [12:00 - 17:00] [GMT+9]

Next maintenance:
No maintenance is announced for now.
Recent Updates
[2019/02/19]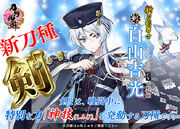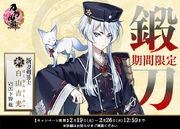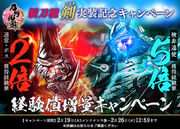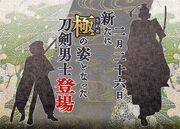 Troops Crafting Campaign has ended.
New type of touken danshi Tsurugi has been implemented.

Tsurugi swords have a special skill, Godly Feat (神技) they can use during battle that is separate from attacking.
Hakusan Yoshimitsu's godly feat, Healing Power (治癒の力) can heal any swords that are gravely wounded by 32% and restore a troop's health.
Healing power has a few conditions:

Only activates when Hakusan is not fatigued
The target sword must be in severe injury
Can only heal a single sword at a time

Limited-time Smithing Campaign for Hakusan Yoshimitsu has started. (Recipe Report)
The Limited Smithing Aid Pack, Resources Pack and Ofuda Sets are now on sale in the Shop.
To celebrate the implementation of a new sword type, an Experience Boost and Increased Droprate campaigns have been implemented.
Adjustments have been made to the fatigue UI.
You may now use fatigue recovery items during battle.
Resources used for repairing swords have been adjusted.
A new recollection has been added to the game between Hakusan Yoshimitsu and Ichigo Hitofuri.
There are 2 new game missions for obtaining a Tsurugi sword and sending him out to battle.
New Kiwame swords will be implemented on February 26th.
[2019/02/12]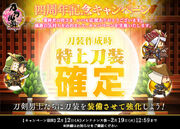 [2019/02/05]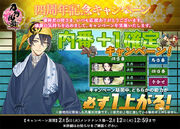 Internal Affairs Campaign - one of the stats will definitely increase by 1
Attendant Sword Outfit change - can switch between battle outfit and internal affairs outfit
Upcoming Content
New Sword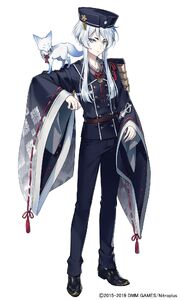 Name: Hakusan Yoshimitsu (白山吉光)
Type: Tsurugi (剣)
School: Awataguchi
Artist: Nekokan Masshigura
VA: Hiro Shimono (下野 紘)
A tsurugi made by Kamakura Era smith Awataguchi Yoshimitsu. It was carried by Tokugawa Iemitsu's foster daughter Oohime when she was married to Maeda Mitsutaka, and was presented as an offering after her death. The blade developed godly qualities and Hakusan Yoshimitsu is said to now possess healing powers. Accompanying him is his companion, a white fox. Likes melon.
"Master, please protect history as it is right now."
Introduction of a new sword class, the tsurugi.
January until February 2019 schedule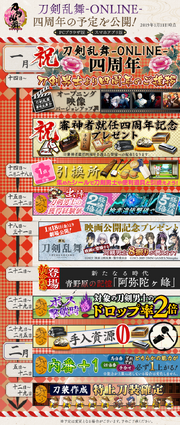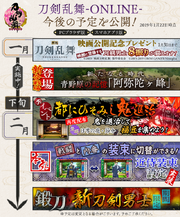 Jan 14th~
Opening movie will be updated to include newer swords
Touken Ranbu 4th Anniversary Commemoration Presents
Jan 14th - Feb 28th
Jan 15th - Jan 22th
EXP Campaign - 2x EXP for normal maps and 5x EXP for Keiibishi
Jan 18th - Jan 31st Feb 12th
Touken Ranbu The Movie Release Commemoration Present - all saniwas will receive the 8 swords who appear in the movie:
Jan 22th~
NEW FRONT LINES ERA 8 "Memory of Aonohara: Amidagamine (青野原の記憶 阿弥陀ヶ峰)"
Jan 22th - 29th
Drop Rate Up Campaign - drop rates for certain swords will be increased by 2x at the boss nodes
Jan 29th - Feb 5th
0 Resources for Repairs Campaign
Feb 5th - Feb 12th
Internal Affairs Campaign - one of the stats will definitely increase by 1
Feb 12th - Feb 19th
Troops Crafting Campaign - all troops crafted will be gold
End of January until February 2019
Setsubun Event - Defeat the oni and collect beans, get the Setsubun Background (if you haven't got it yet)
February 2019
Attendant Sword Outfit change - can switch between battle outfit and internal affairs outfit
New Sword Smithing Event
Older Updates