Character Info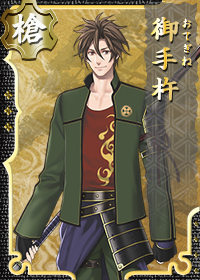 No. 138

 Yari

 Statistics (MAX)
| | |
| --- | --- |
| 生存  Survival | 49(55) |
| 統率  Leadership | 40(46) |
| 衝力  Impulse | 46(57) |
| 必殺  Killing Blow | 32 |
| 隠蔽  Camouflage | 28 |
| | |
| --- | --- |
| 打撃  Impact | 50(64) |
| 機動  Mobility | 28(37) |
| 範囲  Range | Vertical |
| 偵察  Scouting | 31(35) |
| 兵力  Troops Slots | 2 |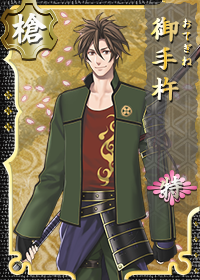 Otegine Toku
御手杵  特
No. 138

 Yari


 Statistics (MAX)
| | |
| --- | --- |
| 生存  Survival | 54(60) |
| 統率  Leadership | 46(51) |
| 衝力  Impulse | 55(62) |
| 必殺  Killing Blow | 32 |
| 隠蔽  Camouflage | 33 |
| | |
| --- | --- |
| 打撃  Impact | 55(69) |
| 機動  Mobility | 37(42) |
| 範囲  Range | Vertical |
| 偵察  Scouting | 36(40) |
| 兵力  Troops Slots | 2 |
Character Quotes
Book Description
三名槍が一本。御手杵だ。槍身は他二本よりでかく、重いんだが、機能は刺すことに特化してるんだ。 そんなわけで、細長く手杵みたいな鞘を使ってたことからこの名がついた。……までは良かったんだけどなあ。
参勤交代用に、名前を強調したでっかい鞘が作られちゃって、これが重いこと重いこと……
I am one of the Three Great Spears. Call me Otegine. My spear body is bigger and heavier than the other two, but my specialty is my functionality in piercing.
For that reason, I got the name from my thin and elongated, pestle-like scabbard... which was just fine, at first.

Because of the Sankin-kotai, they made me a huge scabbard to emphasize my name, and it is really, really heavy...
Obtained
天下三名槍が一本。御手杵だ。斬ったり薙いだりできねえけど、刺すことだったら負けねえよ!
One of the world's three great spears. Otegine. I can't do stuff like slicing or knocking down enemies but I won't lose when it comes to stabbing them!
Login (Loading)
Ahh, this scabbard is so troublesome...
Game Start
I hope I'll get a turn this time.
Citadel
俺は刺す以外能がないからなあ。槍連中より、脇差の方が話が合う
Beside stabbing, I have no other talent. I get along better with wakizashi than other spears.
三名槍といっても、俺だけあんまり逸話がパッとしないからなぁ。肩身狭いよ
Even though I'm one of the Three Great Spears, I'm the only one without many stories. I've got no reputation.
槍だった時はでかかったけど、今はこのなりだからなぁ。感覚狂うぜ
I was huge when I was a spear, but now I've become like this. It doesn't feel right.
Note:
Otegine's spear is around 12 feet tall.
Citadel (Idle)
Haah... Boring, isn't it.
Citadel (Injured)
When you go to fight, this is what happens huh. Yup, yup.
Line removed as of Feb. 18, 2015
Shoot... that strange dream again...
Citadel (Kiwame Sendoff)
Hm? Ah, he's coming back soon yeah? It's not Sankin-koutai or anything.
Formation (Member)
Ohh, is it okay to choose me?
Formation (Captain)
Eh, I only have to lead the procession and that'll be okay?
Fatigue Recovery
Ohh! This is a pretty tasty lookin' dango!
Equipment
It's good so long as it's not heavy.
Don't choose equipment just based on how it looks, okay?
Expedition
Is this Sankin-koutai? ...What, it's not?
Note:
Sankin-koutai
(参勤交代) was a policy by the Shogunate for most of the Edo period where various Daimyo had to move periodically between Edo and his territory, typically spending alternate years in each place. His wife and heir were required to remain in Edo as hostages.
Expedition (Complete - Leader of Expedition Party)
Expedition (Complete - Leader of Primary Party)
Let's listen to the expedition troop's report.
Smithing
I wonder what kinda fellow will come.
Troops Create
俺は刺す以外能がないからなぁ。何ができても文句言うなよ?
I have no skill other than piercing, so don't complain about the result, okay?
Repairs (Minor Injury)
Nn? Ah, well this much can't even be called rust.
Note:
This phrase is probably a reference from a story of the Matsudaira Clan (松平氏). Otegine was highly treasured by the Matsudaira Clan, so if there's even a speck of rust on the spear a maintenance would be immediately carried out. At that time, if the sword maintainer found and repaired the rust, the Matsudaira Clan would give them a raise in salary as an incentive. However, since the appearance of rust meant the maintainer was negligent in the upkeep, admitting it was equal to shaming themselves. Thus, if there was slight rust on the spear during inspection, the maintainer would say that it was not rust and repair it in secret while refusing any pay raise from the clan.
Repairs (Medium/Severe Injury)
Aa, this will take some time, won't it...
Refinery
I got stronger... didn't I.
Mission (Complete)
We've done the job properly.
Battle Record
So this is your war record. I see.
Merchant
By bringing me along while you shop, it seems like you're showing off?
Front Lines
Battle, huh. I've been waiting!
Resource Discovery
What's this? Can we use it?
Scouting
I'll leave scouting to you. I can't do anything except stab things.
Sortie Kick-off
I'm one of the Three Great Spears, Otegine! Let's go!
PvP
Training... training, huh...
Critical Hit
Like passing through an eye of a needle!
Minor Injury
This injury is no big deal!
Awakening
I can't lose to the other two!
Duel
Ah... in this situation, it's my opportunity, isn't it?
Boss Node
Hmm...beyond this point is the enemies' headquarters, huh?
Victory (MVP)
Me? Is it okay that I'm the best?
Rank-Up Toku
... Ah. Like this, even compared to those two, surely...
Destroyed
薄々、こうなる気はしてたんだよなぁ……ま、これも運命、か……
I had a vague idea it'd end up like this... well, this too, is fate huh......
Please go
here
for special Internal Affairs interactions
Horsekeeping (Complete)
That horse, it definitely didn't think I was a spear...
Fieldwork
だーかーらー、俺は刺すしかできないから、耕すとか、無理だって!
Like I said, I can only pierce things, something like farming is impossible!
Fieldwork (Complete)
I ended up going along with it and tilling... What're you making a spear do...
Sparring
I'm requesting your assistance for sparring so my blade will not get dull.
Sparring (Complete)
ああ。助かった。まだまだ俺は鈍ってないって実感できたよ
Ah, I'm saved. Now I really feel like there's still a long way to go before I become dull.
Citadel (Poke multiple times)
What is it, poking things is my job, ain't it?
Citadel (Injured - Poke multiple times)
Ahw-ow-ow, don't poke my wounds, I said!
Repair (Complete)
Seems like repairs are done.
Specific event banner introduction
Oh, what kind of notice is it?
Background Change
Remodeling? Like I said, I'm no good at anything besides stabbing.
Troops Create (Failed)
Well, it would turn out like this...
Horse Equipped
Fu~Fu-n~ Today I'll have you listen to what I tell you to do.
Omamori Equipped
An Omamori? Am I that unreliable?
Welcome Back Greeting (After Long Absence)
ようやく帰ってきたか!よーし、いくさに行こうぜ?腕はまってないからさ
You finally came back! Yeah, shall we go to war? I can't wait to use my skills.
New Year's Greeting
あけましておめでとさん。やれ酒だ料理だ忙しい奴が多い……、で遊び相手が俺か?
Happy New Year's. There are a lot of people busy drinking sake and cooking... So, am I your partner today?
Setsubun (Boss Node)
Wonder what it'll be like to face an Oni...
Setsubun (Cast Beans)
Out with the Oni! In with the luck!
Setsubun (After Casting Beans)
Ow ow ow, aah, you're targeting me?
Regiment Battle Team Change
Are you ready? Then let's go!
Touken Ranbu's First Year Anniversary (2016)
へえ、俺たち、もう一周年なのか。こりゃ、刺すしかできないとか言ってられないか……?
Heh, it's already our First Year Anniversary. I guess now's not the time for me to say that stabbing is my only saving grace......?
Touken Ranbu's Second Year Anniversary (2017)
なるほど、二周年か。記念に皆で行列でも……あ、いい。聞かなかったことにして
I see, so it's the second anniversary, eh? To commemorate, everyone could do something like parade...ah, never mind. Just pretend you didn't hear that.
Touken Ranbu's Third Year Anniversary (2018)
俺たちも三周年。刺すしかできない俺だが、今後も活躍の場を増やすべく頑張るぜ!
It's our third anniversary. I'm only good for stabbing, but I'll work on increasing my range of skills from here out!
Touken Ranbu's Fourth Year Anniversary (2019)
四周年かぁ。俺たちもよくやってきたもんだぜ……それなりによくやってるよな、俺も!
Fourth anniversary, huh? We sure have done very well...... And I'm doing quite well too, right!
Saniwa First Year Anniversary
Oh, it's the first anniversary of your inauguration. You've worked pretty hard as well.
Saniwa Second Year Anniversary
就任二周年おめでとさん!その調子で俺の活躍できる舞台、探してくれよ!
Congrats on your second anniversary! Just like that, find a stage where I can shine, will you?
Saniwa Third Year Anniversary
Oh, your third anniversary? That's something to celebrate!
Saniwa Fourth Year Anniversary
おめでとさん! ほら、これで就任四周年だろ? ……間違ってないよな?
Congratulations! It's your fourth inauguration anniversary, right? ...I didn't get that wrong, did I?
Character Details