Character Info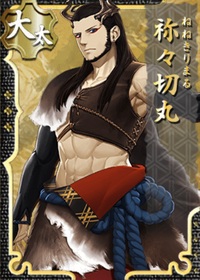 No. 162

 Ootachi

 Statistics (MAX)
| | |
| --- | --- |
| 生存  Survival | 55(64) |
| 統率  Leadership | 44(57) |
| 衝力  Impulse | 42(54) |
| 必殺  Killing Blow | 40 |
| 隠蔽  Camouflage | 15 |
| | |
| --- | --- |
| 打撃  Impact | 63(85) |
| 機動  Mobility | 22(22) |
| 範囲  Range | Wide |
| 偵察  Scouting | 7(8) |
| 兵力  Troops Slots | 2 |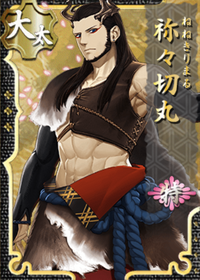 Nenekirimaru Toku
祢々切丸  特
No. 162

 Ootachi


 Statistics (MAX)
| | |
| --- | --- |
| 生存  Survival | 60(69) |
| 統率  Leadership | 49(62) |
| 衝力  Impulse | 47(59) |
| 必殺  Killing Blow | 40 |
| 隠蔽  Camouflage | 20 |
| | |
| --- | --- |
| 打撃  Impact | 68(90) |
| 機動  Mobility | 27(27) |
| 範囲  Range | Wide |
| 偵察  Scouting | 12(13) |
| 兵力  Troops Slots | 2 |
Character Quotes
Book Description
祢々切丸。我の名だ。山は良いぞ。深く信仰して大事にするといい。害は我が斬ろう
Nenekirimaru. That is my name. Mountains are great. Revere and cherish them. I will cut down any harm.
Obtained
Nenekirimaru. That is my name. Mountains are great.
Login (Complete)
Touken Ranbu. Come, it's starting.
Game Start
Let us proceed leisurely.
Citadel
Do you like thick chests?
見ろ、八里先に綺麗な花が咲いている。走って行くか!
Look, there are beautiful flowers blooming 31 kilometers away. Let us run (there)!
Would you like to hold on to my arm?
Citadel (Idle)
...Hm? ...Where have you gone to?
Citadel (Injured)
So long as I soak in the hot springs... I will heal.
Citadel (Kiwame Sendoff)
That attitude of trying to improve yourself, I think that is great.
Formation (Captain)
I will fulfill your request! I am the commanding officer!
Fatigue Recovery (One Bite Dango)
A sweets offering? Well, I shall gladly accept it.
Fatigue Recovery (Makunouchi Bento)
Fatigue Recovery (Oiwaijuu Bento)
Equipment
I cannot seem to get used to this.
I am not good at this... But I shall try using this.
Expedition
Well, let us be on our way!
Expedition (Complete - Leader of Expedition Party)
Expedition (Complete - Leader of Primary Party)
Smithing
A new tsukumogami has manifested.
Troops Create
Ooh... I have accomplished this somehow.
Repairs (Minor Injury)
This will heal naturally but... Very well.
Repairs (Medium/Severe Injury)
I understand...... I shall go to the hot springs to recuperate.
Mission (Complete)
Should you be leaving that as is?
Battle Record
I see you are doing your best.
Merchant
A shop... And you are asking me to come with you?
Front Lines
Protect the people! Charge!
Scouting
The mountains... Are quaking.
Sortie Kick-off
Unleash the beast in you! ...Charge!
PvP
Hmm... That is the other side's...
Critical Hit
That head is--! ...Ah, you cannot hear me.
Awakening
They say the wounded are the strongest!
Duel
So in the end, the one who will save you is yourself.
Boss Node
So this is the source of the evil ones!
Victory (MVP)
Is this the result you wished for?
Rank-Up Toku
Take a look. This is the result of running in the mountains.
Destroyed
We do not die... So long as there are prayers.
Please go
here
for special Internal Affairs interactions
Horsekeeping
Horses...... How about offering them to the mountains?
Horsekeeping (Complete)
The horses were afraid, see...
Fieldwork
The fields are outside my area of expertise...
Fieldwork (Complete)
I tried to do it somehow, but it might be wrong.
Sparring
Come, I shall be your opponent.
Note:
The literal translation is "I shall lend you my chest" which is a Japanese idiom used when a person with more strength agrees to become the practice partner of a person with less merit.
Sparring (Complete)
How was it? Did you seize anything?
Citadel (Poke multiple times)
Ahahahahahaha! That tickles!
Citadel (Injured - Poke multiple times)
U-ugh……Looking at these scratches, what do you intend to do?
Repair (Complete)
The repair room is vacant now.
Specific event banner introduction
It's a notification letter.
Troops Create (Failed)
I'm sorry. It's a failure.
Welcome Back Greeting (After Long Absence)
戻ってきたな。主が願えば、我はいつでもここにいよう
You are back. If Master wishes for it, I shall be always here.
New Year's Greeting
The new year has begun. I must perform a ritual, too......
Setsubun (Entering Map)
Defeat the demons that harm humanity!
Setsubun (Boss Node)
Have we here a gathering of demons?
Setsubun (Cast Beans)
Out with the demons. In with the fortune.
Setsubun (After Casting Beans)
I am accustomed to the Setsubun.
Regiment Battle Team Change
Touken Ranbu's Fourth Year Anniversary (2019)
四周年のこの日に馳せ参じることができたこと、嬉しく思う。新参者だが、これからも頼む。……ところでなんの四周年だ?
I am glad that I was able to hasten to join this fourth year anniversary day. I may be a newcomer, but I shall be counting on you. ......Speaking of which, what fourth year anniversary is this?
Touken Ranbu's Fifth Year Anniversary (2020)
Saniwa First Year Anniversary
I see, it is the first anniversary of your inauguration. Have you gotten used to this place?
Saniwa Second Year Anniversary
就任二周年を迎えたな。もう勝手がわからなくて困ることもないか
This marks your second anniversary. Is there anything that you still do not understand?
Saniwa Third Year Anniversary
就任三周年だな。おめでとう。これからもその調子でな
It is your third anniversary. Congratulations. Keep up the good work.
Saniwa Fourth Year Anniversary
Fourth anniversary of your inauguration, eh? Simply being able to continue amounts to strength.
Saniwa Fifth Year Anniversary
Character Details
Community content is available under
CC-BY-SA
unless otherwise noted.