Attendant Sword BGMEdit

When the Attendant Sword Background Music (BGM) is obtained, the Citadel and Activity BGM will change to the Attendant Sword BGM (except in the Formation menu) when the specific sword is set as the Attendant Sword.
It is possible to toggle between the default Citadel BGM and the Attendant Sword BGM at the sound panel at the upper right of the Citadel.
You can view and hear the obtained Attendant Sword BGM in the Sword Library.
Notes
Obtained "Attendant Sword Music" may be played in Touken Ranbu Pocket.
The maximum amount of instruments obtainable is 999.
All obtained instruments and "Attendant Sword Music" will be kept even after the event ends.
Obtaining Attendant Sword BGMEdit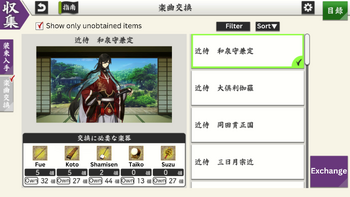 In order to obtain the Attendant Sword BGM, one must first collect instruments.
There are five types of instruments: fue, koto, shamisen, taiko, and suzu, which may be obtained as rare drops from events.
You can trade in instruments for Attendant Sword BGMs under the [楽曲入手] tab. To trade for a BGM, select your desired BGM on the sidebar and then click the Obtain Music [楽曲入手] button.
The following Attendant Sword BGMs are currently available for trade:
Other Background MusicEdit
Below is a list of other background music played in Touken Ranbu.
Event
Audio
Mugenranbushou (夢現乱舞抄);
Sung by Itagaki Soutarou (板垣奏太郎)
Original Citadel
Citadel Activity
Internal Affairs
Sortie
Battle
Boss Battle
Sortie 5-4
Boss Battle 5-4
Boss Battle 6-4
Saniwa Inauguration First Year Anniversary
Sortie Era 7
Sword Obtain Tinkle
Kiwame Obtain Tinkle
Special Investigation: Jurakutei (Introduction)
Special Investigation: Jurakutei (Map)
Special Investigation: Jurakutei (Cutscene)
Special Investigation: Jurakutei (Jurakutei Citadel)
Special Investigation: Jurakutei (Final Boss Fight)
Touken Ranbu 4th Anniversary Greeting
Sortie Era 8
Special Investigation: Bunkyuu Tosahan (Map)