Character Info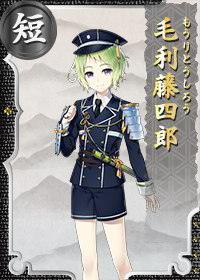 No. 142

 Tantou

 Statistics (MAX)
| | |
| --- | --- |
| 生存  Survival | 32(35) |
| 統率  Leadership | 26(36) |
| 衝力  Impulse | 18(28) |
| 必殺  Killing Blow | 32 |
| 隠蔽  Camouflage | 37 |
| | |
| --- | --- |
| 打撃  Impact | 12(22) |
| 機動  Mobility | 19(44) |
| 範囲  Range | Short |
| 偵察  Scouting | 45(55) |
| 兵力  Troops Slots | 1 |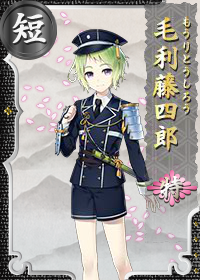 Mouri Toushirou Toku
毛利藤四郎  特
No. 142

 Tantou


 Statistics (MAX)
| | |
| --- | --- |
| 生存  Survival | 36(39) |
| 統率  Leadership | 30(40) |
| 衝力  Impulse | 22(32) |
| 必殺  Killing Blow | 32 |
| 隠蔽  Camouflage | 41 |
| | |
| --- | --- |
| 打撃  Impact | 16(26) |
| 機動  Mobility | 23(48) |
| 範囲  Range | Short |
| 偵察  Scouting | 49(59) |
| 兵力  Troops Slots | 1 |
Character Quotes
Book Description
僕は毛利藤四郎。藤四郎兄弟のひとりです。この名は元の主、毛利輝元様にちなんで名付けられました。毛利と書いてむかしはもりと読みました
I'm Mouri Toushirou, one of the Toushirou brothers. This name came from my previous master Mouri Terumoto-sama. Written as 'Mouri', in the past it was read as 'mori'.
Obtained
毛利藤四郎と言います。毛利家にいたので毛利藤四郎です。これから力を合わせてがんばりましょう!
I'm called Mouri Toushirou, named that because I was in the Mouri clan. From now on let's join forces and do our best!
Login (Complete)
Touken Ranbu, now starting.
Game Start
Any little ones around, hey?
Citadel
Master, please tell me your stories.
うわぁー、小さい子、可愛いですよね。いや、僕の身長はさておき。
Uwaaa, little kids are so cute, yes? No, my height is another matter.
Citadel (Injured)
Sorry... I messed up a little.
Citadel (Kiwame Sendoff)
成長のための旅ですか。小さいままの方がいいと思うんですけど
They're on a journey to grow up? Though I think it would be fine if they remained little.
Formation (Member)
Leading the little ones, is it?
Formation (Captain)
Protecting the little ones, is it?
Fatigue Recovery (One Bite Dango)
Ah, its snack time, is it?
Fatigue Recovery (Makunouchi Bento)
Fatigue Recovery (Oiwaijuu Bento)
Expedition
Well then, I'll be off on expedition.
Expedition (Complete - Leader of Expedition Party)
Expedition (Complete - Leader of Primary Party)
The expedition team has returned.
Smithing
Ooh! Will this be a little one?
Repairs (Medium/Severe Injury)
Give me a little... time please...
Refinery
Oh! I'm brimming with power!
Mission (Complete)
A mission has been completed, yes?
Battle Record
Master, here's your military record.
Merchant
Are you going to buy something like snacks for the little ones?
Front Lines
We're going off to battle! Let's do our best!
Scouting
Please tell me the scouting results.
Sortie Kick-off
It's time to show off my kodomo sappou technique!
Note:
lit. "killing technique designed for a child (like Mouri)" or "child killing technique."
PvP
Even if it's just practice, I won't lose!
Attacking
Can you even see me move?
Kodomo sappou technique, dive between their legs!
Awakening
I... can't afford to worry about my appearance!
Duel
If we keep our calm we'll surely...!
Boss Node
I'm not... scared or anything.
Victory (MVP)
I did it! That's my kodomo sappou technique!
Rank-Up Toku
How's this? I think I've become stronger.
Destroyed
...What.. It's already over? I... haven't even done anything significant...
Please go
here
for special Internal Affairs interactions
Horsekeeping
Hmm, horses sure have large bodies...
Horsekeeping (Complete)
There there. ...Yes, the horses were good too.
Fieldwork
Alright, for the sake of everyone's meals!
Sparring
Alright, I'll show you my kodomo sappou technique!
Sparring (Complete)
Fufufu... that's my kodomo sappou technique.
Citadel (Poke multiple times)
Master, can you calm down first and then talk?
Citadel (Injured - Poke multiple times)
Master... You worry too much... ugh
Smithing (Complete)
It looks like smithing is done.
Repair (Complete)
The repair room is vacant.
Specific event banner introduction
Master, I've brought some notice.
Background Change
Master, how will you change it?
Horse Equipped
Aah... Do you have a step stool?
Welcome Back Greeting (After Long Absence)
おかえりなさいませ! ご不在の間のお話、聞かせてくださいますか?
Welcome back! Would you please tell me what happened while you were absent?
New Year's Greeting
主さま、アレの準備はお済みですか?ほら、小さい子が欲しがるアレですよ……
Master, have you finished preparing it? You know, the thing every small child wants...
Note:
Referring to otoshidama, money given to children at New Year's.
Omikuji
Master! Let's draw your fortune!
You did it! It's great luck.
Setsubun (Entering Map)
Let's go to exterminate the demons!
Setsubun (Boss Node)
Demons... Are huge after all...
Setsubun (Cast Beans)
Out with the Oni! In with the good fortune!
Setsubun (After Casting Beans)
Kodomo sappou technique, dive between their legs and cast beans!
Spring Garden Flower Viewing
Haha, it looks just like a banquet feast.
Regiment Battle Team Change
Touken Ranbu's Third Year Anniversary (2018)
Is it our third anniversary...? Let's give our best from now on too!
Touken Ranbu's Fourth Year Anniversary (2019)
僕らは四周年目を迎えましたが、その分強くなりますよ!
We have reached our fourth anniversary, and we'll grow stronger accordingly!
Touken Ranbu's Fifth Year Anniversary (2020)
五周年目となりました僕らですが、これからもよろしくお願いします!
Please continue to take care of us even now that we've reached our fifth anniversary!
Saniwa First Year Anniversary
It has been a year since your inauguration!? Have you gotten used to the citadel?
Saniwa Second Year Anniversary
It's your second anniversary! You've been very good at commanding, haven't you?
Saniwa Third Year Anniversary
就任三周年ですよ、主さま。お忘れではございませんか?
It's your third anniversary, Master. Have you forgotten?
Saniwa Fourth Year Anniversary
就任四周年ですね、主さま。もうすっかり本丸も日常のものですか?
It's your fourth anniversary, Master. Is the citadel completely a part of your every day life now?
Saniwa Fifth Year Anniversary
Happy fifth anniversary! It's an honor to celebrate it with you every year.
Character Details
Community content is available under
CC-BY-SA
unless otherwise noted.