Character Info
No. 3

 Tachi

 Statistics (MAX)
| | |
| --- | --- |
| 生存  Survival | 50(57) |
| 統率  Leadership | 52(66) |
| 衝力  Impulse | 40(49) |
| 必殺  Killing Blow | 30 |
| 隠蔽  Camouflage | 29 |
| | |
| --- | --- |
| 打撃  Impact | 50(66) |
| 機動  Mobility | 31(31) |
| 範囲  Range | Short |
| 偵察  Scouting | 29(32) |
| 兵力  Troops Slots | 3 |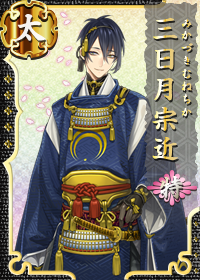 Mikazuki Munechika Toku
三日月宗近  特
No. 3

 Tachi


 Statistics (MAX)
| | |
| --- | --- |
| 生存  Survival | 56(63) |
| 統率  Leadership | 58(72) |
| 衝力  Impulse | 46(55) |
| 必殺  Killing Blow | 30 |
| 隠蔽  Camouflage | 35 |
| | |
| --- | --- |
| 打撃  Impact | 56(72) |
| 機動  Mobility | 37(37) |
| 範囲  Range | Short |
| 偵察  Scouting | 35(38) |
| 兵力  Troops Slots | 3 |
Character Quotes
Book Description
俺の名は三日月宗近。まあ、天下五剣の一つにして、一番美しいともいうな。 十一世紀の末に生まれた。ようするにまぁ、じじいさ。ははは
My name is Mikazuki Munechika. I'm one of the five great swords of Japan, and well, I'm also said to be the most beautiful. I was born near the end of the 11th century. I guess you can say I'm an old man. Ha ha ha.
Note:
Mikazuki Munechika is one of the 天下五剣 (
Tenka Goken,
lit. five swords under heaven), a group of swords famous for their history and beauty. It is currently owned and displayed by the
Tokyo National Museum
.
Obtained
三日月宗近。打ち除けが多い故、三日月と呼ばれる。よろしくたのむ
Mikazuki Munechika. They call me Mikazuki on account of the many patterns on my blade. Please take care of me.
Note:
In this line, Mikazuki explains the origins of his name. Mikazuki (三日月), which is the Japanese word for "crescent moon". This is a reference to Mikazuki's uchinoke (打ち除け), which are patterns or crests on the body of the sword itself. Mikazuki Munechika the sword has many of them, and they are shaped like crescent moons.
Login (Loading)
Ha ha ha ha ha. Brilliant, brilliant.
Note:
"よきかな" is an archaic expression that can mean slightly different things - such as "delicious", "well done", and "brilliant" - depending on the context. Although there is little context here, we could infer that Mikazuki is commenting on the fact that the game is loading. Hence, the expression has been translated as "brilliant".
Login (Complete)
Touken Ranbu, let us begin.
Game Start
あっはっはっはっは、近う寄れ……一度言ってみたい言葉だな
Ahahahaha, come closer... I've always wanted to try saying those words.
Line removed as of Apr. 21, 2015
The admiral is in the base... Hahaha, as expected, that is not quite right, is it?
Note:
"提督が鎮守府に" is a Kantai Collection (KanColle) reference. KanColle is a game published by the same website - DMM, and the concept behind the two games is very similar. KanColle characters are anthropomorphised military ships, while Touken Ranbu characters are anthropomorphised swords.
Citadel
Nn... Is this what they call skinship?
Note:
"Skinship" (スキンシップ) is a pseudo-English Japanese word referring to the act of bonding through physical contact. This can be between a parent and their child, between friends, etc.
Ahahaha! It's okay, it's okay, you can touch me.
Well, for both people and katanas, the bigger the better. Is that not so?
Citadel (Idle)
It appears that you are sleeping. Well, in that case, I too shall sleep.
Citadel (Injured)
It appears that you are concerned on account of my injuries. Ah, I am glad.
Line removed as of Feb. 18, 2015
Citadel (Kiwame Sendoff)
そのうち帰ってくるだろう。のたれ死ぬならそれまでだ
I hope he'll return sooner or later. If he dies on the way then that's the end for him.
Note:
のたれ死ぬ literally means 'to fall dead on the street' or 'die a miserable death'
Formation (Member)
Hmm~ Well then, I suppose I'll join in.
Formation (Captain)
Captain? Alright, understood.
Fatigue Recovery (One Bite Dango)
How nice, it calms one's heart.
Fatigue Recovery (Makunouchi Bento)
Fatigue Recovery (Oiwaijuu Bento)
Ohh, you did well preparing this much.
Equipment
Fashion is not one of my strong points. I always need to ask other people for help.
Expedition
I will be off for a little while.
Expedition (Complete - Leader of Expedition Party)
Expedition (Complete - Leader of Primary Party)
Mm, the expedition team has returned.
Smithing
It appears that a new sword has been forged.
Repairs (Minor Injury)
Nnn~ I do enjoy being taken care of.
Repairs (Medium/Severe Injury)
I shall go and have this thoroughly taken care of.
Refinery
I have gotten stronger again.
Mission (Complete)
It appears the mission is over.
Battle Record
I shall look at your accomplishments.
Merchant
Nn, I don't have much of an idea about shops.
Front Lines
An expedition? Understood.
Resource Discovery
Ha ha ha, I have picked it up.
Scouting
Off we go. Scouts, proceed!
PvP
I do not particularly mind losing.
Medium/Severe Injury
はっはっはっはっは…いや、笑っている場合では無いか
Hahahahaha... no, this is no laughing matter, is it.
Awakening
I'm burning up. Time to go all out, I suppose.
Duel
A one-on-one duel, how antiquated.
Boss Node
Well then, I suppose it's time for me to do work that is worthy of my salary.
Rank-Up Toku
It appears that I have gotten back a little of my strength from days gone by.
Destroyed
まぁ、形あるものはいつか壊れる、それが今日だっただけの話だ
Well, all things are doomed to perish one day. That day happens to be today - that is all there is to it.
Please go
here
for special Internal Affairs interactions
Horsekeeping (Complete)
The horses seem to like me. It is troubling.
Fieldwork
Hmm, field labor? So, how do I use this tool?
Fieldwork (Complete)
Fields are rather difficult to maintain.
Sparring
I do not particularly mind losing.
Sparring (Complete)
His sparring abilities were so-so.
Citadel (Poke multiple times)
Hahahaha, aren't you touching too much?
Citadel (Injured - Poke multiple times)
I'm happy that you care, but getting impatient won't speed up the recovery.
Smithing (Complete)
It seems like the forging is done.
Repair (Complete)
It seems like the repair is done.
Specific event banner introduction
There is a special event.
Background Change
Remodeling aren't we. Brilliant, brilliant.
Troops Create (Failed)
Is it not supposed to be like this?
Horse Equipped
Hmm, will you do as I tell you to? Thanks.
Omamori Equipped
Hahahaha, have you been worried?
Citadel (Nendoroid Background)
Hahaha. Although I had been shrunk, I'm still Mikazuki Munechika.
いいぞいいぞ。飾ってよし、拝んでよし。ただご利益はない
It's okay, it's okay. You can use me to decorate, or to worship. Although it might not give you anything.
茶菓子があると、とりあえず幸せになるとは思わんか?
If we have some tea and cakes, surely we will have a good time together?
Welcome Back Greeting (After Long Absence)
I see you've returned. Splendid, splendid. A change of pace is important too.
New Year's Greeting
そうだ、初日の出は拝んだか。いや、俺はジジイだからな、早起きしてしまったよ
That's right, seeing the first sunrise of the year, huh. Ah no, because I'm already an old man, I end up waking early.
Omikuji
Fortune slips? It would be best to do it lightheartedly.
Great luck came out, huh.
Setsubun (Boss Node)
Well then, shall we try exterminating some Oni?
Setsubun (Cast Beans)
Out with the Oni, in with the fortune.
Setsubun (After Casting Beans)
This ritual to exorcise the Oni is quite the entertaining one.
Spring Garden Flower Viewing
The flowers are scattering, what a beautiful spectacle...
Note:
Cherry blossoms are a metaphor for human existence. When the flowers bloom, it looks gorgeous and mesmerizing, though short-lived. A reminder, that our lives are so fleeting.
Regiment Battle Team Change
Touken Ranbu's First Year Anniversary (2016)
ははは。俺たちも一周年か。だが戦いはまだまだ続く。歴史を守るため、これからも頑張らねばな
Hahaha. Our first anniversary, is it? But the war is still continuing. We have to carry on working hard to protect history.
Touken Ranbu's Second Year Anniversary (2017)
俺たちも二周年だ。このニ年の間で変わらぬ事もあれば、変わったこともある。それが歴史というものだな
It's our second anniversary. During these two years, some things have changed, some things have remained unchanged. History is such a thing.
Touken Ranbu's Third Year Anniversary (2018)
三周年を迎え、それまで見かけなかった顔も随分増えた。これが歴史ということだな
We celebrate our third anniversary among quite a few fresh faces. History is such a thing.
Touken Ranbu's Fourth Year Anniversary (2019)
さて、これで四周年だな。この戦いがどこへ向かうのかは俺にもわからん。だが、刀は主に従うのみ
Now then, this marks our fourth anniversary. Even I do not know where this battle is headed to. However, a sword will simply obey its Master.
Touken Ranbu's Fifth Year Anniversary (2020)
ははは。ついに五周年だ。長き時を生きてきた俺たちだが、人の身で主に仕えるようになるとやはりー味も二味も違うな
Hahaha. It's finally the fifth anniversary. We have lived such long lives, but taking on human bodies to assist our masterーas expected it is a completely different experience.
Saniwa First Year Anniversary
Now, the leader should take the leading role. After all, it's the first anniversary of your inauguration.
Saniwa Second Year Anniversary
就任二周年を迎え、主も堂々としてきたな。よい。そうでなくては
Reaching your second anniversary, Master has become quite impressive. Good. That's how it should be.
Saniwa Third Year Anniversary
おお、就任三周年の記念日だったか。いやいや、忘れていたわけではないぞ?
Ooh, so this was the day we commemorate the third anniversary of your inauguration. No no, by no means did I ever forget that.
Saniwa Fourth Year Anniversary
右も左もわからぬようであった主も、もう就任四周年か。いやはや、月日の流れを早く感じるな
Master, who seemed to be at a complete loss before, is now at your fourth inauguration anniversary. Dear me, I can feel the quick passage of time.
Saniwa Fifth Year Anniversary
主よ、これで就任五周年だなあ。主は歴史を、時の流れをどう思う。へ、いやいや、そう難しく考えずとも良い。大事に思ってさえいれば良いのだ。
You know Master, this makes the fifth anniversary of your inauguration. What do you think about history, the flow of time? ーHeh, no, no, you don't have to consider it in a complicated way. But it would be good if you put some care into thinking about it.
Character Details
Community content is available under
CC-BY-SA
unless otherwise noted.