IntroductionEdit
幕末の京都は陰謀と謀議のうずまく町である。時代が変わる前触れとして騒がしくも華々しいこの古都で、日本を揺るがす大事件が起きようとしている。池田屋の裏は長州藩の藩邸であり、新撰組は裏庭を抑える形で襲撃を行ったが、歴史修正主義者は池田屋に近接する三条大橋とその通りに兵力を伏せて襲撃を阻止しようとしていた。
By the end of the Tokugawa shogunate, Kyoto was a city whirling in intrigue and conspiracy. Heralding a period of change, a major event that shook Japan took place in this turbulent and splendid former capital. The Shinsengumi were to raid Ikedaya Inn through its inner courtyard to arrest the Choushuu clan inside, but the historical revisionists have blocked the nearby Sanjou bridge to prevent the attack.
Background Edit
The first time the player enters this map, Konnosuke will appear and inform the player about the historical revisionists' attempt to prevent the Ikedaya Affair.
6-1: Kyoto・Within the City (京都・市中)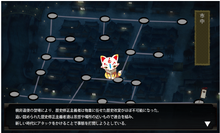 検非違使の登場により、歴史修正主義者は物量に任せた歴史改変がほぼ不可能になった。 追い詰められた歴史修正主義者達は思想や場所の近いもので連合を組み、 新しい時代にアタックをかけることで事態を打開しようとしている。
Due to the appearance of Kebiishi, historical revisionists' alteration of history through sheer numbers have been rendered near impossible. Among revisionists that have been driven into a corner, those with similar beliefs have gathered in Kyoto to form an alliance. By staging an attack on this new time period, they attempt to breakthrough the current situation.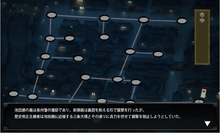 池田屋の裏は長州藩の藩邸であり、新撰組は裏庭を抑える形で襲撃を行ったが、 歴史修正主義者は池田屋に近接する三条大橋とその通りに兵力を伏せて襲撃を阻止しようとしていた。
Beyond Ikedaya Inn lies the headquarters of the Choshu Clan, where the Shinsengumi plan to carry out a raid through seizing the backyard. However, historical revisionists have stationed forces along the Sanjo Bridge and the path leading to Ikedaya Inn in an attempt to prevent the raid.
6-3: Ikedaya Inn 2F (池田屋二階)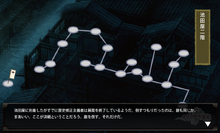 池田屋に到着したがすでに歷史修正主義者は展開を終了しているようだ。倒すつもりだったのは、敵も同じか。 まあいい。ここが決戦ということだろう。敵を倒す。それだけだ。
Having arrived at Ikedaya Inn, we discovered that the historical revisionists' campaign had already come to an end. It appears the enemy had intended to defeat them as well. No matter. This is likely where the decisive battle will take place. We will defeat the enemy. That is all.
Enemy Yari units will always deal a fixed amount of damage (7-9 HP), no matter how high your swords' levels or Leadership stats are.
Based on player experience, the following levels are generally recommended for each of the sword types to traverse the maps comfortably: 40+ for Tantous, 55+ for Wakizashis, and 70+ for Uchigatanas.

Other sword types (Tachis, Oodachis, Yaris, and Naginatas) tend to perform very poorly on the map, even at level 99.
In the case of 6-1 and 6-2, swords can be taken onto the map earlier than the above levels and trained on the first few nodes.
After the update on 16/06/14, a team consisting of 5 or more Tantou will have the highest chance of reaching the boss node in Kyoto: Within the City (6-1) and Sanjo Bridge (6-2).
After the update on 16/09/13, a team consisting of 4 or more Tantou will have the highest chance of reaching the boss node in Kyoto: Ikedaya Inn 2F (6-3) and Ikedaya Inn 1F (6-4).
Battlefields Edit
Community content is available under
CC-BY-SA
unless otherwise noted.