Character Info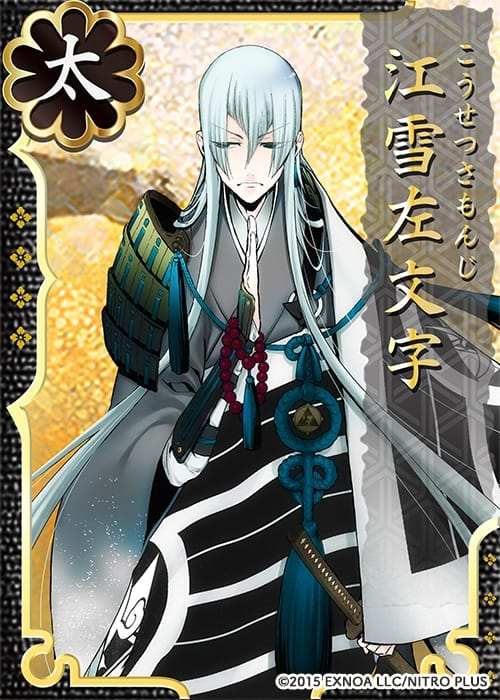 No. 79

 Tachi

 Statistics (MAX)
| | |
| --- | --- |
| 生存  Survival | 51(??) |
| 統率  Leadership | 49(64) |
| 衝力  Impulse | 41(51) |
| 必殺  Killing Blow | 30 |
| 隠蔽  Camouflage | 26 |
| | |
| --- | --- |
| 打撃  Impact | 51(66) |
| 機動  Mobility | 31(??) |
| 範囲  Range | Short |
| 偵察  Scouting | 27(??) |
| 兵力  Troops Slots | 3 |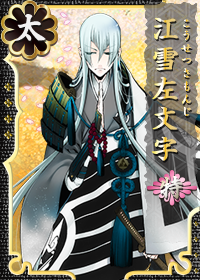 Kousetsu Samonji Toku
江雪左文字  特
No. 79

 Tachi


 Statistics (MAX)
| | |
| --- | --- |
| 生存  Survival | 57(65) |
| 統率  Leadership | 55(70) |
| 衝力  Impulse | 47(57) |
| 必殺  Killing Blow | 30 |
| 隠蔽  Camouflage | 32 |
| | |
| --- | --- |
| 打撃  Impact | 57(72) |
| 機動  Mobility | 37(??) |
| 範囲  Range | Short |
| 偵察  Scouting | 33(35) |
| 兵力  Troops Slots | 3 |
Character Quotes
Book Description
……江雪左文字と申します。板部岡江雪斎の佩刀だったが故にこう名付けられました。 ……刀は、使われぬほうが良いのです。抜かれる前、振るわれぬように、和睦に勤める。それが大事なのではないでしょうか。
..... I am Kousetsu Samonji. Itabeoka Kousetsusai was my owner, and that is why I am named as such. ..... Swords are better left unused. Before being drawn, strive to achieve peace so you will not be wielded. Is that not important?
Obtained
……江雪左文字と申します。戦いが、この世から消える日はあるのでしょうか……?
I am called Kousetsu Samonji. Is there a day when fighting disappears from the world?
Login (Loading)
The world is filled with sorrow...
Game Start
At least, let me pray for you.
Citadel
If there is a fight, one side will drown in sorrow no matter what.
世は、悲しみに満ちています。…救いはないのでしょうか。
The world is full of sorrow. Is there no salvation?
Citadel (Idle)
Will there ever be a day when fighting will stop?
Citadel (Injured)
私が傷付くのは構いません。…それだけで済むのであれば。
I do not mind being wounded. ... as long as it is over.
Line removed as of Feb. 18, 2015
戦っても、戦わなくても悲しみは生まれる。…この世は、地獄です…。
Whether you fight or not, sadness will always be born. ... this world is hell...
Citadel (Kiwame Sendoff)
大丈夫ですよ… 彼はすぐに戻ります… あなたの元で、戦う為に
It will be fine… He'll return soon… in order to fight by your side.
Formation (Member)
What... will you have me do?
Formation (Captain)
Are you saying that I am to lead them somewhere?
Equipment
...I suppose that I may not object.
Expedition
Yes... if it's not fighting...
Expedition (Complete - Leader of Expedition Party)
Expedition (Complete - Leader of Primary Party)
The expedition team has returned...
Smithing
A new katana came, to stand on this sorrowful earth.
Troops Create
戦いを忌避している私が、戦いの道具を作る。…皮肉ですね…。
Me, who is avoiding fighting, making tools for war. ... how ironic.
Repairs (Minor Injury)
It will not take too long...
Repairs (Medium/Severe Injury)
Please... Leave me alone for a bit...
Refinery
Even if my power increases, I...
Mission (Complete)
The mission seems to be over.
Battle Record
...Is this the record of your battles?
Merchant
If it has nothing to do with fighting, then I will help you.
Front Lines
No matter what... is fighting unavoidable?
Resource Discovery
Oh my, what is that there...?
Scouting
I feel a turbulent sign... Please confirm.
Sortie Kick-off
Is there not... a road of peace?
PvP
訓練であれば…、と思ってしまうのは…罪深いことでしょうか?
Is it sinful... to think that... "it's fine as long as it's just practice"?
Attacking
Are you not willing to retreat?
Critical Hit
Fighting is this sort of thing...!
Minor Injury
Well, are you satisfied with that.
Just how much longer will you lust for blood...
Medium/Severe Injury
Compared to the pain of the heart... the pain of the body being cut...!
Awakening
戦いは嫌いです…しかし、むざむざ殺されるつもりもありません…!
I may hate fighting... but I have no intention of being killed without resisting...!
Duel
今背負っているのは自分の命だけではありませんからね。
What I am burdened with now is not just my own life, after all.
Boss Node
The air is... full of grief and sorrow...
Rank-Up Toku
強くなっても、喜べません。これは、戦うための力なのですから……。
Even if I become stronger, I cannot be pleased. For this power is for the sake of fighting...
Destroyed
Didn't I say... that I hated fighting...
Please go
here
for special Internal Affairs interactions
Horsekeeping
Being able to touch all living things is salvation.
Horsekeeping (Complete)
......Yes. I had a peaceful time.
Fieldwork
汗水たらして、日々の糧を得る。幸せな暮らしですね。
Earning one's keep by spilling sweat. This is a blessed way to live, isn't it.
Fieldwork (Complete)
Only during times like this can I believe in tomorrow.
Sparring
... by all means. Please strike from where ever you may like.
Citadel (Poke multiple times)
Tell me then...What is it?
Citadel (Injured - Poke multiple times)
Even if you urge me to...My wounds won't heal any quicker.
Smithing (Complete)
It seems smithing is done.
Repair (Complete)
It seems the repairs are done.
Specific event banner introduction
Background Change
Let's create a peaceful and comfortable environment.
Troops Create (Failed)
It's not on purpose, you know?
Horse Equipped
You have it hard too...being dragged into war like this...
Welcome Back Greeting (After Long Absence)
貴方が帰ってきたからには、この偽りの平穏も終わりですね
Since you have returned, it means this false tranquility will come to an end.
New Year's Greeting
Since it's a new year, let us spend the day without thinking about fighting.
Setsubun (Boss Node)
The Oni... will end here.
Setsubun (Cast Beans)
Out with... the Oni... In with... the fortune...
Out with the Oni... is that so?
Setsubun (After Casting Beans)
How sad... out with... the Oni...
Regiment Battle Team Change
We have no choice... But to go.
Touken Ranbu's First Year Anniversary (2016)
私たちもこれで一周年。戦いは嫌いです……が、それ以外もできるようになったかれ一年ですね
So it's been a full year now. I hate fighting... but it's been a year of more than just that.
Touken Ranbu's Second Year Anniversary (2017)
二周年……ですね。敵との戦いは、いつになったら終わるのでしょうか……
It's the second anniversary...is it? How soon will this battle with enemies end, I wonder...
Touken Ranbu's Third Year Anniversary (2018)
......私たちの戦いは、三周年を迎えました。終戦の気配がないのは、悲しむべきことですね......
...Our battle has reached its third year. We must lament at the lack of signs of the battle ending...
Touken Ranbu's Fourth Year Anniversary (2019)
……また一年、戦いは続いてしまいました。戦いを終わらせるには、どうすればよいのでしょうか……
Saniwa First Year Anniversary
就任一周年ですね。今の貴方には、何が見えていますか?
A year since inauguration, is it? What is the current you seeing?
Saniwa Second Year Anniversary
就任二周年ですか。......貴方が戦上手になっていくことを、果たして祝って良いのでしょうか......
Your inauguration's second anniversary, isn't it? ...I wonder if it is truly alright to celebrate you becoming good at war...
Saniwa Third Year Anniversary
就任三周年ですね。貴方が戦い続けることを、私は悲しめばよいのか、それとも……
It's your third year inauguration anniversary, isn't it? Must I lament that you continue to fight, or must I...
Saniwa Fourth Year Anniversary
就任四周年ですね。戦いの経験を積み続ける貴方をどう思えばいいのか、答えはまだ出そうにありません……
Character Details