Character Info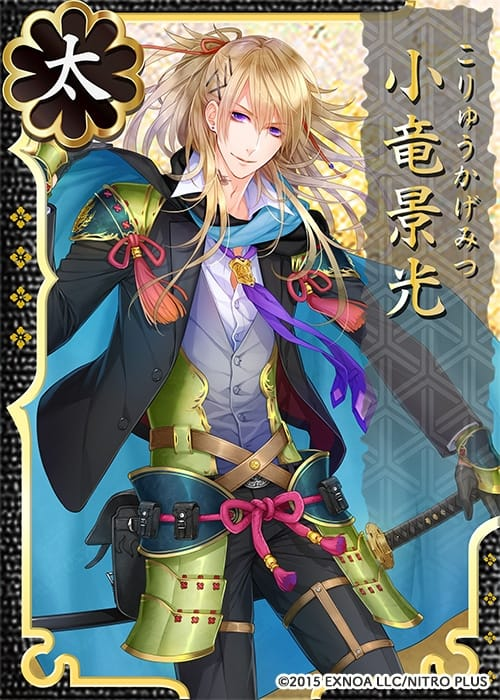 No. 77

 Tachi

 Statistics (MAX)
| | |
| --- | --- |
| 生存  Survival | 54(61) |
| 統率  Leadership | 58(68) |
| 衝力  Impulse | 35(45) |
| 必殺  Killing Blow | 27 |
| 隠蔽  Camouflage | 21 |
| | |
| --- | --- |
| 打撃  Impact | 49(64) |
| 機動  Mobility | 43 |
| 範囲  Range | Short |
| 偵察  Scouting | 35(38) |
| 兵力  Troops Slots | 3 |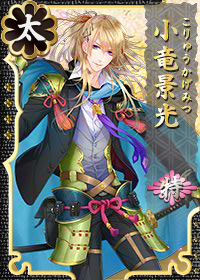 Koryuu Kagemitsu Toku
小竜景光  特
No. 77

 Tachi


 Statistics (MAX)
| | |
| --- | --- |
| 生存  Survival | 60(67) |
| 統率  Leadership | 64(74) |
| 衝力  Impulse | 41(51) |
| 必殺  Killing Blow | 27 |
| 隠蔽  Camouflage | 27 |
| | |
| --- | --- |
| 打撃  Impact | 55(70) |
| 機動  Mobility | 49(49) |
| 範囲  Range | Short |
| 偵察  Scouting | 41(44) |
| 兵力  Troops Slots | 3 |
Character Quotes
Book Description
俺は小竜景光。備前長船派の太刀で 、竜の彫り物がチャームポイントさ。もとはもっと大きな彫り物だったんだが、磨上の際にコンパクトになってしまってね。でも、これはこれでキュートだろう?
I'm Koryuu Kagemitsu. A Bizen Osafune school tachi, my best feature is my dragon engraving. Originally the engraving was larger, but after I was shortened it got small. But it's cute in its own way, don't you agree?
Note:
Koryuu literally means 'little dragon'.
Obtained
俺は 小竜景光。主を探しさすらう流浪の旅人......。キミが、今度の主かな?
I'm Koryuu Kagemitsu. A wandering traveler roaming about in search of a master... I wonder, are you my master this time?
Login (Loading)
Searching for a master, eastward, westward.
Citadel
俺には、異名も多くてねえ。楠公景光とか、覗き竜景光とかね。キミの好きに呼べばいいさ
I sure have many nicknames, such as Nankou Kagemitsu and Nozokiryuu Kagemitsu. Call me whatever you like!
Note:
Nankou refers to previous master Kusunoki Masashige, while Nozokiryuu means 'Peeking dragon' after the engraving on the tang that appears to peek out from the hilt.
俺は、人を選ぶからさ。清廉潔白でないと駄目なんだよね
I choose my owners, you see. It's no good if they're not pure and honest!
Note:
Possible reference to Kusunoki's reputation.
...Hehe, men are full of mysteries.
Citadel (Idle)
Well then... How should I pass the time during Master's absence...
Citadel (Injured)
Geez... I sure got handled roughly...
Citadel (Kiwame Sendoff)
帰るべき場所があるんだ、奴もすぐ帰ってくるだろう?
A fellow with a place he must return to will surely come back right away, don't you agree?
Formation (Captain)
Captain, is it... I got it, I got it.
Fatigue Recovery (One Bite Dango)
Oh? Trying to bait me with dango?
Fatigue Recovery (Makunouchi Bento)
Fatigue Recovery (Oiwaijuu Bento)
Equipment
It's not that it's unusuable, but...
Expedition
Hahaha, traveling is great!
Expedition (Complete - Leader of Expedition Party)
I'm ba—ck! ...Were you worried about me?
Expedition (Complete - Leader of Primary Party)
The expedition team's back from their trip, eh.
Smithing
My eye for blades is something inherited from my former masters, you see.
Note:
Possible reference to sword testing clan Yamada-Asaemon?
Troops Create
Let me see... I wonder what condition it's in...
Repairs (Medium/Severe Injury)
This... looks like it's going to take a while... Sorry about that.
Refinery
Guess I've gotten sharper?
Mission (Complete)
Oh? Is it okay to ignore it?
Battle Record
Well then, looks like a letter's arrived.
Merchant
Judging is my forte, but...
Front Lines
A battle... A battle, is it... Oh, well.
Scouting
Inform me of the situation. What I've picked up from my past is guerilla warfare, you see.
Note:
Reference to Kusunoki's ingenious tactics and thorough knowledge of the terrain.
Sortie Kick-off
Leave that head for me, yeah?
PvP
I wonder what attackers will it be this time...
Note:
Reference to Kusunoki's seige defense battles?
Critical Hit
That head of yours, I'm taking it!
Medium/Severe Injury
Haha... Guess I was too provocative there...
Awakening
I'll cut you down... You won't even feel it...
Duel
Haha, to be cornered and yet still win is a tactic in itself, you know?
Boss Node
Here, is it...? It reeks of death.
Victory (MVP)
No no, this at least should be expected, no?
Rank-Up Toku
強くなってしまったねえ。これでキミも、俺を手放せなくなってしまったかな?
I've become stronger, huh? Like this, maybe you won't be able to part with me anymore?
Destroyed
主探しも…これで終わりか…自分が死んじゃあ、主どころじゃないからなあ…
I guess... the search for a master ends here. After all, I'm the one who's dying here, not the master...
Please go
here
for special Internal Affairs interactions
Horsekeeping
Haha. Now this is hilarious. Horsekeeping, eh?
Horsekeeping (Complete)
I'm done. Are you satisfied with this, Master?
Fieldwork
Actually, I've been with a farming family before as well, you know.
Note:
Reference to how the blade was once owned by a peasant family in Kawachi during the late Edo period. When presented to famous sword specialist clan Honami for appraisal, it was believed to be a fake.
Fieldwork (Complete)
Hm, yeah, that's probably good enough.
Sparring
さ、かかってきなよ。俺はこれで刀はたくさん見てきたからね
Well now, come at me. I've come to judge many blades, you see.
Citadel (Poke multiple times)
Now, now. Don't be greedy.
Citadel (Injured - Poke multiple times)
Smithing (Complete)
It looks like smithing has been finished.
Repair (Complete)
It looks like the repair room is vacant.
Specific event banner introduction
Everyone is really noisy. No, I mean in a good way.
Background Change
What kind of citadel will become...
Horse Equipped
Come, help me in battle, ok?
Omamori Equipped
おやぁ?こういうものでもないと、消えてしまうと思われているのかな?
Oh? If it's not for this, it seems that I would disappear then?
Welcome Back Greeting (After Long Absence)
Good grief. I was wondering if I should start searching for another master again, you know.
New Year's Greeting
あけましておめでとう。 じゃ、新年の挨拶回りにでも行こうか?
Happy New Year. Now, shall we go return the New Year's greetings?
Setsubun (Boss Node)
Searching for oni, let alone a master...
Setsubun (Cast Beans)
Out wiiith the oni! In wiiith the fortune!
Setsubun (After Casting Beans)
I think we should lure the enemy and bring them down, though.
Regiment Battle Team Change
Lure and then bring them down!
Touken Ranbu's Third Year Anniversary (2018)
さてさて、俺たちも三周年だそうだ。 これからもよろしく頼むぜ?
Now, then, it seems it's the Third Year Anniversary for us, too. From here on, too, I'll be counting on you.
Touken Ranbu's Fourth Year Anniversary (2019)
ああ、四周年の祝いかい? 皆が騒がしいものな。……ははっ
Oh, fourth anniversary celebration? Everyone sure is lively. ......Haha.
Touken Ranbu's Fifth Year Anniversary (2020)
Saniwa First Year Anniversary
一年間ご苦労様。一つ所にとどまらない俺としては、感服するばかりさ
You've done a good job this past year. For someone like me who can't stay in one place, it's nothing short of impressive.
Saniwa Second Year Anniversary
キミの戦いもこれで二年。戦いはどこまで続くのだろうねえ
Your battle's gone on for two years now. I wonder how much farther it'll continue.
Saniwa Third Year Anniversary
This is the third year since your inauguration, eh? I see, congratulations!
Saniwa Fourth Year Anniversary
おっと、就任四周年の記念日だったな。いやいや、忘れていたわけではないぜ?
Oops, it's your fourth inauguration anniversary, isn't it? No no, it's not that I forgot, you know?
Saniwa Fifth Year Anniversary
Character Details
Community content is available under
CC-BY-SA
unless otherwise noted.