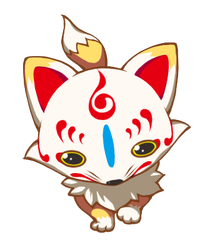 Konnosuke (こんのすけ) is a kudagitsune who helps the Saniwa navigate in the game. Konnosuke is also featured in other media such as a TV documentary and anime series show. It has been mentioned in both game and other media about its love for aburaage (油揚げ).
Appearances in the game
Edit
Konnosuke appears after selecting a server and sword starter to lead the new Saniwa through a basic gameplay tutorial. The gameplay tutorial has four main sections (Sortie, Repairs, Smithing, and Armory) that must be cleared before going on your own.
Konnosuke also appears when there are connection issues or the game is under maintenance.
Appearances in Other Media
Edit

This section is currently under construction.