Character Info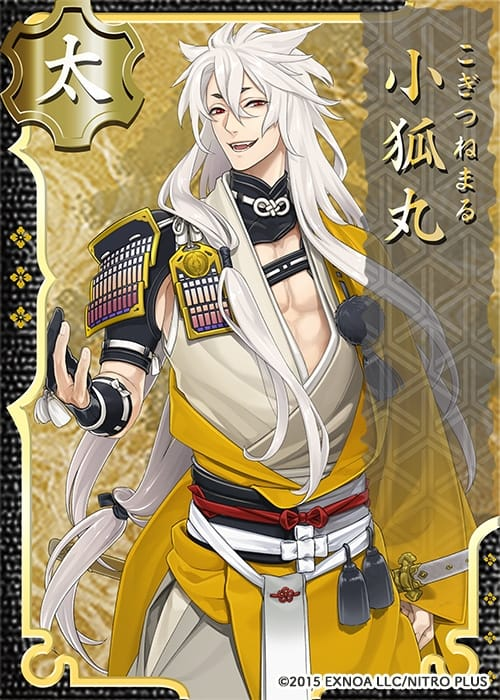 No. 5

 Tachi

 Statistics (MAX)
| | |
| --- | --- |
| 生存  Survival | 44(52) |
| 統率  Leadership | 48(63) |
| 衝力  Impulse | 37(47) |
| 必殺  Killing Blow | 28 |
| 隠蔽  Camouflage | 24 |
| | |
| --- | --- |
| 打撃  Impact | 47(62) |
| 機動  Mobility | 35 |
| 範囲  Range | Short |
| 偵察  Scouting | 30(32) |
| 兵力  Troops Slots | 2 |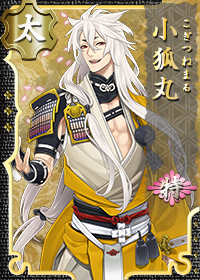 Kogitsunemaru Toku
小狐丸  特
No. 5

 Tachi


 Statistics (MAX)
| | |
| --- | --- |
| 生存  Survival | 50(58) |
| 統率  Leadership | 54(69) |
| 衝力  Impulse | 43(53) |
| 必殺  Killing Blow | 28 |
| 隠蔽  Camouflage | 30 |
| | |
| --- | --- |
| 打撃  Impact | 53(68) |
| 機動  Mobility | 41 |
| 範囲  Range | Short |
| 偵察  Scouting | 36(38) |
| 兵力  Troops Slots | 2 |
Character Quotes
Book Description
相槌を打ったのが狐故、小狐丸と申します。神々への感謝ゆえ、小鍛冶と称し、相槌を打った狐も小狐です。けして、図体が小ではありません
Because my forging was assisted by a fox, I was named Kogitsunemaru. As an offering of gratitude to the Gods, I was bestowed with the names of both Kokaji and the little fox that assisted him. My body isn't small in the least.
Note:
Kokaji (小鍛冶/Little blacksmith) is the title of a noh song about Sanjou Munechika receiving assistance from Inari, the Shinto god of fertility, who appeared to him as a fox. With Inari's help, he forged a sword to present to the emperor and named the sword Kogitsunemaru (kogitsune = little fox). Kokaji was also Sanjou's alias. According to the above story, Kogitsunemaru had "Kokaji Munechika" carved on the front and "Kogitsunemaru" on the back.
Obtained
大きいけれど小狐丸。いや、冗談ではなく。まして偽物でもありません。私が小! 大きいけれど!
Although I might be big, my name is Kogitsunemaru. No, I'm not joking. I'm certainly not a fake, either. I'm small! Even though I'm big!
Note:
Kogitsunemaru's name contains the kanji for small (小), as well as the kanji for fox (狐). In his first line, he says "I'm big, but my name is "small fox."
Login (Complete)
Touken Ranbu is starting.
Game Start
Now then. Let's take our time getting started.
Citadel
Do you want me to... princess carry you?
Master says my fur is beautiful.
Why am I called a "small fox," despite being so big? ... It's modesty.
Citadel (Idle)
Are you taking a break, Master?
Citadel (Injured)
My fur's all messed up...
Line removed as of Feb. 18, 2015
Right now... I'm brushing the fur on my tail.
Citadel (Kiwame Sendoff)
He must have gone to the mountains to train with the foxes.
Formation (Captain)
Since I'm a small fox, I guess that makes me a junior captain...
Note:
See notes on his introduction dialogue.
Fatigue Recovery
Oooh such consideration, as expected from Master.
Equipment
With this, I'm sure I can be more active now.
It seems my fur is shinier than before.
Expedition (Complete - Leader of Expedition Party)
I have returned from my expedition.
Expedition (Complete - Leader of Primary Party)
The expedition party has returned.
Smithing
A new comrade has arrived.
Troops Create
By all means, please--take this.
Repairs (Minor Injury)
I'll go groom my fur for a bit.
Repairs (Medium/Severe Injury)
Once I've taken my time recuperating, I'll return.
Refinery
When you melt us down, we're all just metal.
Battle Record
Let's see what Master has achieved.
Merchant
Money makes the world go round.
Note:
This is a saying. Literal translation is "Money is something that goes around the whole world."
Front Lines
We're leaving for the battlefield.
Resource Discovery
Ooh, I've found something!
Sortie Kick-off
Well now... would you like to dance?
PvP
Come... dance with this small fox!
Critical Hit
It'll hurt if you get bitten... because I'm wild!
Minor Injury
I'm the one who got hurt...?
Hmph... You certainly hit your mark today.
Medium/Severe Injury
My fur's sheen is all messed up now...
Awakening
To think you'd make me show my true strength...!
Duel
A duel is rather old fashioned... not that I hate it!
Boss Node
Well now, is this their star performer?
Rank-Up Toku
The small fox, even larger than before, has returned.
Destroyed
Well, death will befall us all one day... Please, do not let it bother you...
Please go
here
for special Internal Affairs interactions
Horsekeeping
Just because they're horses, they think they can look down on... Actually, let's give them something to look down on.
Horsekeeping (Complete)
Horses nowadays have figured out how to ignore people, I see.
Fieldwork
Are we raising crops for beans to make fried tofu?
Note:
Fried tofu (油揚げ) is said to be a fox's favorite food.
Fieldwork (Complete)
I'm sure they'll grow into great soybeans.
Citadel (Poke multiple times)
Are you that fond of my fur?
Citadel (Injured - Poke multiple times)
Since it's said that it can heal injuries... may I request some grooming?
Smithing (Complete)
The smithing has been done.
Repair (Complete)
The repairs have been completed.
Specific event banner introduction
Some news have been received.
Background Change
Oooh~ are you remodelling?
Troops Create (Failed)
I'd like to have a fox helper...
This isn't working out like a song......
Horse Equipped
O horse, can you listen to what I say?
Citadel (Nendoroid Background)
大きいけれど、小狐丸。の、はずが……このなりはまさに小!ですね
Although I might be big, my name is Kogitsunemaru... supposedly. I've certainly become small now!
If I've become like this, then I can eat a big piece of fried tofu.
It's alright to pet me, you know? Here.
Welcome Back Greeting (After Long Absence)
おお!おかえりなさいませ!見てくだされこの毛並み。主さまがおられぬのですっかりぼさぼさに
Oh! Welcome home! Please look at this fur. Without you here, it's become utterly unkempt.
New Year's Greeting
Please have nice dreams, Master.
Setsubun (Entering Map)
We're going to see the Oni.
Setsubun (Boss Node)
So this is where the Oni were.
Setsubun (Cast Beans)
Out wiiith the Oniii! In wiiith the fortuuune!
Setsubun (After Casting Beans)
Note:
Kogitsunemaru here says a phrase which could be roughly translated to "the base/origin of fried tofu" and fried tofu (油揚げ) is made from soy beans, so essentially he may be talking about the beans. He may also mean tofu before it is fried.
Regiment Battle Team Change
Touken Ranbu's First Year Anniversary (2016)
おお。我々も一周年でございますか。そうだと知っていればもう少し毛艶を整えてものを
Ooh. Is it our first anniversary? If I had known then I would have fixed my fur a little.
Touken Ranbu's Second Year Anniversary (2017)
二周年でございますねえ。戦いはまだまだ続きますが、癒やしがほしい時はいつでも私の毛をもふもふしてください
It is now our second anniversary. The battle is still ongoing; however at anytime you wish to be soothed, please fluff up my fur.
Touken Ranbu's Third Year Anniversary (2018)
三周年目でございますねえ。戦いはまだまだ続きますか
It is now our third anniversary. The battle is still ongoing, isn't it.
Touken Ranbu's Fourth Year Anniversary (2019)
四周年……でございますか。いやはや、月日の流れは早いもの。私の毛並みもこんなにふんわリと
Our fourth anniversary...... I see. Dear me, time flies so fast. Even my fur is this fluffy.
Saniwa First Year Anniversary
ぬしさま、今日が何の日かわかりますか。就任一周年記念でございまする
Master, do you know what day it is today? It's the first anniversary of your inauguration.
Saniwa Second Year Anniversary
ぬしさま、就任二周年記念でございまする。やや、ご立派!
Master, it's your inauguration's second anniversary. My, how splendid!
Saniwa Third Year Anniversary
ぬしさま、ぬしさま! ついに就任三周年記念日ですぞ!
Master, Master! It's finally the third anniversary of your inauguration!
Saniwa Fourth Year Anniversary
ぬしさま、今年もこの日がやってまいりましたな。そう、就任四周年ですぞ!
Master, this day has come again this year. That's right, it's the fourth anniversary of your inauguration!
Character Details
Community content is available under
CC-BY-SA
unless otherwise noted.