Character Info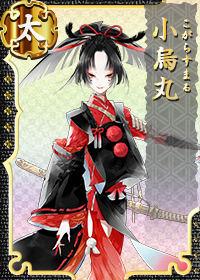 No. 124

 Tachi

 Statistics (MAX)
| | |
| --- | --- |
| 生存  Survival | 59(64) |
| 統率  Leadership | 45(59) |
| 衝力  Impulse | 34(40) |
| 必殺  Killing Blow | 35 |
| 隠蔽  Camouflage | 20 |
| | |
| --- | --- |
| 打撃  Impact | 47(59) |
| 機動  Mobility | 37(47) |
| 範囲  Range | Short |
| 偵察  Scouting | 30(34) |
| 兵力  Troops Slots | 3 |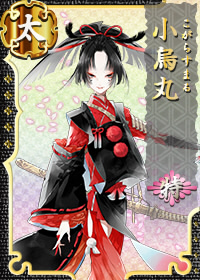 Kogarasumaru Toku
小烏丸  特
No. 124

 Tachi


 Statistics (MAX)
| | |
| --- | --- |
| 生存  Survival | 65(70) |
| 統率  Leadership | 51(65) |
| 衝力  Impulse | 42(46) |
| 必殺  Killing Blow | 35 |
| 隠蔽  Camouflage | 26 |
| | |
| --- | --- |
| 打撃  Impact | 53(65) |
| 機動  Mobility | 43(53) |
| 範囲  Range | Short |
| 偵察  Scouting | 36(40) |
| 兵力  Troops Slots | 3 |
Character Quotes
Book Description
小は付けど、これは謙遜. 昔は上や大を意味する言葉に小をわざわざ当てていたのよ. この小烏丸は日本刀と直刀の中間にあたる, 日本刀の父のようなものよ
'Small' may be in my name, but it is out of modesty. In the old days, 'small' was purposefully used to mean such things as 'upper' or 'large'. This Kogarasumaru is the midpoint between transition of the straight sword to the katana... something like the father of the katana.
Note:
Kogarasu literally means 'small crow'.
Obtained
我が名は小烏丸。外敵と戦うことが我が運命。千年たっても、それは変わらぬ
My name is Kogarasumaru. To battle foreign foes is my destiny. Even after a thousand years, that will not change.
Login (Complete)
Touken Ranbu, let's begin.
Citadel
To think you would bring this father here... Is this fate as well?
You must not judge others on appearance alone.
我は今の形の日本刀が生まれ出づる時代の剣。言わばここにいる刀剣の父も同然よ。
I am a blade from the age when the current form of Japanese swords was born. As such, I am essentially the father of the other swords here.
Citadel (Idle)
おやおや、この我を差し置いて、眠ってしまわれたか?
Oh my, have you set me aside and fallen asleep?
Citadel (Injured)
Ugh... hold, hold a moment. You'll slow the healing of my wounds.
Citadel (Kiwame Sendoff)
刀剣は皆、旅立つものよ。贈答に転売、盗難に戦没、運命の形は色々よなあ。
All swords travel. As offerings of goodwill, as objects sold away, as stolen goods, or broken in battle. Fate has different forms.
Formation (Member)
Watching over the next generation is a father's duty.
Formation (Captain)
Come now, this father will take the lead.
Fatigue Recovery (One Bite Dango)
Hoho, refreshments, is it? Very well, very well.
Fatigue Recovery (Makunouchi Bento)
Fatigue Recovery (Oiwaijuu Bento)
Equipment
Now, how shall I wear this? It must bring out my tastes.
Equipment...doesn't have only one use.
Expedition (Complete - Leader of Expedition Party)
I've returned. Were you in good health even in father's absence?
Expedition (Complete - Leader of Primary Party)
The expedition team has returned.
Smithing
A new sword has arrived, has he? Now now, father shall take a look.
Repairs (Minor Injury)
I shall be taking a short break. Forgive this old blade.
Repairs (Medium/Severe Injury)
Leave it... to the children for a while. ...I am going to recuperate.
Mission (Complete)
Oh? A mission has been completed.
Battle Record
Let me see, master. Show your achievements to this father.
Merchant
酒が飲める店ではないのか。…いやいや、成人から千年以上経っておるでなぁ
Is this not a drinking establishment? No no, it's been over a thousand years since I've come of age.
Scouting
Well, hand the scouting information to me.
Sortie Kick-off
Well then, shall we carry out the original duty of the sword?
PvP
There there, shall we train?
Awakening
This body aches... to bring down the foreign foe.
Duel
Are you...entrusting this thread of hope upon this father?
Boss Node
The head of the general has been the highest honor since the old days.
Victory (MVP)
The older the crow, the wiser.
Note:
A play on the idiom 亀の甲より年の功, meaning 'the older, the wiser'.
Rank-Up Toku
子らに負けているのもよろしくないのでな。この父も強くなったというわけよ
It would be no good to lose to the children. Hence, this father's grown strong, too.
Destroyed
I will leave first. The fate of killing and being killed ends here.
Please go
here
for special Internal Affairs interactions
Horsekeeping
思えば、日本刀剣がゆるやかに曲がりだしたのは馬のせいであったな
Come to think of it, horses were the reason why katana became gently curved.
Note:
The curve of the katana was developed for better slashing movements on horseback.
Horsekeeping (Complete)
Without horses, we would never have gained existence.
Fieldwork
Surely you can't be considering idleness in front of your father.
Fieldwork (Complete)
Oh dear. There are still many children here.
Sparring
Ah, to think this father would be asked to train at this age.
Sparring (Complete)
How was that? Did you acquire anything from this father?
Citadel (Poke multiple times)
Citadel (Injured - Poke multiple times)
...Keep it in moderation. You are dealing with an injured one.
Repair (Complete)
The repair room has opened up. Who is next?
Specific event banner introduction
Oh, an occasion for entertainment?
Troops Create (Failed)
Even father may fail at times.
I put too much tension into it.
Horse Equipped
Horses won't treat me as their father...
Omamori Equipped
Hoho, you really like to worry.
Welcome Back Greeting (After Long Absence)
おお主よ。戻ってきたか。主がおらぬと子らが騒いでたまらぬわ
Oh, Master. So you've returned. Without their master, the children have been kicking up quite the fuss.
New Year's Greeting
謹賀新年。ここには子らが多い。お年玉の準備も大変よ
Happy New Year. There are many children here. Preparing the otoshidama will prove to be difficult.
Omikuji
Ooh. Entrusting your fate to father, hm?
Small luck. Don't be disheartened.
Great luck. This is a good thing.
Setsubun (Entering Map)
Demons, eh? It has been a while.
Setsubun (After Casting Beans)
Needless shouting is unnecessary when it comes to casting beans.
Spring Garden Flower Viewing
The cherry blossoms suit me.
Regiment Battle Team Change
Follow after father, my children.
Touken Ranbu's Second Year Anniversary (2017)
おお。我らの戦いもこれで二周年なのか。道理で子らが浮かれておる
Ohh. Our fight has lasted two years now. No wonder the children are elated.
Touken Ranbu's Third Year Anniversary (2018)
我らの戦いも三周年か。今後の心配は要らぬ。この父に任せておけ
Our fight has lasted for three years now. You needn't worry anymore. Leave it to father.
Touken Ranbu's Fourth Year Anniversary (2019)
なるほど、我らも四周年。子らの安寧のためにも、この父が張り切らねばな
 I see, we have reached our fourth anniversary. For the peace of my children, father must knuckle down.
Touken Ranbu's Fifth Year Anniversary (2020)
五周年。それだけの積み重ねが我々にもできたか。よい。子とともに歩むことこそ、父の喜びよ
Our fifth anniversary. To think that we have accumulated this many. Very well. It is this father's great pleasure to continue walking forward with his children.
Saniwa First Year Anniversary
主よ. 一年間頑張ってきたのだな. 褒めてつかわすぞ
Master. You've been working hard for a year. I praise you.
Saniwa Second Year Anniversary
Master's path has lasted two years now. Keep working hard from now on, too.
Saniwa Third Year Anniversary
Ooh. You have welcomed your third year, I see. That is a wonderful thing.
Saniwa Fourth Year Anniversary
This marks your fourth anniversary. You have done well, Master.
Saniwa Fifth Year Anniversary
なんと、就任五周年か。いやはや、人の子の成長は早いものよ
My, so it's your fifth anniversary. My gracious, the children of man certainly do grow fast.
Character Details
Community content is available under
CC-BY-SA
unless otherwise noted.