Character Info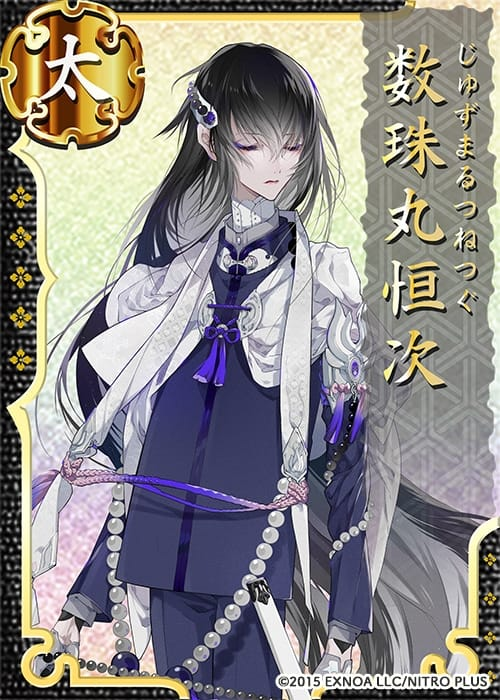 No. 17

 Tachi

 Statistics (MAX)
| | |
| --- | --- |
| 生存  Survival | 51(66) |
| 統率  Leadership | 52(73) |
| 衝力  Impulse | 35(47) |
| 必殺  Killing Blow | 29 |
| 隠蔽  Camouflage | 25 |
| | |
| --- | --- |
| 打撃  Impact | 42(57) |
| 機動  Mobility | 32(35) |
| 範囲  Range | Short |
| 偵察  Scouting | 24(29) |
| 兵力  Troops Slots | 3 |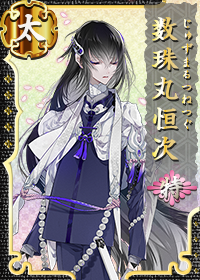 Juzumaru Tsunetsugu Toku
数珠丸恒次  特
No. 17

 Tachi


 Statistics (MAX)
| | |
| --- | --- |
| 生存  Survival | 56(71) |
| 統率  Leadership | 57(78) |
| 衝力  Impulse | 40(52) |
| 必殺  Killing Blow | 29 |
| 隠蔽  Camouflage | 30 |
| | |
| --- | --- |
| 打撃  Impact | 47(62) |
| 機動  Mobility | 35(38) |
| 範囲  Range | Short |
| 偵察  Scouting | 29(34) |
| 兵力  Troops Slots | 3 |
Character Quotes
Book Description
私は、天下五剣の一振り。数珠丸恒次と申します。 人の価値観すら幾度も変わりゆく長き時の中、仏道とはなにかを見つめてまいりました。 ……人を斬る道具が、仏道を守る。この在り方は、間違っているのでしょうか……
I am one of the Five Great Swords of Japan. You may call me Juzumaru Tsunetsugu. Through the long years, as people's values have changed again and again, I have fixed my gaze on the true meaning of Buddhism. ...A tool that cuts down people is protecting the way of the Buddha. I wonder if this state of affairs is a mistaken one...
Obtained
私は、数珠丸恒次と申します。人の価値観すら幾度と変わりゆく長き時の中、仏道とはなにかを見つめてまいりました
I am Juzumaru Tsunetsugu. Through the long years, as people's values have changed again and again, I have fixed my gaze on the true meaning of Buddhism.
Login (Complete)
Touken Ranbu, it's starting.
Game Start
All earthly things pass away. All existing things are without self.
Citadel
行方知れずの期間…ですか?…さて、どうしていましたかね
Are you asking me about the period of my absence? ...Well, I do wonder what I was doing then.
Note:
Juzumaru was originally enshrined in the Kuon-ji temple founded by Nichiren. However, he went missing in the 18th century. In 1920, he was rediscovered by Sugihara Shouzou, a member of the Imperial Household Agency, in a noble's collection. He bought Juzumaru and attempted to return Juzumaru to Kuon-ji, but the temple lacked the funds to buy him. After years of negotiations, Juzumaru was given to Honkou-ji temple instead, where he remains to this day. (See History section for more details.)
この世は苦しみに満ちています。…それを和らげるのが信仰であり、僧の役割なのです
This world is full of sorrows. ...What brings relief is religious faith, which is the duty of a monk.
Is there something distressing you?
Citadel (Idle)
Note:
Juzumaru is reciting the
daimoku
, a mantra chanted by followers of Nichiren Buddhism. Its exact translation would be "Hail to the Lotus Sutra", the Lotus Sutra being a very honored sutra within Nichiren Buddhism.
Citadel (Injured)
Is something wrong? Are you hesitating?
Citadel (Kiwame Sendoff)
There's nothing to be anxious about. Did you not see his expression?
Formation (Captain)
You mean...I must lead them?
Fatigue Recovery (One Bite Dango)
Fatigue Recovery (Makunouchi Bento)
Fatigue Recovery (Oiwaijuu Bento)
Equipment
...A monk holding a tool of war, huh.
To think that I would be holding a weapon...
Expedition
Thank you for seeing us off. We'll be going now.
Expedition (Complete - Leader of Expedition Party)
These are the fruits of our labor.
Expedition (Complete - Leader of Primary Party)
Smithing
It seems we've made a new bond.
Troops Create
It is done. Please take this.
Repairs (Minor Injury)
I'll be meditating a little.
Repairs (Medium/Severe Injury)
Until my wounds have recovered, I shall briefly continue with my quest for enlightenment.
Mission (Complete)
As you accomplish your goals, someone is surely watching over you.
Battle Record
You must come face-to-face with your own progress.
Merchant
Abandon your earthly desires and obsessions, and buy only what you need.
Front Lines
Now is the age of war...The Latter Days have come...
Resource Discovery
Buddha is watching over us.
Scouting
Let us study the enemy's situation and match their every move.
Sortie Kick-off
If this is unavoidable, then...
PvP
Let's aim to improve ourselves and work hard at training.
Critical Hit
Note:
A Buddhist term meaning a sense of crushing evil and spreading the truth.
Minor Injury
Are you satisfied with that?
It would not do to get angry.
Medium/Severe Injury
I am prepared to face persecution for my beliefs.
Note:
Juzumaru's former owner, Nichiren, was constantly harassed and persecuted as the religious authorities of the time saw him as a threat to the establishment.
Awakening
I will guide you to the right path!
Duel
Understood. You and I will settle this.
Boss Node
A whirlpool of hatred and malice... Is this a hell on earth?
Rank-Up Toku
It would be good if I could save all living things with this power.
Destroyed
一切皆苦 諸行無常 こうなるのもいつかはありえたことです
All things lead to suffering. All things are transient. Something like this was bound to happen one day.
Please go
here
for special Internal Affairs interactions
Horsekeeping (Complete)
To complete your daily work diligently and without fail, is the path of righteousness.
Fieldwork
I will gladly assist you.
Fieldwork (Complete)
As they say, well fed, well bred.
Sparring
If you do not mind, I will be your opponent.
Sparring (Complete)
Day in and day out, this is asceticism.
Citadel (Poke multiple times)
No need to be too frantic.
Citadel (Injured - Poke multiple times)
Let's heal my wounds first.
Smithing (Complete)
It seems the smithing has ended.
Repair (Complete)
It seems the repairs have ended.
Specific event banner introduction
Troops Create (Failed)
It's a failure, isn't it.
Was it due to lack of training?
Horse Equipped
I'll be relying on you for the next battle.
Omamori Equipped
Your concern...should be for others.
Welcome Back Greeting (After Long Absence)
お戻りになりましたか。外の世界で、なにか得るものはありましたか?
You have returned. Did you gain anything from visiting the outside world?
New Year's Greeting
あけましておめでとうございます。せっかくですので、法話をいたしましょうか。……どうして嫌そうな顔をす るのですか?
Happy New Year. Since we're here, why don't we have a Buddhist sermon? ...... Why are you making that uncomfortable expression?
Setsubun (Entering Map)
It is my duty to exorcise the Oni.
Setsubun (Boss Node)
Is this the Buddha's guidance, or the call of the Oni...?
Setsubun (Cast Beans)
There. Out with the Oni, in with the fortune.
There. In with the fortune, out with the Oni.
Setsubun (After Casting Beans)
That was a wonderful activity.
Regiment Battle Team Change
Touken Ranbu's Second Year Anniversary (2017)
我々も二周年。まだまだ修行不足の身なれど、今後も精進していきましょう
It's our second anniversary. We may still lack training, but let us continue diligently.
Note:
身 can mean body, blade, oneself, one's position, etc.
Touken Ranbu's Third Year Anniversary (2018)
三周年を迎えたわけですね。我々も日々の精進を今後も積み重ねていく所存です
The third year anniversary is here. We will continue our daily devotion in the future.
Touken Ranbu's Fourth Year Anniversary (2019)
我々も四周年。精進に終わりというものはあリません。今後も励みます
We are now on our fourth anniversary. There is no end to devotion. I shall continue to strive.
Touken Ranbu's Fifth Year Anniversary (2020)
ついに五周年。ある種の節目ではありますが、悟りの道に終わりはありません
Saniwa First Year Anniversary
Your achievements are being properly recognized.
Saniwa Second Year Anniversary
就任二周年おめでとうございます。慣れた頃にこそ油断が生じます。気をつけるのですよ
Congratulations on your inauguration's second anniversary. Negligience is born when you get used to things. Do be careful.
Saniwa Third Year Anniversary
就任三周年おめでとうございます。もうすっかり慣れたという顔ですね。ですが、それで満足してはなりませんよ
Congratulations on your third year anniversary of inauguration. Your face is that of someone who has become quite experienced. Even so, do not become complacent.
Saniwa Fourth Year Anniversary
就任四周年おめでとうございます。日々、これ精進。慢心してはなりませんよ
Congratulations on your fourth inauguration anniversary. Observe devotion everyday. You mustn't become conceited.
Saniwa Fifth Year Anniversary
Character Details
Community content is available under
CC-BY-SA
unless otherwise noted.