Character Info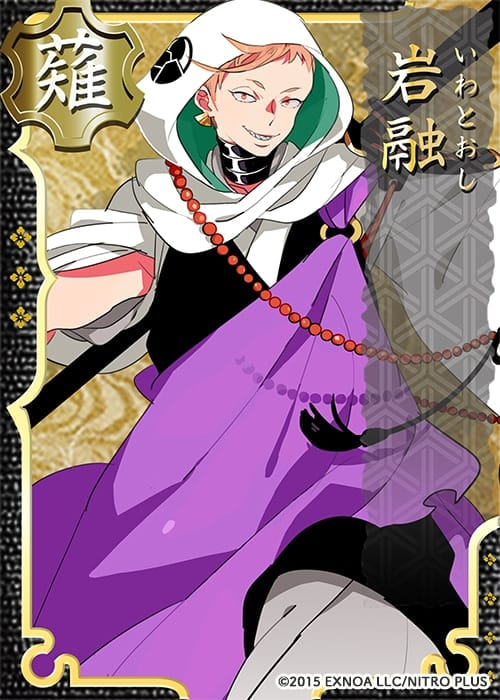 No. 9

 Naginata

 Statistics (MAX)
| | |
| --- | --- |
| 生存  Survival | 49(55) |
| 統率  Leadership | 40(46) |
| 衝力  Impulse | 45(56) |
| 必殺  Killing Blow | 29 |
| 隠蔽  Camouflage | 30 |
| | |
| --- | --- |
| 打撃  Impact | 48(63) |
| 機動  Mobility | 29(37) |
| 範囲  Range | Horizontal |
| 偵察  Scouting | 30(36) |
| 兵力  Troops Slots | 2 |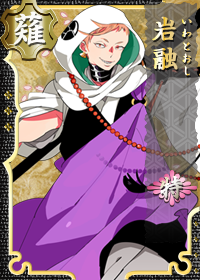 Iwatooshi Toku
岩融  特
No. 9

 Naginata


 Statistics (MAX)
| | |
| --- | --- |
| 生存  Survival | 54(60) |
| 統率  Leadership | 45(51) |
| 衝力  Impulse | 50(61) |
| 必殺  Killing Blow | 29 |
| 隠蔽  Camouflage | 35 |
| | |
| --- | --- |
| 打撃  Impact | 53(68) |
| 機動  Mobility | 34(42) |
| 範囲  Range | Horizontal |
| 偵察  Scouting | 35(41) |
| 兵力  Troops Slots | 2 |
Character Quotes
Book Description
がはははは! 俺は岩融! 武蔵坊弁慶とともに999の刀を狩った薙刀よ!並大抵の人間では俺を振るうことなど不可能! 主よ、俺を楽しませてくれるかな!?
Gahahahaha! I'm Iwatooshi! I'm the naginata that, together with Musashibou Benkei, won against 999 swords! It's impossible for an ordinary human to wield me! Master, I wonder if you'll amuse me!?
Obtained
おお。小さすぎて気づかなんだわ。俺は岩融、武蔵坊弁慶の薙刀よ!がはははは!
Ooh. I didn't notice you since you're too small. I'm Iwatooshi, Musashibou Benkei's naginata! Gahahahaha!
Login (Complete)
Ha ha ha! Touken Ranbu begins!
Citadel
僧侶のくせに血なまぐさい?はっはっは!すまんすまん。前の主の影響だな。
Even though I'm a monk, I reek of blood? Hahaha! Sorry sorry. It must be my former master's influence.
Note:
Benkei became a yamabushi (山伏) at the age of 17 and guarded the Gojo bridge at Kyoto. He aimed to collect as many katanas as he could from samurais who wanted to pass through the bridge, eventually collecting 999.
Oh, Master is small when compared to me.
What's wrong? Shall we launch a surprise attack in order to gather the swords?
Citadel (Injured)
Oops, it seems like it'll be dangerous if I don't rest soon.
Line removed as of Feb. 18, 2015
Citadel (Kiwame Sendoff)
He has his own wishes. Just watch over him.
Formation (Captain)
Very well! I'll hunt the enemy one after another.
Fatigue Recovery
がはははは! 俺からするとちんまりした大きさになってしまうなぁ!
Gahahaha! From my viewpoint it's nothing but a tiny bite.
Equipment
I will gratefully use this equipment.
Oops, I wonder if it will suit my physique?
Expedition (Complete - Leader of Expedition Party)
Hahahaha! I have brought things back with me!
Expedition (Complete - Leader of Primary Party)
Let's go greet the expedition team!
Repairs (Minor Injury)
I'm gonna take an afternoon nap.
Repairs (Medium/Severe Injury)
Because it's not the appropriate time to hunt the blades when I'm in this state, huh?
Mission (Complete)
Fufun! The rewards show up.
Battle Record
Master, I wonder how many enemies have you defeated up till now?
Note:
Yoshitsune, owner of Ima no Tsurugi, ordered Benkei to guard the mansion as he commit seppuku. It was said that Benkei killed more than 300 soldiers with Iwatooshi.
Merchant
Ooh! Leave the luggage to me.
Front Lines
Let's go out to hunt at once!
Resource Discovery
Hahahaha! It's an unexpected bargain.
Scouting
Everyone, while the enemy is off-guard, let's use the opportunity to raid them!
Sortie Kick-off
Hahahaha, I wonder whom should I hunt first!
PvP
はっはっはっは!実践ほどではないにせよ、楽しめるといいな!
Hahahaha! Even though it's not an actual battle, it'll be good if it's fun!
Attacking
Note:
('Dooryaaaa' is a meaningless battle cry)
Critical Hit
Hahahaha! Am I terrifying?!
Note:
Benkei was said to have been born with hideous looks and a large physique. At the age of 6 Benkei contracted small pox and from then on his face turned dark and, hence, "terrifying".
Minor Injury
Feels like a mosquito bite.
Aah? Did something prick me just now?
Medium/Severe Injury
Hahaha! That's more like it! Let me have more fun!
Duel
Let us duel! I'm taking your life!
Boss Node
Hohoo, this presence is pretty good! Looks like this'll be a successful hunt!
Victory (MVP)
Gahahahaha! Looks like I have hunted down the achievement!
Rank-Up Toku
Gahahaha! I wonder if I look even larger?!
Destroyed
数多の刀を…狩った武器としては...当然の、末路よな...。
This is an inevitable fate for a weapon that has hunted down so many blades, huh...
Please go
here
for special Internal Affairs interactions
Horsekeeping
Good, good boy, don't be scared!
Horsekeeping (Complete)
Fuh, not scaring the horses alone gave me a hard time.
Fieldwork
Physical labor, huh? Just leave it to me!
Fieldwork (Complete)
I'm looking forward to the harvest!
Sparring
Here, I'll lend you my chest! Come and attack me!
Sparring (Complete)
Gahahaha! I had a good time!
Citadel (Poke multiple times)
Citadel (Injured - Poke multiple times)
Eurgh... I think it's important to rest when you have to rest.
Smithing (Complete)
I see! Looks like the forging is done!
Repair (Complete)
Ohh! Looks like the repairs are done!
Specific event banner introduction
Background Change
Gahahahahaha! Remodeling, this is very much fantastic!
Troops Create (Failed)
Somehow, making is harder than using.
Hmm, I can't make it both small and good.
Gahahaha! It's a failure!
Horse Equipped
Good boy, there's nothing to be afraid of!
Omamori Equipped
がっはっはっは! このような小さなお守りに俺を守れるものかな?
Gahahaha! I wonder if such a small omamori can protect me?
Welcome Back Greeting (After Long Absence)
......おお?主よ、帰ってきたか。眠ってばかりも暇であるからな、敵を狩りに行こうぞ!
......Oh? Master, have you returned? It's so boring I could fall asleep, so let's go hunt down enemies!
New Year's Greeting
主よ!新年あけましておめでとう!お、短刀たちがお年玉を求めて走り回っているな!がはははは!
Master! Happy New Year! Oh, the tantous are running around hunting for New Year's money, huh! Gahahahaha!
Setsubun (Entering Map)
Come, let's hunt for some Oni!
Setsubun (Boss Node)
Gahahahahaha! Now, where are they hiding, the ones that wish to be hunted?!
Setsubun (Cast Beans)
Out with the Oniii! In with the fortuuune!
Setsubun (After Casting Beans)
がーっはっはっはっはっはっは!豪壮なものになったな!
Gaahahahahahaha! This has become rather splendid!
Regiment Battle Team Change
Alright, follow my lead! Let's raid them!
Touken Ranbu's First Year Anniversary (2016)
がはははは!俺たちも一周年!これからもどんどん刀が集まってこようぞ!
Gahahahaha! It's been a year! From here on, let's keep steadily gathering more swords!
Touken Ranbu's Second Year Anniversary (2017)
うむっ、俺たちもニ周年!めでたい日であるから、短刀たちが騒いでおるな!がはははは!
Hm! It's now been two years! It's a happy day, so the tantou are clamoring around! Gahahahaha!
Touken Ranbu's Third Year Anniversary (2018)
これで俺たちも三周年。めでたさを祝うとともに、気を引き締めねばなるまいな!がはははははは!
This marks our third year together. It's good to celebrate, but we can't let our guard down either! Gahahahahahaha!
Touken Ranbu's Fourth Year Anniversary (2019)
いやあ、四周年だな! なに、戦いのことは俺に任せておけ! がはははは!
Well, it's our fourth anniversary! Don't worry, leave the battles to me!
Saniwa First Year Anniversary
おお、就任一周年!刀集めに果てはなかろう!がはははは!
Oh, it's the first anniversary of your inauguration! There is no end to sword collecting! Gahahahaha!
Saniwa Second Year Anniversary
就任二周年、がんばっておるな!これからも刀集めを続けるとしようぞ!
Second anniversary of your inauguration, you sure are working hard! Let's continue collecting swords from now on, too!
Saniwa Third Year Anniversary
うむっ、就任三周年だな!新顔も増えて、集めがいがあるというものよ!
Hm, it's the third anniversary of your inauguration! Seeing all these new faces sure makes you glad to have collected them!
Saniwa Fourth Year Anniversary
就任四周年目ともなると、集まった刀も多種多様であるな。がはははは!
When you reach the fourth anniversary of your inauguration, the swords you gather are diverse. Gahahahaha!
Character Details