Character Info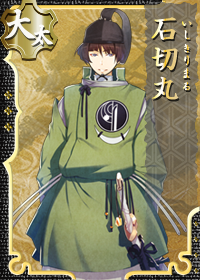 No. 7

 Ootachi

 Statistics (MAX)
| | |
| --- | --- |
| 生存  Survival | 60(69) |
| 統率  Leadership | 52(65) |
| 衝力  Impulse | 48(58) |
| 必殺  Killing Blow | 32 |
| 隠蔽  Camouflage | 20 |
| | |
| --- | --- |
| 打撃  Impact | 60(82) |
| 機動  Mobility | 10(10) |
| 範囲  Range | Wide |
| 偵察  Scouting | 10(10) |
| 兵力  Troops Slots | 2 |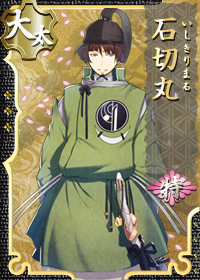 Ishikirimaru Toku
石切丸  特
No. 7

 Ootachi


 Statistics (MAX)
| | |
| --- | --- |
| 生存  Survival | 63(72) |
| 統率  Leadership | 55(68) |
| 衝力  Impulse | 51(61) |
| 必殺  Killing Blow | 32 |
| 隠蔽  Camouflage | 23 |
| | |
| --- | --- |
| 打撃  Impact | 63(85) |
| 機動  Mobility | 13(13) |
| 範囲  Range | Wide |
| 偵察  Scouting | 13(15) |
| 兵力  Troops Slots | 2 |
Character Quotes
Book Description
石切丸という。 石をも斬る神刀、とは言われるけれど、もっぱら腫れ物や病魔を霊的に斬ることが多いな。
何せ、神社ぐらしが長いものでね。いくさよりは神事のほうが得意になってしまったよ
I am called Ishikirimaru. Although I am said to be a sacred sword that can cut through stone, I am mainly devoted to spiritually cutting away tumors and diseases.
At any rate, I've been enshrined for a long time. To the extent that I now specialize in Shinto rituals more so than battles.
Note:
腫れ物 (haremono) describes swelling or tumors, but in this context it also encompasses anything that causes swelling or tumors (i.e. injuries).
Obtained
石切丸という。病気治癒がお望みかな?……おや、参拝者ではないのか
I am Ishikirimaru. Do you wish to be healed? ...Oh, are you not a worshipper?
Login (Loading)
Note:
These lines are uttered as part of the Misogi purification ritual.
Login (Complete)
Touken Ranbu is beginning.
Game Start
Let's strive to do our best today as well.
Citadel
Oh, do you have some swelling? Would you like me to cut it away for you?
Everything is best in moderation, including diligence. Work can come second.
武器であることを忘れたつもりはないけれど、やはり神社とは勝手が違うな
I don't plan to forget my status as a weapon, but really, this environment is quite different from the shrine.
Citadel (Idle)
参拝客が来ないというのは、新鮮でもあり退屈でもあり……
Not having worshippers come is both refreshing as well as boring...
Citadel (Injured)
物を大事にしないと、そのうち痛い目見るかもしれないね
If you don't take care of your possessions, sooner or later you might run into trouble because of it.
Line removed as of Feb. 18, 2015
治癒の効能のある神刀がこれじゃ…参拝者に示しがつかないな
A treasured sword with healing powers in this kind of state... I'm setting a bad example for my worshippers.
Citadel (Kiwame Sendoff)
彼の出立を祈祷しようか。すぐ帰ってくるから不要かな?
Perhaps I should pray for his departure. I wonder if that's unneeded since he's returning so soon?
Formation (Member)
Understood. It will be good if I can clear away our forces' misfortune.
Formation (Captain)
おや、いくさの専門家ではなく私が率いていいのかい?
My, is it alright for me to take lead instead of a battle specialist?
Fatigue Recovery
Ohh, this is nice. I'll enjoy it gratefully.
Equipment
I ought to treasure the equipment that you took troubles to give me.
To think the day has come where I'd wield something other than the gohei.
Note:
The gohei (御幣) is a wooden staff with two zigzag paper streamers, usually used in Shinto purification rituals.
You use this to make prayers? Ahh, am I wrong?
Expedition
神無月でもないのに家を空けるというのは、不思議な感じだね
It feel strange to vacate the house even though it isn't the godless month.
Note:
The godless month (神無月), the tenth month in the lunar calendar, is the month when gods from all over the country gather at Izumo Shrine, hence the reason why he talks about vacating the house (shrine).
Expedition (Complete - Leader of Expedition Party)
I have returned. How is this?
Expedition (Complete - Leader of Primary Party)
The people who went far away have returned.
Smithing
Let us pray for our new comrade's energy and activity.
Troops Create
Today's fortune is... Oops, this isn't an Omikuji.
Note:
Omikuji are fortunes written on strips of paper at Shinto and Buddhist shrines. They will contain either a blessing or a curse, and the strength of these can be different. It also lists the aspect of your life the fortune applies to.
Repairs (Minor Injury)
Please do light maintenance on me.
Repairs (Medium/Severe Injury)
It will be problematic as a sacred sword if I don't cleanse my impurities.
Refinery
I feel a rise in my spiritual power...!
Mission (Complete)
It appears the daily rituals are being performed properly.
Battle Record
A letter has arrived. Read it carefully.
Merchant
このお店の商売繁盛を祈祷すればいいのかな。……違う?
I should be praying for this shop's thriving business... No?
Front Lines
Ah...! I'm still in the middle of incantation and prayer...
Resource Discovery
Economic fortune and good luck... These are unexpected earnings.
Scouting
そこら中から良くない気が漂っている……皆、偵察をお願いするよ
I feel an unpleasant aura hanging in the air... Everyone, please help with the reconnaissance.
Sortie Kick-off
Let it be purified... let it be cleansed...
Note:
These lines are uttered as part of the Misogi purification ritual.
PvP
Well then, how about I ward off evil while we're training?
Attacking
I will clear away your misfortune!
Critical Hit
My blade can cut through even boulders!
Minor Injury
Self-control, self-control...
Medium/Severe Injury
Guh...! I cannot cut away at this impurity...!
Awakening
Why you, accursed beings!
Duel
I have done everything I can. Now we'll await Heaven's will!
Boss Node
The surrounding air is unclean. So it's finally time, huh?
Victory (MVP)
This is no doubt the result of my efforts as a weapon first and foremost.
Rank-Up Toku
Oh, will I gain more and more worshippers with this?
Destroyed
御神刀としての生が長過ぎて、武器としての本分を忘れていたかな……ならばこれは……必定か……
Guess that I lived the life of a sacred sword for so long I came to forget my obligation as a weapon... In that case, it is just... inevitable...
Please go
here
for special Internal Affairs interactions
Horsekeeping
Even though it is common to use weapons as a tool to govern, horse duty is a little...
Horsekeeping (Complete)
How about a prayer for the horses to remain healthy?
Fieldwork
While we're at it, how about holding a ceremony to pray for abundant harvest?
Fieldwork (Complete)
The rest is up to the weather. Ahh... should we also pray for that?
Sparring
Since I am still not used to battles, please go easy on me.
Sparring (Complete)
I have to remember my duty as a weapon, don't I?
Citadel (Poke multiple times)
Citadel (Injured - Poke multiple times)
...it's nothing to fret over. What's needed are some appropriate measures... you see.
Smithing (Complete)
The smithing has been done. Do you need a prayer to finish it off?
Repair (Complete)
The repairs have been completed. Well, who's next?
Specific event banner introduction
News about a point of interest has arrived.
Background Change
Is it time for some major cleaning?
Troops Create (Failed)
Today's fortune is... bad, it seems.
Horse Equipped
There's nothing to be afraid of. ...That's right, good boy.
Omamori Equipped
私は御守りを渡す側のつもりなんだけどねえ、はははっ
But I should be the one handing out omamori, hahaha.
Welcome Back Greeting (After Long Absence)
おやおや、長いお出かけだったね。他の用事は済んだのかい?
Oh my, that was a long trip. Have your other affairs been taken care of?
New Year's Greeting
あけましておめでとう。いやはや、正月は行事の連続で大変だね
Happy New Year. Oh dear, the new year is just one event after another so there's a lot to do.
Omikuji
Now, I shall tell your fortune.
Small luck. In my opinion, something like this is the best.
Medium luck. The one whom you await will come...indeed.
Great luck. A perfect match (for you) will arrive and you will find what you have lost.
Setsubun (Boss Node)
Let us cleanse and purify this place of the Oni's presence.
Setsubun (Cast Beans)
Take that! Out wiiith the Oniii! In wiiith the fortuuune!
Setsubun (After Casting Beans)
This brings back the memories of happiness in people's faces.
Regiment Battle Team Change
Are you ready? Then let us go!
Touken Ranbu's First Year Anniversary (2016)
私たちもこれで一周年か。節目ではあるし、祈祷するべきかなあ?
With this we've been together for one year. Since it's a critical point, maybe we should pray?
Touken Ranbu's Second Year Anniversary (2017)
さて、二周年か。じゃあ、私からあリがたい話を……え、長くなリそうだから嫌?
Well, it's our second anniversary. In that case, I have some words of gratitude to... eh? You're saying no because it's going to take too long?
Touken Ranbu's Third Year Anniversary (2018)
私たちも三周年だ。これからも私は御神刀として皆の厄を祓っていこう
We have been together for three years already. As a sacred sword, I shall ward away everyone's misfortunes in the future to come.
Touken Ranbu's Fourth Year Anniversary (2019)
さて。四周年だね。うん。他の年ならともかく、今年は厄祓いも念入りにしなくてはね
Wel, it's our fourth anniversary. The other years aside, I have to be thorough with driving away evil spirits this year.
Saniwa First Year Anniversary
Congratulations for the first year anniversary of your inauguration. From now on, let's strive to do our best as well.
Saniwa Second Year Anniversary
就任二周年を迎えたね。日々の励みが、ここにつながったわけだねえ
We have reached your second anniversary. Your daily efforts have led us here.
Saniwa Third Year Anniversary
就任三周年かあ。おめでとう。でも、そろそろ油断をしそうな時期だからね。気をつけよう
So, it's the third anniversary of your inauguration. Congratulations. But let us stay attentive as it is rather easy to get careless at such a time.
Saniwa Fourth Year Anniversary
そうか。今日で就任四周年か。厄年というわけではないけれど、気をつけるんだよ
I see. Today marks the fourth anniversary of your inauguration. This year isn't an unlucky year, but be careful.
Expedition (Complete - Leader of Expedition Party)
Expedition (Complete - Leader of Primary Party)
Repairs (Medium/Severe Injury)
Please go
here
for special Internal Affairs interactions
Citadel (Poke multiple times)
Citadel (Injured - Poke multiple times)
Specific event banner introduction
Welcome Back Greeting (After Long Absence)
Regiment Battle Team Change
Saniwa First Year Anniversary
Saniwa Second Year Anniversary
Saniwa Third Year Anniversary
Saniwa Fourth Year Anniversary
Character Details