Character Info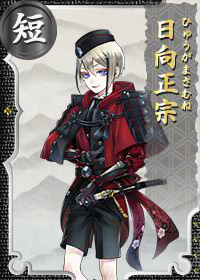 No. 150

 Tantou

 Statistics (MAX)
| | |
| --- | --- |
| 生存  Survival | 29(32) |
| 統率  Leadership | 27(40) |
| 衝力  Impulse | 16(26) |
| 必殺  Killing Blow | 31 |
| 隠蔽  Camouflage | 38 |
| | |
| --- | --- |
| 打撃  Impact | 14(22) |
| 機動  Mobility | 29(53) |
| 範囲  Range | Short |
| 偵察  Scouting | 37(52) |
| 兵力  Troops Slots | 1 |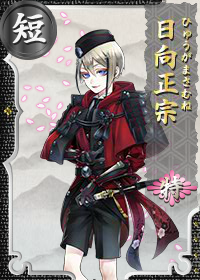 Hyuuga Masamune Toku
日向正宗  特
No. 150

 Tantou


 Statistics (MAX)
| | |
| --- | --- |
| 生存  Survival | 33(36) |
| 統率  Leadership | 31(44) |
| 衝力  Impulse | 20(30) |
| 必殺  Killing Blow | 31 |
| 隠蔽  Camouflage | 42 |
| | |
| --- | --- |
| 打撃  Impact | 18(26) |
| 機動  Mobility | 33(57) |
| 範囲  Range | Short |
| 偵察  Scouting | 41(56) |
| 兵力  Troops Slots | 1 |
Character Quotes
Book Description
僕は日向正宗。堅田正宗とか、大垣正宗とも呼ばれるね。元の主のうち、有名どころは石田三成様かな? 元来祈ることが役目の僕だけど……。うん、今度こそはうまくやるよ
I am Hyuuga Masamune. I am also known as Katata Masamune or Oogaki Masamune. Among my former masters, I suppose one of the more famous ones is Ishida Mitsunari. Even though I was originally a sword used for prayer... Yes, I hope to perform well this time, too.
Obtained
I drifted and turned up here. I am Hyuuga Masamune.
Login (Complete)
Touken Ranbu, is starting!
Game Start
Let's be successful today!
Citadel
石田、三成様か……。あぁいや、あの方の在り方は好きだよ
Ishida Mitsunari-sama...? ...Ah, no, I liked him for who he was.
僕らがやろうとしているのは、要は人助けだよね。……そういうの、良いよね
What we're trying to do is to help people, right? ...I think that's a good thing.
梅干し作り、もっと美味しく出来る気がするんだよなぁ。次に、試してみよう
I think I can make my umeboshi even tastier. Next time, I'll try it.
Note:
The word "umeboshi" is often translated into English as "Japanese salt plums", "salt plums" or "pickled plums". Ume (Prunus mume) is a species of fruit-bearing tree in the genus Prunus, which is often called a plum but is actually more closely related to the apricot.
Citadel (Idle)
あれ、暇になっちゃったかな…?他の人の手伝いでもしようかな
Well, I guess I have some free time... I wonder if I should help other people.
Citadel (Injured)
そんなに心配しなくても、大丈夫……次はうまくやるよ
You don't need to worry so much... Next time will be better.
Citadel (Kiwame Sendoff)
手助けできることがあればよかったんだけど、それじゃ修行にならないそうなんだよね
I wish there was something I could have done to help him, but apparently it wouldn't really be a training journey that way.
Formation (Member)
I understand, I will support the captain with all I've got!
Formation (Captain)
Captain, huh...? Let's try it!
Fatigue Recovery (One Bite Dango)
Uwa! A mid-afternoon snack?
Fatigue Recovery (Makunouchi Bento)
Fatigue Recovery (Oiwaijuu Bento)
Expedition
I can help people on an expedition! Let me handle this.
Expedition (Complete - Leader of Expedition Party)
It went smoothly. Here's my report.
Expedition (Complete - Leader of Primary Party)
Oh, I wonder if the expedition party has returned.
Smithing
Oh, a newcomer has arrived.
Troops Create
It seems like it went well!
Repairs (Minor Injury)
Well, I will go on repair for a little while.
Repairs (Medium/Severe Injury)
It may... take a bit of time... I'm sorry.
Mission (Complete)
Ah, we finished a mission.
Battle Record
Record of military achievements? I understand, leave the clerical work to me.
Merchant
Are you going shopping? I understand, leave the calculations to me.
Note:
His previous owner Ishida Mitsunari was particularly skilled in mathematics.
Front Lines
Everyone assemble! We're heading out!
Scouting
Can you tell me the report of the situation?
PvP
Even if it's only a practice, I'm not pulling any punches!
Critical Hit
If I have to jump in my enemy's bag, I'll do it!
Note:
Hyuuga makes mention to a japanese saying, "If you know your enemy, jump onto his bag", which is equivalent to "keep your friends close and your enemies closer".
Awakening
The true power of Masamune, I will show it to you!
Duel
ここまで押し込まれるなんてね……でも……まだやれるよ!
To think you'd push us that far... but... I can still go on!
Boss Node
After this is the stronghold. ...Let's do our best.
Victory (MVP)
Alright! It turned out well!
Rank-Up Toku
Alright, I'm somewhat getting into gear.
Destroyed
もうちょっとやれると思ったんだけど……惜しかったな……次は……そうか……次はないのか……
I thought I could hold on for a bit more... It is regrettable... Next time... Ah right... There will be no next time, huh...
Please go
here
for special Internal Affairs interactions
Horsekeeping
Horses emanate a sense of intimacy, huh...
Horsekeeping (Complete)
Look, both the horse and I are gifts.
Fieldwork
Maybe I should make a plan for field expansion.
Fieldwork (Complete)
Phew. I suppose the arrangement is just right.
Sparring (Complete)
I almost had it. But I'll redeem myself next time.
Citadel (Poke multiple times)
よっと、ハハハ惜しかった。いや、主のその突いてやろうという手つきがね
Woops. Hahaha, too bad. Ah, I'm talking about Master's poking gesture.
Citadel (Injured - Poke multiple times)
ぁいった、いやいやそんなに血相を変えなくても…大丈夫だよ
Oww. Oh no, you don't have to be alarmed... I'm fine.
Smithing (Complete)
It's about time for the smithing to finish.
Repair (Complete)
Oh, it looks like a repair room opened up.
Specific event banner introduction
This kind of notice came.
Background Change
So this is the remodeling plan.
Troops Create (Failed)
I'll be successful next time!
Welcome Back Greeting (After Long Absence)
あっ、帰ってきたね。うん。大丈夫。うまくやっていこう!
Oh, you're back. Well, it's all right. Let's do it nicely!
Omikuji
Oh? Should I help with the omikuji?
Small luck. Well, let's be successful next time.
Medium luck. Well, this is close enough.
Great luck. Well, it went well!
Setsubun (Entering Map)
Now, let's go Oni hunting!
Setsubun (Boss Node)
Even if the opponent is a Oni, let's do our best.
Setsubun (Cast Beans)
Out with the Oni! In with the luck!
Setsubun (After Casting Beans)
The amount of beans to be used should be based on the plan...
Spring Garden Flower Viewing
Regiment Battle Team Change
What do you think? Can you do this?
Touken Ranbu's Third Year Anniversary (2018)
三周年・・・・・・なるほど。 僕が来るまでにそれほどの時間が
Three years... I see. So much time has passed before I came.
Touken Ranbu's Fourth Year Anniversary (2019)
僕ら、四周年みたいだね。戦いは続いている。けれど、きっとうまくやっていくよ!
It seems that it's our fourth anniversary. The battle still continues, but I'm sure we'll do well!
Touken Ranbu's Fifth Year Anniversary (2020)
そうか……これで五周年。主、いつもいつもありがとう
I see... It's our fifth anniversary. Master, thank you for everything!
Saniwa First Year Anniversary
主、就任一周年おめでとう。これからもうまくやっていこう!
Master, congratulations on your one year inauguration anniversary. Let's do well from here on.
Saniwa Second Year Anniversary
主、就任二周年おめでとう。少しずつでも、前進してるよね!
Master, congratulations on your two year inauguration anniversary. Even if it's slowly, we're making progress, aren't we!
Saniwa Third Year Anniversary
主、就任三周年おめでとう。次の目標とか考えることは、ある?
Master, congratulations on your three year inauguration anniversary. Have you thought about your next goal?
Saniwa Fourth Year Anniversary
主、就任四周年だね。さあ、お祝いの席はこちらだよ!
Master, it's your fourth year inauguration anniversary. Come now, the banquet is this way!
Saniwa Fifth Year Anniversary
主、ついに就任五周年だよ! どんなことだって、いまならうまくやれそうだね
Master, it's finally your fifth year inauguration anniversary! Right now it feels like we'll do well at everything we try!
Character Details
Community content is available under
CC-BY-SA
unless otherwise noted.