Your Battle Records include all the collections and statistics of your gaming experience. It can be accessed from the [戰績] button from the main page.
The following image shows the various details featured in the Battle Records.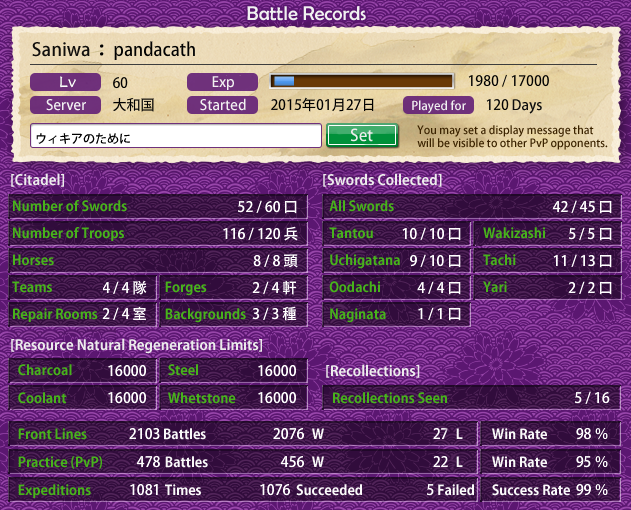 The default number of swords and troops held is 80[1] and 100 respectively.
The maximum number of swords and troops held, as well as the smithing slots and repair slots, can be increased by purchasing extensions in the Shop.
The maximum capacity of resources[2] begins at 5000 at Level 1 and increases based on a player's current level, according to the following formulas:
Levels 2-9: 5000 + (100 * Level)
Level 10 and higher: 4000 + (200 * Level)
Reference Edit
↑

Additional 30 slots was given to players on July 3rd, 2018 for Ranbu level implementation in August, 2018.

↑ Note that the maximum capacity of resources refers to the maximum capacity for resource regeneration. Your resources will naturally regenerate at a rate of 3 each per 3 minutes, up to the specified capacity. You can still, however, gain more resources through Front Lines, Expeditions, Missions, and dismantling swords and troops.
Community content is available under
CC-BY-SA
unless otherwise noted.