Character Info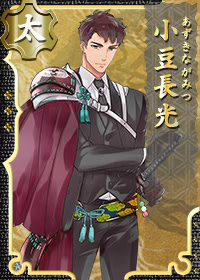 No. 148

 Tachi

 Statistics (MAX)
| | |
| --- | --- |
| 生存  Survival | 53(57) |
| 統率  Leadership | 51(67) |
| 衝力  Impulse | 31(42) |
| 必殺  Killing Blow | 37 |
| 隠蔽  Camouflage | 24 |
| | |
| --- | --- |
| 打撃  Impact | 55(67) |
| 機動  Mobility | 46(46) |
| 範囲  Range | Short |
| 偵察  Scouting | 24(27) |
| 兵力  Troops Slots | 2 |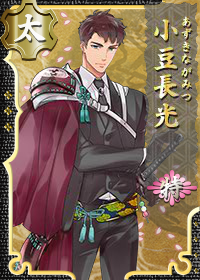 Azuki Nagamitsu Toku
小豆長光  特
No. 148

 Tachi


 Statistics (MAX)
| | |
| --- | --- |
| 生存  Survival | 59(63) |
| 統率  Leadership | 57(73) |
| 衝力  Impulse | 37(48) |
| 必殺  Killing Blow | 37 |
| 隠蔽  Camouflage | 30 |
| | |
| --- | --- |
| 打撃  Impact | 61(73) |
| 機動  Mobility | 52(52) |
| 範囲  Range | Short |
| 偵察  Scouting | 30(33) |
| 兵力  Troops Slots | 2 |
Character Quotes
Book Description
わたしは小豆長光。上杉謙信公が、武田信玄のぐんばいをきったかたななのだぞ。このなまえは、はのうえからあずきをおとしたら、ただそれだけでまっぷたつにきれたからなのだ
I am Azuki Nagamitsu. I am the sword Lord Uesugi Kenshin used to cut the war fan of Takeda Shingen. My name is taken from the fact that azuki beans would split in two if you simply dropped them onto my edge.
Obtained
I am Azuki Nagamitsu. Do you... like sweets?
Login (Complete)
Touken ranbu, it's starting, it's starting.
Citadel
I suppose I'll make sweets today, too.
Azukibou makes your teeth stronger.
Hahahaha! Children are such cute creatures.
Citadel (Idle)
What's the matter? Did you go for some sweets?
Citadel (Injured)
At this rate, the children will laugh at me...
Citadel (Kiwame Sendoff)
It'll be fine; let's send them off properly!
Formation (Member)
Understood. I just have to look after everyone, right?
Formation (Captain)
I just have to lead everyone, right?
Fatigue Recovery (One Bite Dango)
Hahaha! When you're tired, sweets are the best, right.
Fatigue Recovery (Makunouchi Bento)
Fatigue Recovery (Oiwaijuu Bento)
Equipment
I don't really like dangerous stuff, but...
I would have preferred utensils for making sweets, if possible.
Well, it's not like I can't use them.
Expedition
Alright, expedition time. I am the leader.
Expedition (Complete - Leader of Expedition Party)
Hahahaha! That was a fun expedition!
Expedition (Complete - Leader of Primary Party)
Welcome home. Do you want to eat something sweet?
Smithing
Welcome. Best regards from today.
Troops Create
Well now, it's time to work.
Repairs (Minor Injury)
I'll just do a little bit of mending.
Repairs (Medium/Severe Injury)
Sorry. Could you... let me rest for a while?
Refinery
I wonder... did I get better at making sweets?
Merchant
Aah, shall we go buy it together?
Front Lines
Tsk tsk. Fighting is inevitable, huh?
Scouting
じょうきょうをしらせてくれ。このばあいてきせつなじんけいは……
Please tell me about the situation. In this case, the proper formation...
Sortie Kick-off
Attack! We'll defeat them in one fell swoop!
PvP
だいじょうぶ。くんれんだからな……しっぱいしてもいいんだぞ
It'll be fine. It's training. Failing is okay.
Attacking
As if I'd let myself be stopped!
Critical Hit
By the grace of Bishamonten!
Note:
Bishamon/Bishamonten, otherwise know as Vaiśravaṇa in Sanskrit, is one of the Seven Lucky Gods in Japanese mythology, holding a pagoda in one hand and a spear in the other. He is said to be a god of both warriors and treasures, and by praying to him, one asks for victory in battle. Within Buddhism, he is depicted as a protector of the dharma, the Buddha's holy teachings.
Minor Injury
Too soft. Even more than sweets.
Note:
'Soft/naive' and 'sweet' are the same word in Japanese, amai.
Medium/Severe Injury
You are pretty good, huh?
Awakening
どうせなら、なずきじゃなく、あずきをきっていたかったんだがなぁ!
If I have to cut anything, I'd rather it'd be sweets than heads!
Duel
ぐんりゃくでまけてしまったのははずかしいかぎりではあるが
I'm deeply ashamed to have lost in terms of tactics, but...!
Boss Node
このさきがてきのほんじんだ。みんな、じゅんびはよいか?
Past this is the enemy's main line. Everyone, are you ready?
Victory (MVP)
I wonder... Did I take the children's turn too?
Rank-Up Toku
つよくなった……か?たよりがいがあるようになってればいいな 
I've gotten... Stronger? It'd be good if I become more dependable.
Destroyed
っだめだ……わたしが いなくなったら……こどもたちを だれが まもってくれる……
It's no good. Who will protect the children if I am gone?
Please go
here
for special Internal Affairs interactions
Horsekeeping
ひごろうまとなかよくなっておかないと、かんじんなときにそっぽをむかれてしまうぞ
I have to get along with the horses everyday, or they'll ignore me when it counts.
Horsekeeping (Complete)
This horse is a good horse.
Fieldwork (Complete)
Harvesting really is fun.
Sparring
I shall show you my moves.
Sparring (Complete)
Let us see. In your case...
Citadel (Poke multiple times)
Citadel (Injured - Poke multiple times)
You're in such a rush... What's wrong?
Smithing (Complete)
It seems that the smithing has finished.
Repair (Complete)
Is there anyone waiting in line to be repaired? A room has opened up.
Specific event banner introduction
We've received news about the event.
Background Change
The environment is important, isn't it?
Troops Create (Failed)
I can't show that to the kids.
Omamori Equipped
I shall gladly accept this.
Welcome Back Greeting (After Long Absence)
おお。かえってきたね。よかったよかった。こどもたちのようすはわたしがみていたから、あんしんしてくれ
Oh! You came back. Good, good. I've looked after the kids, so don't worry.
New Year's Greeting
あけましておめでとう。おや、そのてはなんだい? ......おとしだま?
Happy New Year. Oh, what's that hand for? ......New Year's money?
Setsubun (Entering Map)
Off to exterminate demons.
Setsubun (Boss Node)
このさきがおにのほんじんだ。みんな、じゅんびはよいか
The demon stronghold lies ahead. Everyone, are you ready?
Setsubun (Cast Beans)
Out with the Oni! In with the fortune!
Setsubun (After Casting Beans)
まめをまくことも、まめをたべることも、やくよけになるからな
Casting beans and eating beans both work as wards against evil.
Regiment Battle Team Change
I shall take the lead. Will you be able to follow me?
Touken Ranbu's Third Year Anniversary (2018)
さんしゅうねんだそうだ。 これからもよろしくたのむぞ
I heard it's our third year. I shall keep on relying on you.
Touken Ranbu's Fourth Year Anniversary (2019)
It's the day of our fourth anniversary. We have to celebrate.
Touken Ranbu's Fifth Year Anniversary (2020)
Saniwa First Year Anniversary
Congratulations on your first inauguration anniversary! Excellent, excellent!
Saniwa Second Year Anniversary
きょうでにしゅうねんだね。よくできました、なんてね
It's been two years today, right? Like, good job!
Saniwa Third Year Anniversary
It's been three years. Well done!
Saniwa Fourth Year Anniversary
Congratulations on your fourth year. You've done your best.
Saniwa Fifth Year Anniversary
Character Details
Community content is available under
CC-BY-SA
unless otherwise noted.