Character Info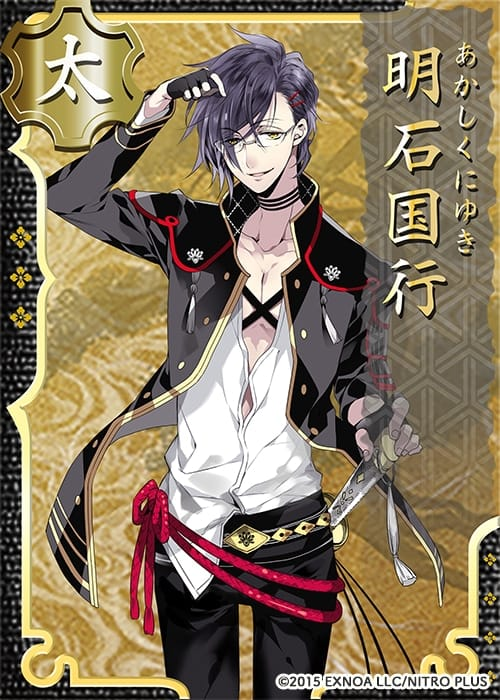 No. 57

 Tachi

 Statistics (MAX)
| | |
| --- | --- |
| 生存  Survival | 42(50) |
| 統率  Leadership | 47(61) |
| 衝力  Impulse | 32(41) |
| 必殺  Killing Blow | 26 |
| 隠蔽  Camouflage | 30 |
| | |
| --- | --- |
| 打撃  Impact | 43(57) |
| 機動  Mobility | 43(43) |
| 範囲  Range | Short |
| 偵察  Scouting | 30(35) |
| 兵力  Troops Slots | 2 |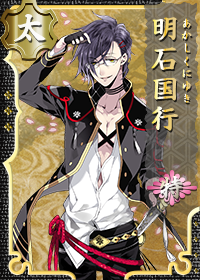 Akashi Kuniyuki Toku
明石国行  特
No. 57

 Tachi


 Statistics (MAX)
| | |
| --- | --- |
| 生存  Survival | 48(56) |
| 統率  Leadership | 53(67) |
| 衝力  Impulse | 38(47) |
| 必殺  Killing Blow | 26 |
| 隠蔽  Camouflage | 36 |
| | |
| --- | --- |
| 打撃  Impact | 49(63) |
| 機動  Mobility | 49(49) |
| 範囲  Range | Short |
| 偵察  Scouting | 36(41) |
| 兵力  Troops Slots | 2 |
Character Quotes
Book Description
どうも、すいまっせん。明石国行言います。どうぞ、よろしゅう。 いちおー、自分、来派の祖の出なんですけどなぁ、基本、 なーんもやる気せーへんので。まっ、お手柔らかに?
Hello, excuse me. I'm known as Akashi Kuniyuki. Nice to meet you. Anyway, although I was made by the founder of the Rai school, I'm basically not motivated to do anything at all. Well, treat me gently, okay?
Obtained
どうも、すいまっせん。明石国行言います。どうぞ、よろしゅう。まっ、お手柔らかにな?
Hello, excuse me. I'm known as Akashi Kuniyuki. Nice to meet you. Well, go easy on me, alright?
Login (Complete)
Touken Ranbu, is starting.
Game Start
Well then, relax your shoulders and take it easy.
Citadel
自分、やる気ないのが売りですからなぁ。なーんも期待したらあきまへん
You see, my lack of motivation is actually my selling point. Try not to expect annnything out of me.
あぁ……蛍丸と愛染国俊を見かけたら、よろしゅうなあ。自分、二人の保護者なんですわ
何言われても、自分は働きまへん。あー、蛍丸がらみなら考えますわ
Push me all you want -- I won't work. Ahh... but if it's got something to do with Hotarumaru, I'll think about it.
Citadel (Idle)
This is nice. Time spent not working is really the best.
Citadel (Injured)
治療もせんと放置するとは……やる気ないのは自分の専売特許のつもりなんですけどなぁ
Leaving me like this without even giving me treatment... and here I thought that not wanting to do anything was supposed to be my specialty.
Citadel (Kiwame Sendoff)
あー…うん… 自分じゃあるまいし、ちゃんと帰ってきますから…不安そうな顔せんと…
Ah, …uh, it's not like he's me, so he's going to come back on time… don't make that anxious face…
Formation (Member)
はぁー、自分に「働け」言いますか? 参りましたなぁ。
Sooo, are you telling me to work? You've got me there.
Formation (Captain)
自分なんかに隊長を任せて、ほんまにええんですか? 知らんで。
Is it really okay to make someone like me captain? Don't blame me if something happens.
Fatigue Recovery
蛍丸や愛染国俊じゃあるまいし……自分はお菓子じゃ釣られまへん
I'm not Hotarumaru or Aizen Kunitoshi... You can't win me over with sweets.
Equipment
Yeah, yeah, thanks a bunch.
Oh, are you expecting something out of me?
Expedition (Complete - Leader of Expedition Party)
いやー、えろう疲れましたわ。これで休んでもええでっしゃろ?
Anyway, I'm dog-tired. It's okay for me to rest now, right?
Expedition (Complete - Leader of Primary Party)
おーおー、遠征の連中が帰ってきたようですなぁ。みんなよう働くわ
Oh, oh, it seems like those expedition guys are back. Everyone works so hard.
Smithing
Oh, it seems like a newcomer's arrived.
Troops Create
Well, this is fine, isn't it?
Repairs (Minor Injury)
おーおー、ありがたいですわ。これで休む口実が……いや、怪我はほんとやで?
Oh, oh, I'm grateful. Now I have an excuse to rest... Ah but I'm injured, for real.
Repairs (Medium/Severe Injury)
だから言うたやないですか……自分、やる気ないのが売りなんやから、こうなっても仕方ないんやで
I told you, didn't I...? My selling point is my lack of motivation, so getting like this is all you can expect.
Mission (Complete)
Oh, looks like we completed a mission somehow.
Battle Record
Some kind of message has arrived.
Merchant
おやおや、どうしますのん? 欲望にかられて、手当たり次第に買ってしまうとか?
Oh, what's up? Are you going to give in to your desires and buy anything you can get your hands on?
Front Lines
Well, how about letting some of that tension go?
Scouting
I'm counting on you for a report on the situation.
Sortie Kick-off
さすがに命のやり取りで、やる気ないとか言ってられまへんなあ
This is a fight to the death, so I can't say I'm not motivated or anything.
PvP
訓練くらい手ぇ抜いても許されるんと違いますか? ……おお、怖い顔されてもうた
Since this is just practice, it's fine if I cut corners, right? ...Ohh, you're making a scary face.
Attacking
Don't be too sure of yourself!
Medium/Severe Injury
This wound's worse than I thought.
Awakening
参りましたなあ……ここまでされては、本気を出すより他ないやんか
You've got me there... now that you've pushed me this far, I've no choice but to get serious.
Duel
狙うは一発大逆転。いかんなぁ、そういうの向いてへんのに
You want to turn things around in one go?! No way, I'm not cut out for that!
Boss Node
Ohh, scary. The dangerous atmosphere's come all the way here.
Victory (MVP)
えろうすんまへん。やる気ないのが売りなのに、活躍してしまいましたわ
Sorry about that. My selling point is my lack of motivation, but I ended up giving it my all.
Rank-Up Toku
おやおや、自分みたいにやる気ない奴がこんなに強くてええんですかなぁ?
Oh, is it really okay for a lazy guy like me to get this strong?
Destroyed
Sorry, Hotarumaru...it doesn't look like I'll be coming...home...
Please go
here
for special Internal Affairs interactions
Horsekeeping
I wonder what horses usually think about.
Horsekeeping (Complete)
馬はな~んも文句言わへんけど、こんなもんと違いますか
Horses don't complain at all, but that's a different matter, right?
Fieldwork
Ideally, I'd like to specialize in eating, but...
Fieldwork (Complete)
I swear I broke a couple bones. Farmers are really something else...
Sparring
やる気ないわけでは…あるけど、これは自然体の構えや。問題ないんや
It's not like I'm... not totally lazy, but this is just how I stand. Don't worry about it.
Sparring (Complete)
手ぇ抜くとかえって手間が増えますからなぁ。困りましたわ
Instead of cutting corners, my work's increased. This is annoying.
Citadel (Poke multiple times)
Even if you rush me, I ain't working.
Citadel (Injured - Poke multiple times)
うっ……怪我の具合は、やる気に関係あらへん……。急かしても無駄やで……
Uuh... The state of my injuries... Have nothin' to do with my motivation... Rushing me is pointless...
Smithing (Complete)
Oh, looks like smithing is finished.
Repair (Complete)
Looks like a repair room opened up.
Specific event banner introduction
We've received some notice.
Troops Create (Failed)
Can't be helped, can't be helped.
Horse Equipped
I'm counting on ya today.
Omamori Equipped
こないなもん付けんと、自分は死んでまうと思ってるん?
Do ya think I'll die if I don't put this on?
Welcome Back Greeting (After Long Absence)
おっ、帰ってきましたな。自分の長期休暇も終わりですかー
Oh, you came back. Has my long vacation ended too?
New Year's Greeting
ほら、主はんもお年玉を配ってまわりまひょ。これは保護者の努めやで.
Come on Master, let's go around handing New Year's money. That's the duty of a guardian.
Setsubun (Boss Node)
The oni's thirst for blood is all over the place.
Setsubun (After Casting Beans)
...Sigh. What's this bean casting labor for?
Regiment Battle Team Change
さあ、みなさん頑張ってくださいな......自分も?
Alright, everybody do your best...... Wait, me too?
Touken Ranbu's First Year Anniversary (2016)
いやー、自分ら、一周年なんやて。ぼにゃりしてる間にそないなことに
Well~, it's already our first anniversary. I've been spacing out that much, eh.
Touken Ranbu's Second Year Anniversary (2017)
二周年やからって、自分は特に変わリまへん。そういう変化、望んでないやろ?
It's been two years, but I haven't changed much in particular. Guess you're not expecting that kind of change?
Touken Ranbu's Third Year Anniversary (2018)
いや一、自分らも三周年。自分は頑張リませんが、他の連中はきっと気を引き締めるはずですわ
Well~ we've reached 3 years now. I'm not gonna work hard, but I'm sure the others will.
Touken Ranbu's Fourth Year Anniversary (2019)
おっ、四周年ですかー。自分は無理に頑張ったりせず、今年もゆるゆるやっていきますわ
Oh, fourth anniversary, huh? Without forcing myself to do my best, I'll live leisurely again this year.
Saniwa First Year Anniversary
自分、やる気ないからなぁ。一年間続けるとか、感服ですわ
I have zero motivation. So to keep going after a year sure is impressive.
Saniwa Second Year Anniversary
いやー、二周年も頑張ってきた主はんに、自分が偉そうに言えることはもうありませんわ
Well, I can't say anything high and mighty to our master anymore, who's done their best for two years now.
Saniwa Third Year Anniversary
Master, this marks your third year inauguration anniversary. That's mighty impressive.
Saniwa Fourth Year Anniversary
主はんは優しいなあ。自分みたいなやる気ないのにも声かけとは、さすがやね
Master sure is nice. You even talked to someone unmotivated like me. That's you all right.
Character Details